This Season's Floral Trends
Excitement is high for the beginning of the new wedding season! Just when we think we've seen it all, creatives and couples alike keep on bringing their A Game and going bigger, better and more unexpected in all things wedding styling.
One area of the wedding industry that constantly wows us with creativity and talent is floral design. We had a chat to a few of our fave florists – Petra Cremming from Melbourne's Pomp & Splendour, Megan Piper from Blush Flowers in Auckland, and Terrianne Foale from Mondo Floral Designs on the Sunshine Coast – about what we can expect over the coming season.
The consensus? While elements of the popular boho vibe will likely hang around a little longer, our floral experts are predicting a move away from this foliage-heavy style towards the use of bold and clashing colour, lush florals, and modern architectural arrangements.
Terrianne from Mondo shares, "Personally I am incredibly excited for the twist of floral styles heading our way – the focus on foliage will depreciate, however I see touches of tropical leaves and textural greenery playing a small role in a composition, with the big focus being on perfect petals, large and voluminous blooms, and unique partnering of flowers… I think the next couple of years will see more contemporary chic floral styles taking over."
Megan from Blush agrees that there has been a shift away from using foliage in favour of arrangements loaded with florals: "One of the biggest trends we are seeing is the lack of foliage – people are loving dense lush displays heavy in floral – with a mix of varieties and tones."
And what about the pampas grass trend?? "We may see the end of Pampas grass or it may be used in a variety of different ways," says Petra of Pomp & Splendour. "I still think we will see a lot of nude toned roses et cetera, but coupled with stronger coloured blooms and some painted elements."
Of course many florists turn to social media as a source of inspiration, but it may surprise you to learn they tend to look outside of their own industry, with a particular emphasis on what's happening in the world of interior design, art and fashion.
Megan shares, "We take a lot of inspiration from what's happening in fashion and interiors, for example new colour palettes or a particular brand's season launch or campaign. It can also be a bit of an organic process – we play around with flowers, colours, structures and sometimes things just work and a new trend emerges almost by accident. I suppose we are subconsciously influenced by current trends we are doing this, but not necessarily trends within floristry."
Petra agrees and says that social media is a great way to keep track of what people are up to as well as testing the waters when it comes to new trends. "We watch what our favourite artists, stylists and designers are up to all over the world and continually experiment with different designs and gauge the reaction of our audience on our own social media."
Terrianne adds that trends are also heavily influenced by the types of florals available. "It's the huge influx of interesting flowers now available here in Australia that ultimately influence many floral designs. There is so much choice now, and availability of flowers through global imports enable the Australian floral designers to be just as creative as our friends abroad!" She says that Mondo explores new ideas and stays ahead of trends by dedicating time and effort to creative strategy and participating in several styled shoots each year: "It's our opportunity to hang out with the best in the biz, and get creative with blooms!"
All three florists agreed that the clients they work with nowadays are pretty up-to-date with what's on trend, but rather than just following trends they prefer to listen to what their clients like and find a way to customise the look to suit their personality and style. "I think following trends to a tee really dates your flowers quickly," advises Petra.
As for what sort of florals our florists would love to be creating over the coming season, they all agree that trying to change things up and do something different for each client is the goal.
"We just love working with our brides, and creating different things for each of them so hopefully no wedding looks the same," Megan says.
Petra tells us, "We love love LOVE colour. The bolder and brighter, the more unusual the combination the better. While it's nice to work with trends in flowers and botanicals, it's always REALLY nice to get the opportunity to play with new designs and concepts that are a bit left of centre and not a replica of what we are seeing all over the internet."
Terrianne says, "We will be concentrating on sleek chic floral bouquets, with clean lines and bursting with blooms. The hanging installation phenomenon will still be current and we are excited to put a new twist on installation work, as well as concentrating on free-standing floral designs that have a unique and interesting format – watch this space!  The last word on blooms – orchids, orchids, orchids!"
Recent Posts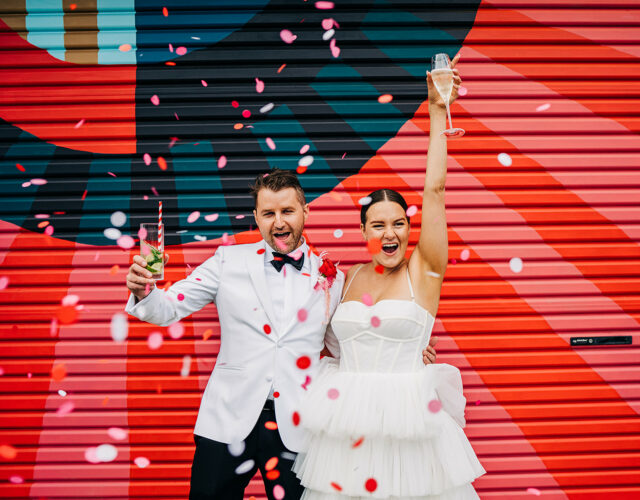 In the heart of the city, a tale of serendipitous love unfolded between Madi and Tim, two accountants…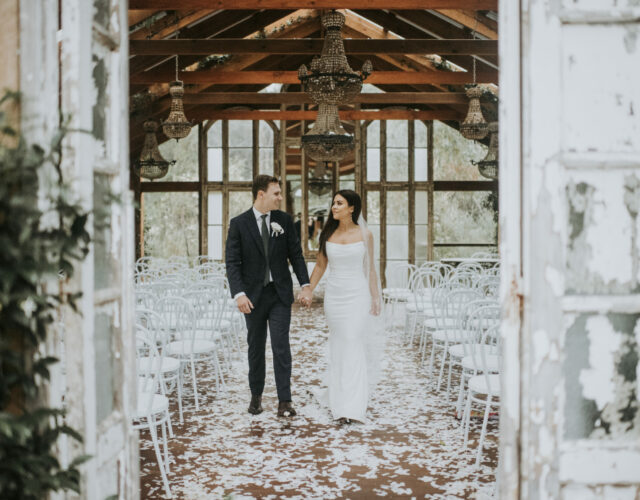 In the serene embrace of The Woods Farm, Jervis Bay, on the 14th of May 2022, Hugh and Felicity tenderly…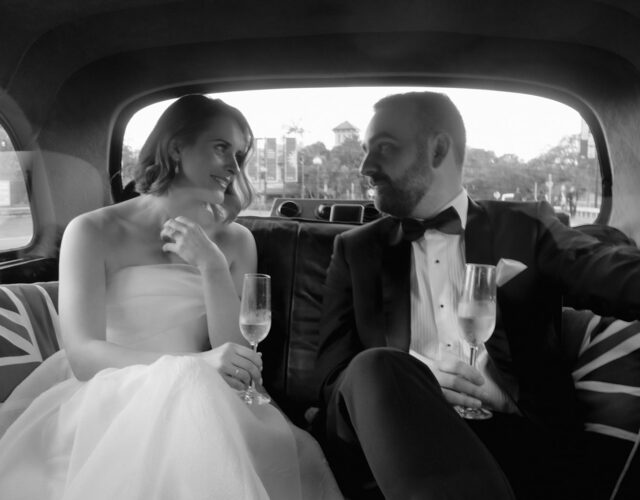 In the bustling cityscape of Sydney, the story of Mariia and Matthew unfolds – a romance that transcends…