Everything Beach Weddings – Ideas, Venues and Dresses
Wedding trends have shifted drastically in the last few years and beach weddings particularly, have taken the internet by storm. The beautiful scenic views, the sunshine, the golden sand and maybe even some soft, instrumental music to set a chill vibe. We are totally in favour of beach weddings and think they can be a perfect fit for laidback, summer-loving couples.  
If you love the idea of a relaxed, modern and stylishly curated celebration, getting hitched on the beach could be ideal. This post will provide you with all the inspiration to pull off your dream ceremony while giving insight into contemporary coastal wedding trends, beach wedding dresses, invitations, venues and much more! 
Beach Weddings We LOVE
We have rounded up our favourite seaside weddings to help kickstart your planning. The laidback style of these love stories will make you want to get married right away! 
From picturesque coastal views to skinny dipping in the Bay of Plenty, Angela and Jordan's wedding was a super relaxed and fun affair. Their adorable son Isaac even sported a cute, striped shirt that paired with the bridal party's colour palette perfectly. Angela made sure to keep her styling game on point too wearing a beautiful Grace Loves Lace number with bohemian-inspired sandals from Forever Soles. 
Rachel and Kle's relaxed and simple beach elopement highlighted what love and marriage is all about. Opting for a picnic on the beach with their two beautiful children, their day was beautifully intimate. Standing on a sandy beach wearing a delicate ivory dress from Forever New while holding native blooms made by photographer Stories by Ash, Rachel made saying "I do" look so effortless. The wedding had everything you could hope for – love, relaxation, warmth and humour.
Party organiser and good friend of the couple Alarna made sure to curate a memorable and chill experience for the lovebirds, incorporating a delish charcuterie platter, a sour-cream cake and vintage-inspired rugs.
Tim and Dani are the perfect example of the "modern cool couple". Married against stunning turquoise waters under a floral arbour, their wedding was simple, chic and effortless. Dani was a regal beauty in her lace gown from Pallas Couture, which she pared back with natural free-flowing hair and a floral headpiece. Their guests are likely still talking about the mouthwatering seafood on offer, which was said to be a true highlight of the celebration. The scenic beauty of the beautiful azure sea complemented their relaxed style perfectly. Katie Harmsworth made sure to capture all the intimate details.
This stunning nature-loving couple tied the knot near Queensland's picturesque Agnes Waters. The allure of this coastal town is unparalleled. We absolutely loved how this duo merged two cultures, speaking their vows in both Spanish and English. With the help of local designer Kelly Anne Russell, Cassie looked breathtaking in her Zimmerman number which was altered to incorporate fabric from her mother's wedding dress. The bride paired her elegant gown with sapphire blue earrings and wore fresh blooms in her hair, simple and gorgeous! 
Jess and Gab's boho-chic wedding at Cabarita Headland had all the relaxed vibes but with a touch of glam (hello ASOS sequin Kimono dress)! Paired with a messy, loose bun and carrying a rustic set of dried blooms, we adored Jess' modern bridal look. Gabriel also looked the part in his Politix suit and brown Timberland boots. We are still blown away by this cool couple. 
Beach Wedding Venues in Australia
Australia is home to some of the most amazing and breathtaking coastal regions in the world. If you love the idea of eloping against a picturesque backdrop with your feet planted in golden sand, these beach wedding venues in Australia might just be a perfect match!
Watson's Bay is both an elegant and contemporary venue for couples looking to get hitched. With its postcard-ready panoramic views, this destination continues to be a favourite for many chic couples. The stunning waterfront spaces, views of the shoreline, the yacht-inspired clubhouse and the plethora of restaurants and celebration spaces make it a great choice.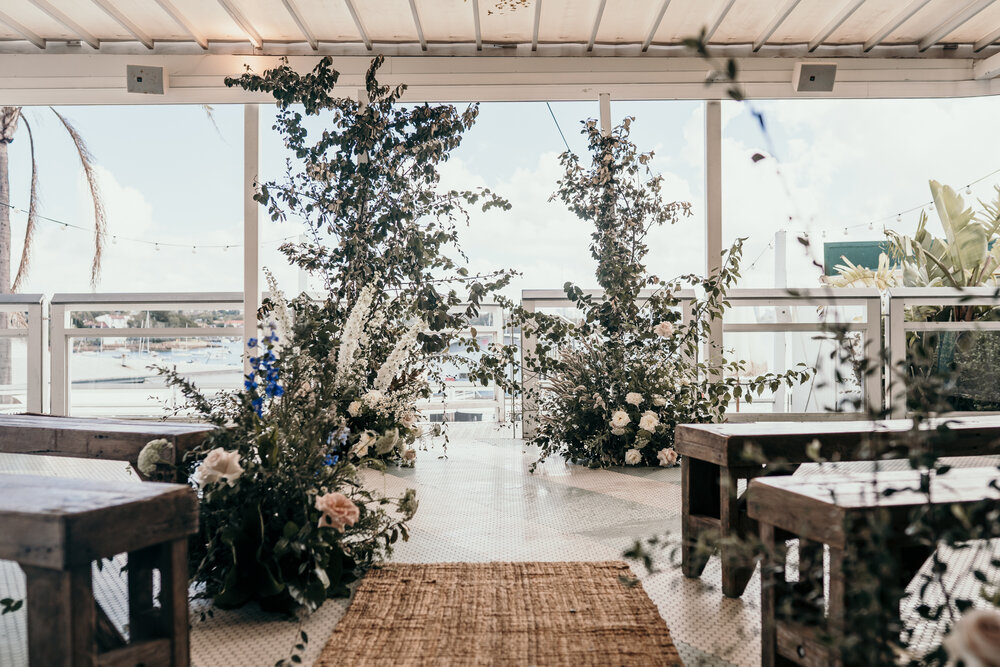 Located in New South Wales, the Bayview Yacht Racing Association (BYRA) could prove to be the perfect backdrop for your big day. The venue has all the essential elements you'll need to plan an unforgettable, laidback and modern beach wedding. With its DIY planning potential especially, couples can easily add their own flare. You will fall in love with BYRA if you love DIY celebrations, picturesque views of the sea and manicured lawns.
Seeking a private getaway to mark the beginning of your life as husband and wife? The Cove Jervis Bay located in the National Park will provide you with the ultimate location to celebrate your new chapter with your loved ones. You can hire your own private resort, seaside oasis, a wonderful boutique cabin or even a luxe glamping tent to host your wedding. Sounds amazing, right? The venue has become increasingly popular with couples who love unique celebrations with a touch of glamour. 
Beach House Avalon is a fantastic seaside Australian wedding location for couples wanting to inject a bit of personality into their day. Situated in Avalon Beach, this blank canvas space boasts an attractive terrace so you and your guests can enjoy the panoramic views of the ocean. The best part about this beach wedding venue though is that it has a spacious main hall, also known as the Ocean Room, where you can host all kinds of events and parties. You can choose to DIY or even enlist help from a wedding planner to create your ideal space. If you're a fan of a seaside wedding aesthetic, Beach House Avalon could be perfect for you! 
Do you love the feel of white sandy beaches and coral seashells under your feet? Or maybe you are awestruck with the natural views of the coastal regions and wish to tie the knot in a modern laidback style? Kingfisher Bay resort is a destination like none other in the world. Its majestic beauty, natural variety and elegant dining options make it an unparalleled beach wedding venue. It also offers discounted accommodation for guests and has a plethora of fun adventurous activities to keep everyone entertained. The spectacular beach, nestled alongside a peaceful azure lake and featuring dramatic botanical trees makes this venue totally unique. And of course, how can we forget the incredible Dingo Deck? If you love beachy views and wish to have an intimate celebration – the Dingo Deck is the perfect option for you. 
This luxurious wedding venue, situated on the west of Fraser Island, provides the perfect backdrop for hosting chic, trendy events.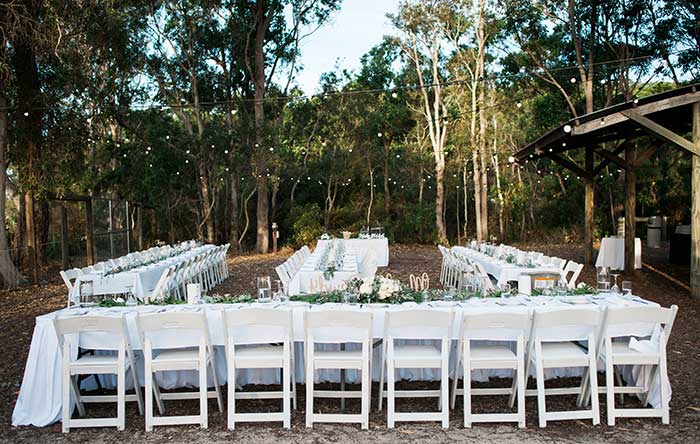 We are in love with the vibes of this beachfront wedding venue!
The contemporary design, stunning views of the Bass Strait, lounge suites, and the peaceful suburban garden – what else could you want? All Smiles Sorrento Ocean Beach has everything under one roof. Doesn't a backdrop of ocean waves, combined with a light breeze and natural light sound heavenly?
Located on the incredible southeast coast of Victoria, this wedding venue specialises in hosting ceremonies, receptions and cocktail parties. It's filled with charm and glamour. The jaw-dropping beauty of the surrounding cliffs will leave you astounded. This coastal wedding venue offers a multitude of gem locations where you can capture stunning photographs on your special day.
Beach Wedding Ideas
To level up your coastal celebrations, we have rounded up a bunch of cute beach wedding ideas that will help you to curate an unforgettable experience. With a natural setup, majestic oceanic waves and pleasant weather – there are plenty of fun activities that you can enjoy on your special day.
Opt For Rustic Wooden Décor
Give even more of a natural touch to your big day by adding rustic or vintage-inspired wooden signs. They are great for adding a little more of an effortless, boho touch which totally suits the vibe of a beach themed wedding. You can use them to indicate the entryway, exit area, food court or cocktail area. This idea is modern while being super convenient and practical.
Curate a Beachy Aesthetic Entryway
Your entryway sets the tone for your beachy nuptials. By decorating the area with natural leaves, coastline flowers, oceanic motifs, seashells, fairy lights and glass lanterns, this can really set the tone and have your guests saying wow! Having a coastal themed entryway will add so much charm to your special day. 
Decorate Your Cake and Wedding Favours With Seashells
Choose a delicious beach-themed wedding cake adorned with edible shells and lovely sea-themed cake toppers in tropical shades of green, blue, turquoise or ivory shades. You can also opt for jellyfishes, wooden sticks or leafy corals to decorate your beach-themed wedding cake.
Even your wedding favours can be embellished with a coastal touch. This could include cute palm tree-shaped cookies, beach-themed candles, and starfish bottle stoppers. You can also offer your guests candies, fresh lemonade or coconut with straws to create an epic coastal vibe.
Go For Beach-Themed Décor
Having a beach-themed wedding means that you can let your imagination run wild. Coastal celebrations allow you to be immensely flexible and creative with your décor. Consider displaying your wedding rings within seashells. Choose a wedding bouquet made up of fresh flowers, pearls, seashells, corals and starfish. Instead of traditional wedding food, you could even choose to serve local seafood with beachy desserts such as a Pina colada cake.
Have a Personalised Wedding Wishes Guest Jar
What can be a more perfect keepsake than a personalised wedding jar filled with lovely wishes and advice from guests? You can add a tropical touch to your jars,  embellishing them with netting or even opting for small marine bottles. They look super cute! 
Coastal Themed Welcome Bags
Welcome bags are a great idea for a destination elopement wedding. It's a sweet gesture to greet your guests with a welcome bag, especially if they have travelled a significant distance to attend your wedding. The best part? These welcome bags also help in creating an unforgettable experience. You can fill them with all the beach essentials; sunscreen, personalised balm, a soft towel, beach scented candles or boat-shaped magnets. You can even customise your welcome or tote bags, magnets and place cards with the colour and motif of your choice. When it comes to beach weddings, there are endless possibilities.
Beach-Themed Centrepieces
If you're opting to have a beach wedding, don't forget to get creative with your centrepieces. They serve as an important element of your table décor and can even enhance your wedding aesthetic. Try combining flowers with corals, seashells and floating candles. Different variations of glass lanterns and aquariums also look both super chic and unique. 
Beach Wedding Dresses
If you are a bride-to-be planning your seaside nuptials, your wedding dress plays a vital role in setting the tone and mood of your big day. From relaxed and modern dresses to delicate lacy gowns and silhouettes – beach weddings allow you to play with lots of stylish options. If you wish to turn heads with your beautiful beach wedding dress, we have compiled some major inspiration for you:
This exquisite ivory gown with hand-embroidered delicate floral lace is perfect for a beach wedding. With a V-shaped plunged neckline and A-line silhouette, this one is definitely a show stopper!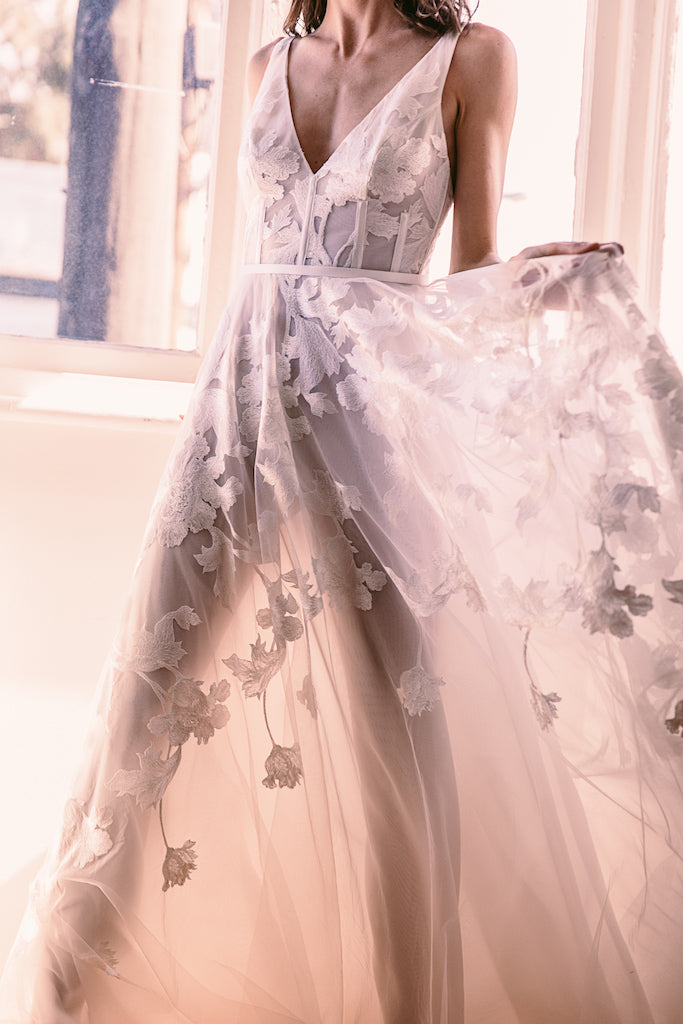 This fit-and-flare dress with its sweeping train is a match made in heaven for the beachy bride. The texture, cut and style of this dress is perfect for a modern, fashion-forward bride. The stunning lace design, wide straps decorated with flowers and sweetheart neckline is the epitome of a timeless style.
We are absolutely in love with the sparkling details of this ivory wedding dress. The mermaid silhouette, sweetheart neckline, spaghetti straps and dramatic low back will definitely turn heads on your big day. 
The best boho beach wedding dress ever! Paired with chic earrings and vintage-inspired jewellery, this long-sleeved ivory dress is bound to make a statement. The chiffon fabric is perfect for that free-flowing, relaxed look, while its plunging neckline and see-through lace back add a timeless and classic finish.
A full-length gown might not be the right choice for every bride, in fact, we always encourage you to wear what you feel most comfortable and beautiful in on your big day. If you love the casual and cool look of short-length boho-inspired wedding dresses – we have you covered!
Short wedding dresses are great for relaxed, laidback nuptials like those of beach weddings. We love the deep V neck and vintage cut of this dress. Elevate the look by pairing it with beachy waves in your hair and boho earrings. 
Decorations for Hosting an Epic Beach Wedding
We are all about creative beach weddings! The natural set-up, seaside view, combined with gentle breezes and sand under your feet is heavenly. If you love the idea of tropical celebrations, hosting a personalised beach wedding could be the choice for you. The décor of your beach wedding can play a huge role in setting the tone and vibe of the day. Here are some ideas that we love:
Tropical-Themed Leis
What can be a better idea than having tropical-themed leis to get into the spirit of a seaside celebration? You can personalise them by decorating with green palm leaves, colourful flowers, seashells and corals. 
Beach-Themed Candles
The natural, relaxed theme of a beach wedding can be emphasised by lighting beautiful candles inspired by the seashore. You can decorate your tables and centrepieces with colourful candles in a variety of sea-inspired scents, shapes and designs. 
Beach-Themed Seating Plan
Decorating chairs with green palm leaves or opting for deckchair seating is a great way to bring your beach theme to life. These elements will work perfectly with views of the ocean on your wedding day. Display the seating chart on giant tropical leaves and voila, easy and effective!
Give Your Wedding Bouquet a Beachy Touch
The combination of bright flowers, seashells, eucalyptus, anthurium, vibrant green leaves and corals in your bridal bouquet is another great way to highlight your beach theme.
Invitations
Your wedding invitations can be the first sneak peek into the mood and vibe of your day. There are so many directions you could go when choosing a design for your invites, whether that be ultra-modern, sophisticated and elegant or completely quirky and creative. Maybe you'll go for a clean white style or play with ocean colours like green and blue. You could even go completely DIY and decorate your invites/save the dates with dried flowers and tiny shells. Don't be afraid to think outside of the box and experiment with your theme and colour palette.
Final Thoughts
The beautiful, laidback and relaxing vibe of a beach wedding makes for a popular theme time and time again. Whether you want a contemporary affair, a sweet, intimate celebration or simply the chance to say your vows in the fresh, open-air with the sound of waves crashing behind you, beach weddings can be a great option for an array of couples. With so many options – from grand celebrations with fun adventures and activities, to super relaxed and effortless styles, the best part about beach weddings is you can tailor them to suit your style and personality!
Recent Posts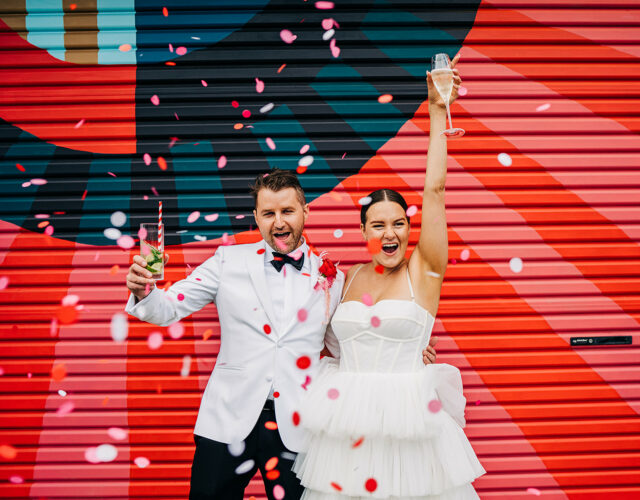 In the heart of the city, a tale of serendipitous love unfolded between Madi and Tim, two accountants…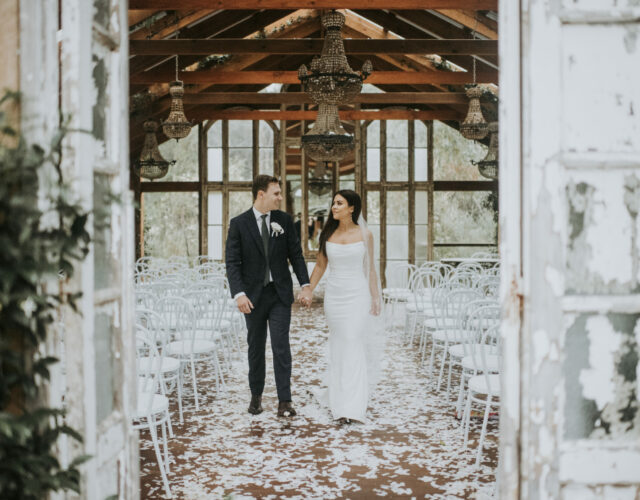 In the serene embrace of The Woods Farm, Jervis Bay, on the 14th of May 2022, Hugh and Felicity tenderly…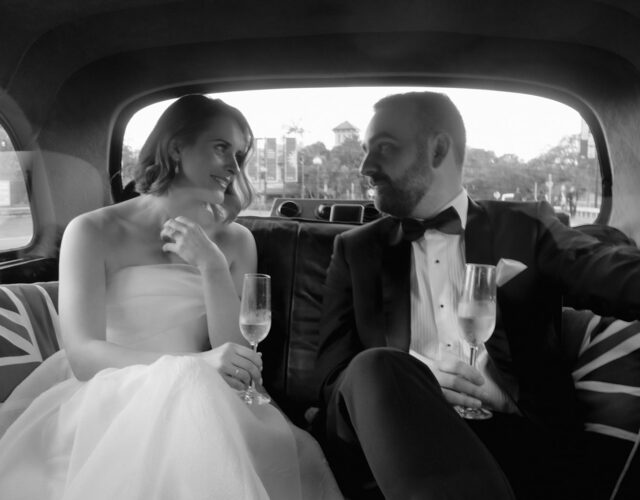 In the bustling cityscape of Sydney, the story of Mariia and Matthew unfolds – a romance that transcends…