Bursaria – Creators of Delicious Food Concepts
There are few things higher on the wedding priority list than fabulous food. It brings guests together, sustains them through the night and hopefully, it'll be reminisced about for months to come.
Melbourne catering and event specialists Bursaria Fine Foods are driven by the magic of beautiful food. Awarded 'Best Corporate Caterer – VIC' at this year's Savour Awards for Excellence, Bursaria's most inspiring food concepts (in our humble opinion) are those created for weddings. With an honest, seasonal approach, they encourage relaxed feasting style celebrations, believing that a shared enjoyment of wonderful food is central to any great party.
Available to cater events throughout Melbourne, Bursaria calls two stunning venues home – the iconic Abbotsford Convent and The Refectory at Werribee Park. This weekend, Bursaria will be hosting their annual showcase at The Refectory, offering guests the opportunity to sample their award winning culinary delights and meet some of their most trusted vendors. Promising to be an afternoon full of delicious treats and wedding inspiration, the event is happening this Saturday, September 3rd from 2pm- 5pm and is free to attend.
We caught up with the team at Bursaria to understand a little more about their catering ethos and beautiful venues.
When did Bursaria launch and how has the business evolved since then?
Established in 2005 at Como Historic House and Gardens, Bursaria Fine Foods was created by Sara O'Callaghan with a vision to create a boutique catering company with a simple philosophy: use the freshest seasonal produce to create unique, delicious food concepts with love and care.
Since then, the business has grown establishing new premises in 2011 at The Abbotsford Convent where they have been creating unforgettable culinary experiences and delivering exquisite weddings in the Heritage gardens and Rosina Function Space and courtyard.
In 2015 Bursaria launched The Refectory, Werribee Park adding another stunning iconic venue to its offering. The Refectory was transformed into a beautiful light-filled event space with classic architectural features, spectacular high ceilings, designer lighting and luxury contemporary furnishings.
How would you describe Bursaria's style and ethos when it comes to food?
We use the freshest seasonal produce to create delicious food for weddings and events and we are passionate about providing wholesome catering with a relaxed style. We're not into unnecessary frills, we're more about the produce and letting the food stand for itself and be the hero of the dish.
Our style is authentic and creative, taking guests on a food journey throughout the wedding and enabling them to gather and interact in a relaxed environment. We believe food is a central part of celebrating with your loved ones!
Do you feel couples are moving away from the traditional sit-down dinner? What is Bursaria's approach to the main wedding meal?
Whether it be our plated or a grazing menu, we present the main meal as the hero. Couples love our grazing menu served down the centre of the table because of its communal atmosphere. We love to encourage a 'feast', delivered with love and laughter. Our grazing menus are designed to be varied and plentiful, and when everything comes together at the event, it's a colourful affair!
We're excited to have recently released our 2016-2017 Spring Summer Menu – a fusion of fresh seasonal produce bursting with colour and flavour. Bursaria's philosophy is simple; our Summer Menu is all about highlighting the array of amazing vegetables, fruits, grains and produce of the season to create delicious food concepts.
Do you offer wedding planning and event management in addition to catering?
We always have a passionate team of professionals on site and a personal Event Manager who has been liaising with the couple through each step of their planning process. We pride ourselves on ensuring the bride and groom have a familiar face to assist them on their special day and that couples and their guests feel completely relaxed.
We're passionate about providing amazing experiences and often receive special messages of thanks from our couples which always make us smile!
Who are some vendors that you love working with?
We work with incredibly talented vendors at both of our venues. It's like having an extended family all working together to create amazing celebrations. From celebrants to florists, stylists, photographers and fabulous entertainment, if you have a look at our Instagram page @bursaria you can see all the magic!
Finally, do you have any tips for couples planning their wedding?
On the day before your wedding, just let go of planning and trust in your suppliers and event manager to do what they do best! It's your wedding day and you should relax and enjoy it – not just the ceremony and reception but the time before and after.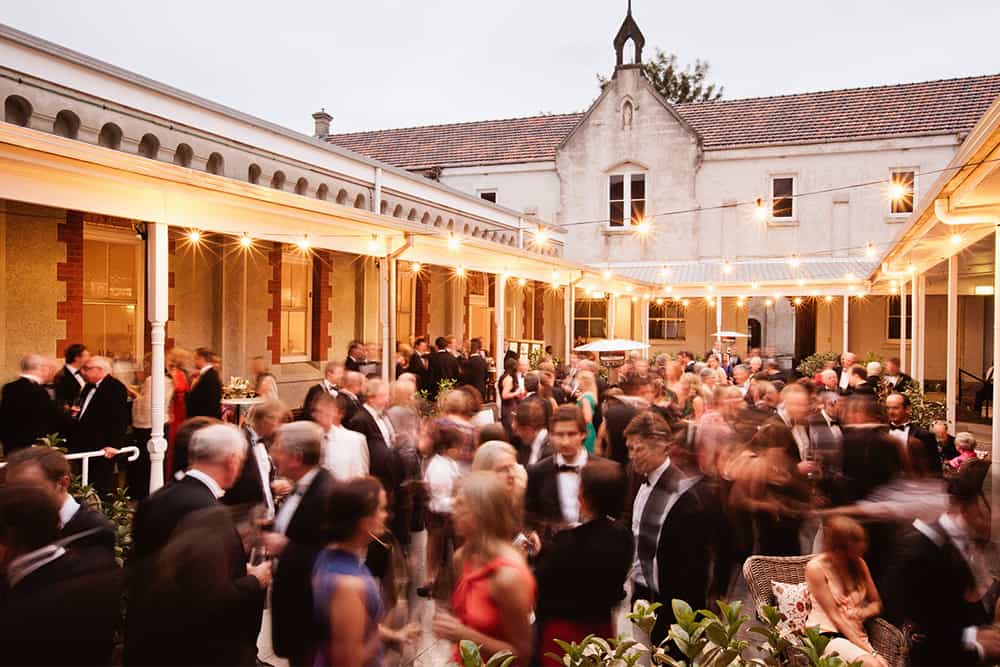 Recent Posts
Easing into their wedding with brunch at a local café before heading to their Ooi House Airbnb…
Six years after being introduced by friends, Tom & Libby tied the knot at VIC's luxurious French-chateau style mansion…
After their wedding venue pulled the pin just 24 hours before Chris and Jac were set to say I Do…