Celestial Inspiration at Yallingup's Sundance Lodge
As we farewell the winter here in Australia, we're sending it off in style with this winter-luxe styled shoot, captured by photographer Greta Wolzak. Teaming up with The Wedding Concept and Lara Rose Botanical Stylist this celestial shoot draws inspiration from the earth's life cycle and the return light after the solstice. From earthy stone wall panelling at Yallingup's Sundance Lodge, to snow white florals and icy chandeliers, the shoot embodies all that is beautiful about the cooler months.
The ceremony's design centres around a white half-moon arbour, which along with reflective mirror prisms and black pendant lighting emphasise the celebration of the moon as a goddess, radiating energy and divine light. Also emulating earth's wonders are dark grey limestone rocks as a play on the moon's rocky texture and acrylic napoleon chairs, a take on winter icicles.
The pre-reception design features soft muted tones with earthy greys, soft greens and natural accents finished with metallic touches. The arch of the earthy stretch tent mimics a rising dawn sun while a large focus on natural stones including crystal, marble, and quartz represent connections to nature.
The bride's Noa Bridal Studio gowns intensify the luxe vibe – the Odylyne The Ceremony Caspian features dramatic sleeves and billowing tulle ruffles, while the Alca Line Bride Juno dress has a sweetheart corset bodice, silk pleats and detachable flutter sleeves. Keeping to theme, Swarovski jewelled star encrusted combs and crowns are paired with crystal and glass bead earrings to create a magical ice queen moment. A chic bun with soft wispiness around the face by Mayne Hair Studio brings a fresh simplicity to the looks, while Sitting Pretty's bold berry lip enhances the drama of the gowns.
In a true reflection of winter, bare branches, browning leaves and soft grasses at the end of their life cycle with pops of white florals are shown off throughout the shoot. Wispy, wild and romantic yet also sensual plants associated with winter solstice are also incorporated – Holly for good fortune, Silver Birch for birth and regeneration, Ivy to bind lovers together and of course, Mistletoe for kissing under!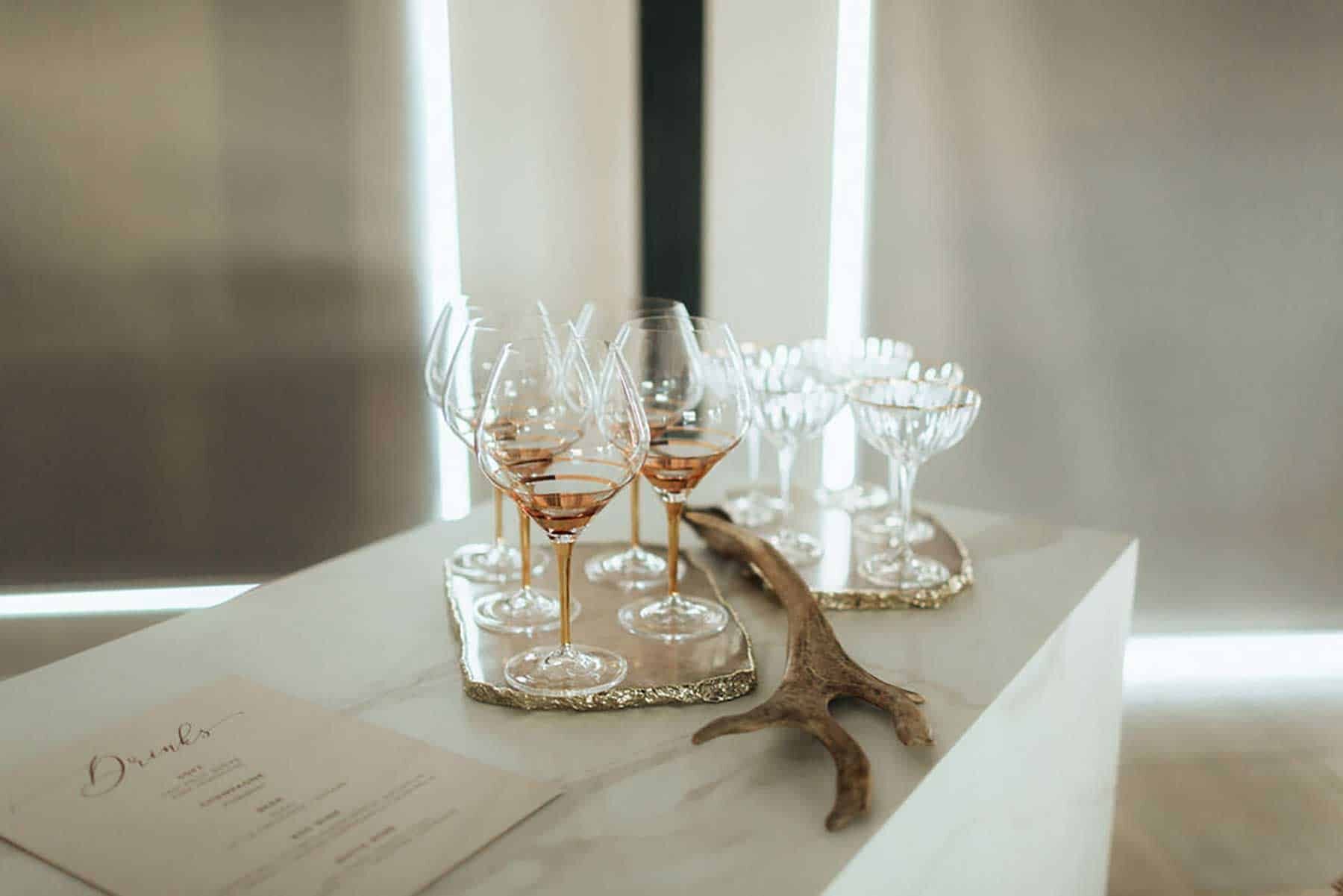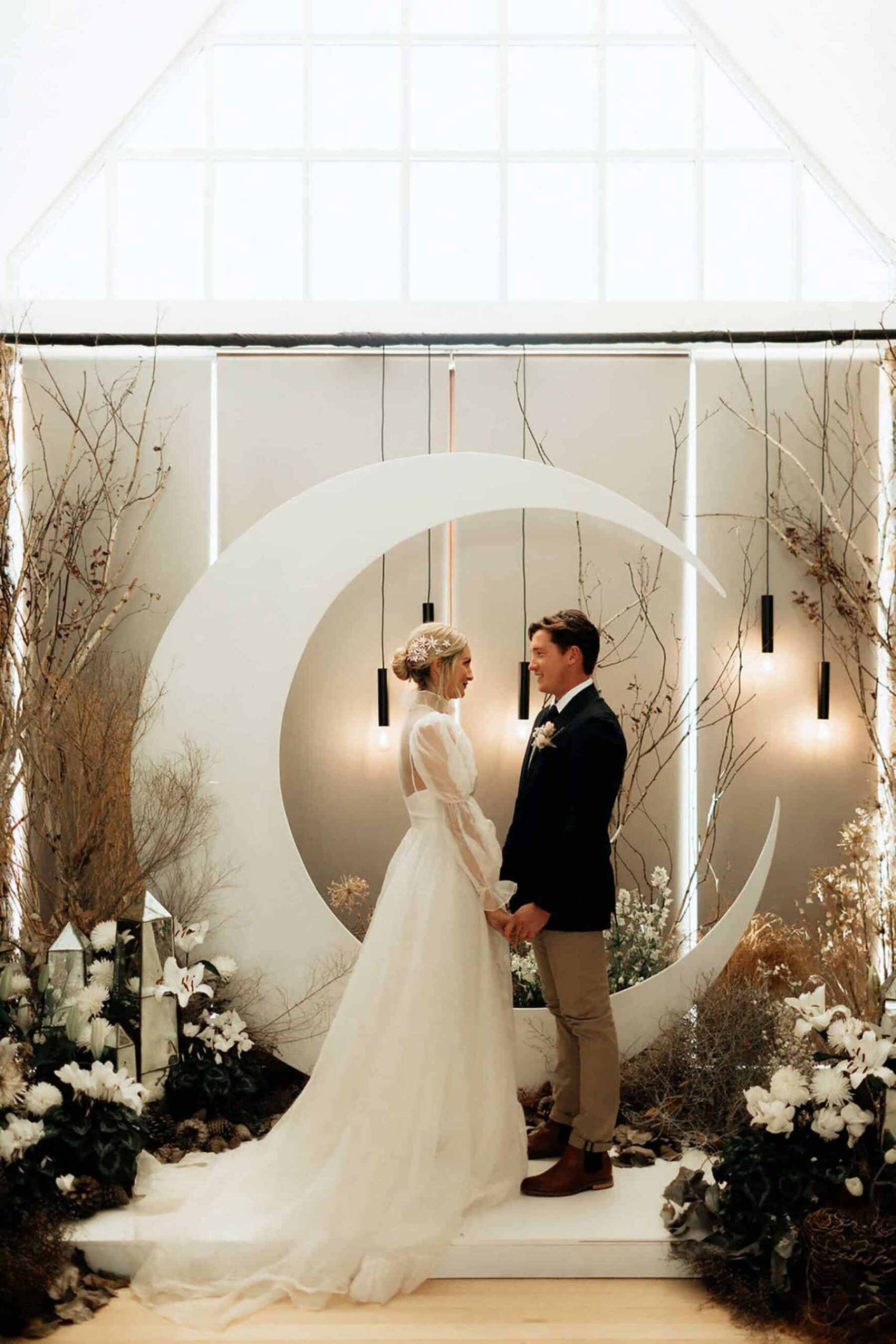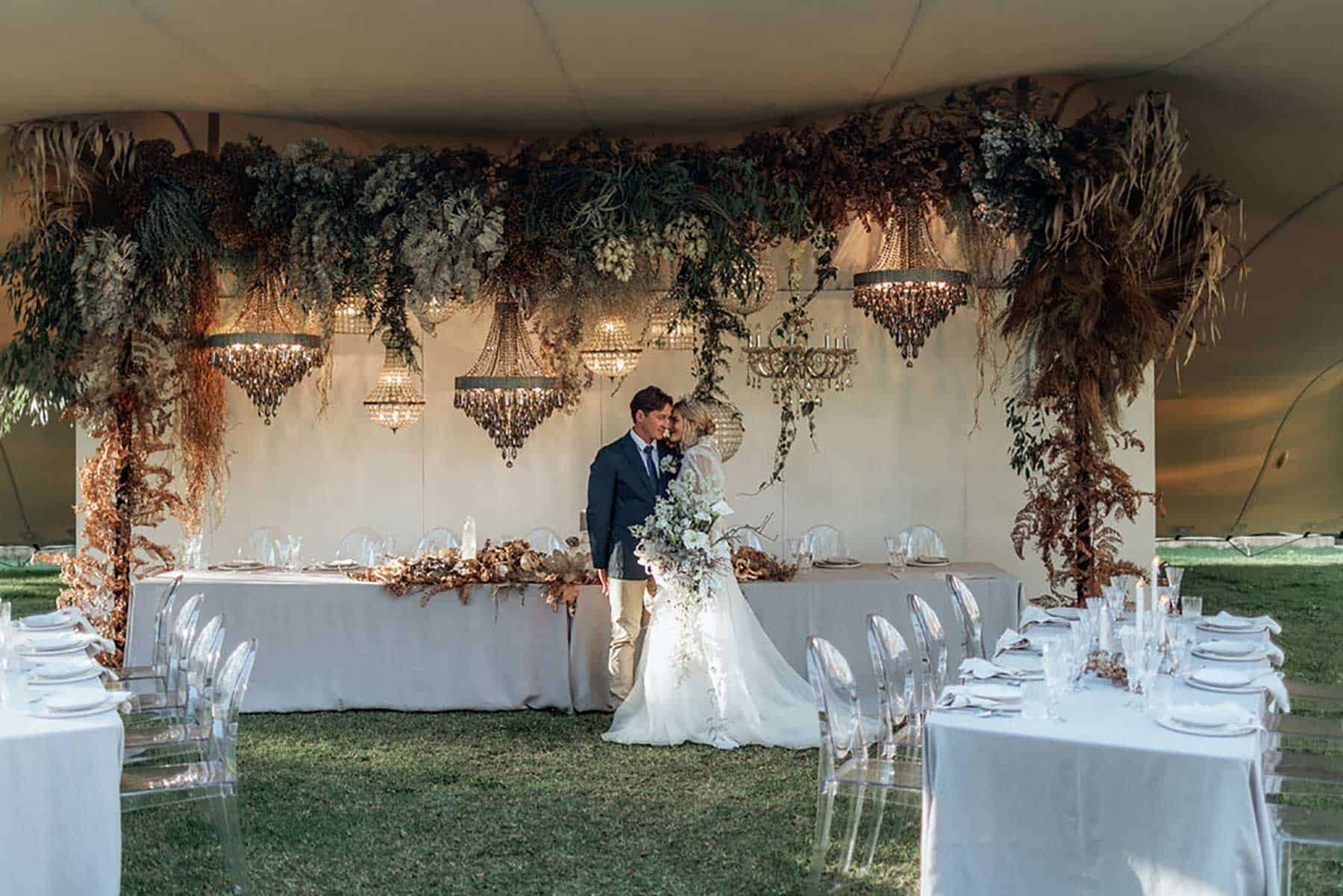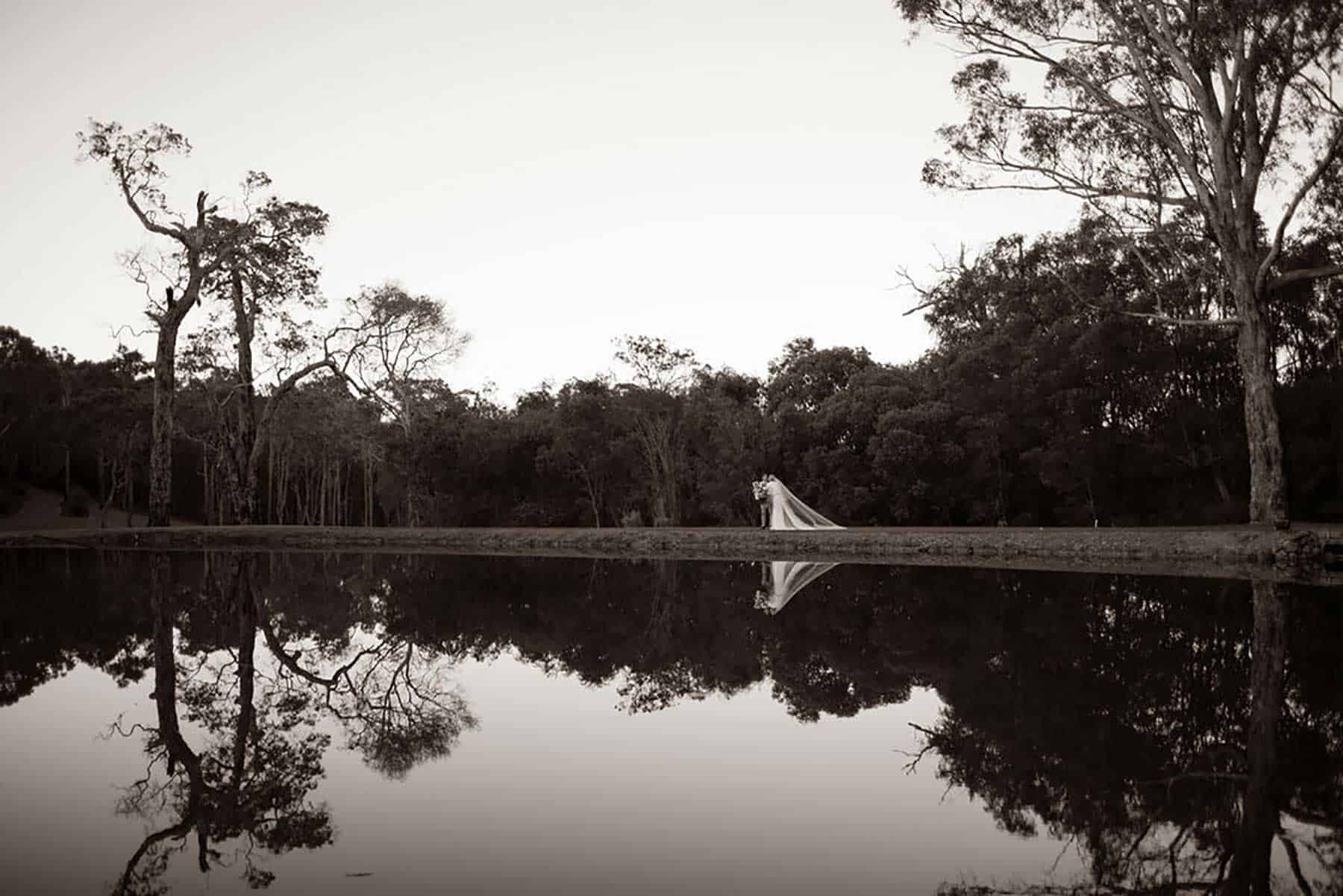 Recent Posts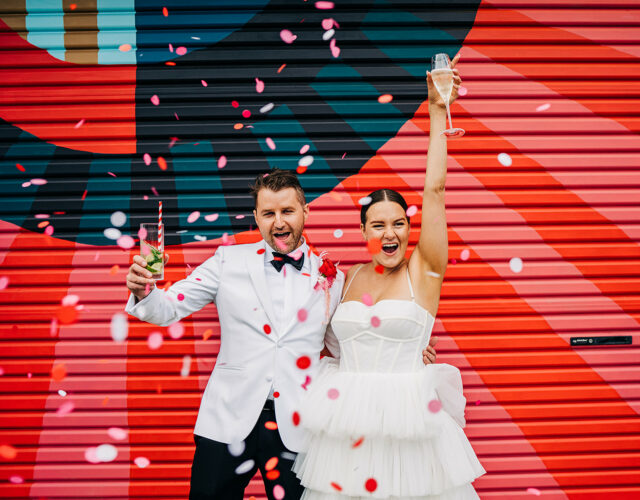 In the heart of the city, a tale of serendipitous love unfolded between Madi and Tim, two accountants…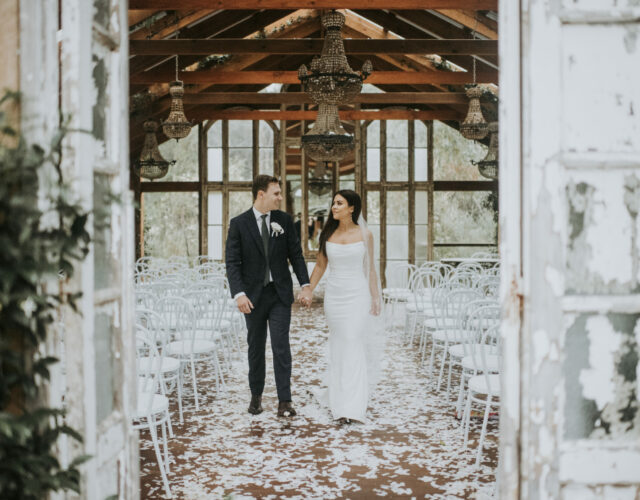 In the serene embrace of The Woods Farm, Jervis Bay, on the 14th of May 2022, Hugh and Felicity tenderly…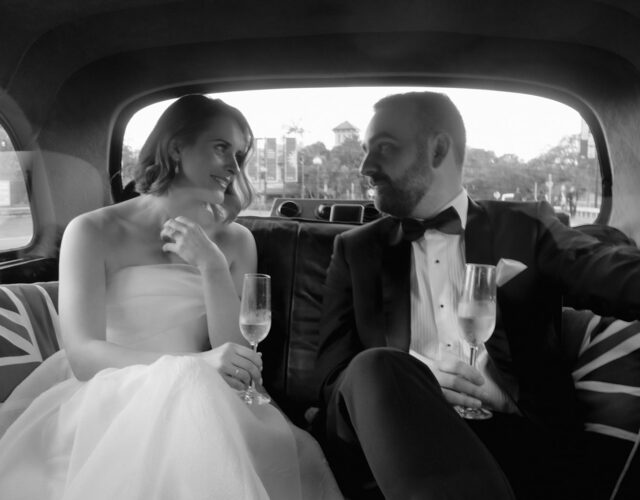 In the bustling cityscape of Sydney, the story of Mariia and Matthew unfolds – a romance that transcends…