Megan & Matt's Chilled Backyard Wedding in Brisbane
Not keen on being the centre of attention, Megan and Matt opted to get married somewhere a little more low-key and comfortable – their own backyard in Brisbane. The couple let Mrs Gibbons Flowers and The Perfect Party Co have total creative freedom, only chipping in with a few elements to base styling around. Megan's collection of willow blue plates were a must, as was her favourite colour combination, pink and red. What made their day extra special however, were the small details – from the wedding cake made by Megan herself, (chief baker at Hansel & Gretel Cakes) to the surprise choir (Brisbane City Sounds) singing Aretha Franklin and The Golden Girls theme song theme song. Making sure it all went off without a hitch was was wedding Coordinator Til Death Events and Juddric Photography captured all the laid back fun.
Styling and flowers
Coordinated by Til Death Events, styling was a combination of the wonderful minds of Mrs Gibbons Flowers, Allwell Party Hire Brisbane and The Perfect Party Co. "Amey from The Perfect Party Co is a creative genius," says Megan. "She painted the chairs and table white for us, as well as surprising me with a custom pink and red bar. She even made red and pink throw cushions especially for us. We would have been lost without her." Stationer, September Creative added pops of colour with vibrant signage and pink and red place cards. As for flowers, the couple say they were blown away by Amber from Mrs Gibbons Flowers. "Each of our guests commented on how they had never seen flowers like it before," shares Megan. "Sometimes I want to go back to my wedding day, just so I can relive the flowers."
The cake
Megan tells us, "Being a wedding cake maker, I felt the pressure to have a really epic cake. But I was having a backyard wedding for 30 so I had to keep it in check! I decided to go with a cake that just looked yummy and a design that would never go out of style. I had three flavours; Gluten free carrot cake with cream cheese icing, chocolate cake with caramel filling and orange cake with passionfruit and raspberry filling. I smothered it in a pink buttercream and finished it with edible flowers and passionfruit grown from my own garden"
Megan's Outfit
Wanting to look and feel comfortable on her special day, Megan designed her dream skirt with Ginger and Gold and paired it with a simple pink sweater from Trenery and a gold headpiece from Morgan and Taylor. On makeup and hair duties, The Beauty Case ensured Megan looked like the best version of herself. "I got compliments all day that I looked wonderful and that I looked like me, and that's exactly how I felt," says Megan.
The ceremony
They say 'home is where the heart is' and Megan and Matt say no other venue would have felt right. Other perks of their backyard ceremony was having their dog Prim by their side and an excuse for the couple to work on their home together. Some fun highlights from the ceremony included their celebrant Erin Woodhall changing the usual I do's to The Golden Girls theme song. Dedicated to paying homage to the show, Megan had also punched confetti by hand so each piece would have a golden girl on it. "It took me weeks of hole punching in front of the TV each night, but it was so worth it, Matt and I are still finding a golden girl here and there in our garden," says Megan. At the last moment, Brisbane City Sounds choir came out and surprised Matt and guests singing Aretha Franklin's I Say A Little Prayer.
Photography
The couple say Juddric Photography was the 'chill-pill' they needed to calm their nerves. "Not only is Judd a fantastic photographer, he is also the most calm and easy-going guy ever," says Megan. "I knew his energy was exactly what Matt and I would need on the day and it was perfect! Even during the hectic family photos Judd was the eye in the storm of my relatives and he helped keep everything on track."
The reception

The reception saw the couple's 30 guests sit at one long table, styled with Megan's willow blue plates and ginger jar style vases filled with flowers. Amber from Mrs Gibbons Flowers placed jonquils in vases down the table to provide fragrance as everyone sat down for a shared-style meal by the couple's favourite caterers Wine n Dine'm. For dessert, Megan made a selection of home-style pies including pecan, sweet potato, chocolate and banoffee, and let's not forget that incredible cake!
Recent Posts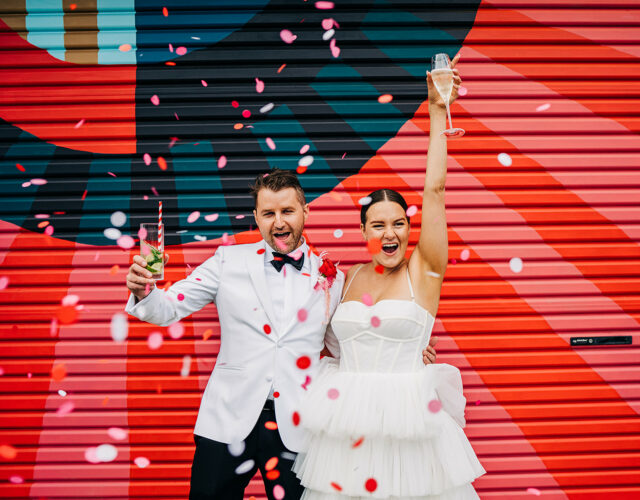 In the heart of the city, a tale of serendipitous love unfolded between Madi and Tim, two accountants…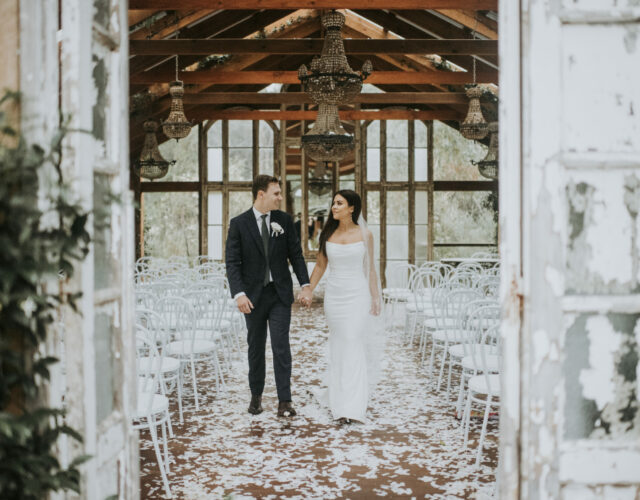 In the serene embrace of The Woods Farm, Jervis Bay, on the 14th of May 2022, Hugh and Felicity tenderly…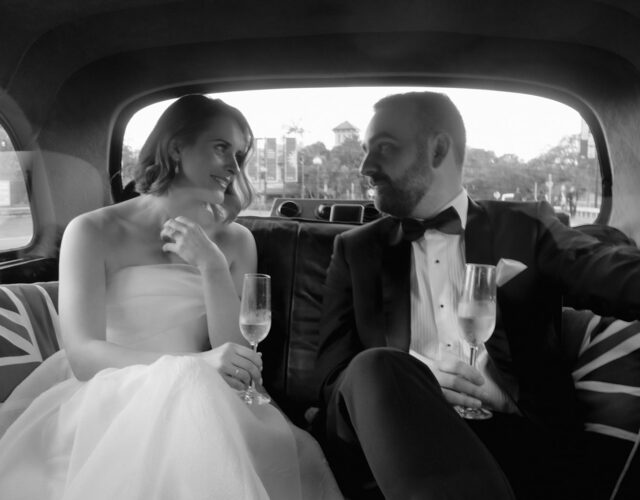 In the bustling cityscape of Sydney, the story of Mariia and Matthew unfolds – a romance that transcends…