Colourful Wedding Ideas, Decorations & Dresses We Love
Do you love the bright and lively vibes of colourful weddings? The combination of bold and vibrant hues along with flamboyant blooms looks so fun and captivating.
Your wedding day is an embodiment of your style and personality. So, if you are a creative and fashion-forward duo, adding a pop of vibrant and eye-catching colour is the perfect way to express yourselves and create a striking and unique impression.
Choosing a vibrant colour scheme, decorating your big day with a gorgeous assortment of exquisite blooms, wearing colourful accessories, and choosing fun and stylish suite will create a bespoke wedding experience. Plus, it will certainly make your guests go WOW. We absolutely love aesthetics that channel the magic of multicolour into the big day! The theme of colourful weddings often revolves around beautiful shades of coral pink, butterscotch yellow, dandelion, peach tones, fuchsia, cobalt and sky blue, marigold, tangerine, cherry red and emerald green. These chromatic hues radiate elegance, liveliness and exuberant vibes. The amazing part of hosting a colourful fête? You can be as creative as you like with your wedding décor and colour palette!
If you adore the dynamic and full-of-life ambience that lavishly elegant floral blooms add to a wedding, tying the knot with a gorgeous colourful backdrop is the perfect choice for you.
Colourful weddings WE LOVE!
Below are some glimpses of our favourite real-life colourful-inspired wedding celebrations. We encourage you to follow your heart like these creative couples and plan a wedding day full of fun, love and entertainment. The beautiful shades intermingling with bright florals and unique wedding decoration ideas will amaze and inspire you.
The wedding theme of this stylish couple was all about celebrating the big day wholeheartedly and treating guests to a bespoke experience. Marah and Simon, being the hosts, decided to entertain and delight their guests with confetti, live music sessions, stunning installations, beautiful décor and a food truck. The couple opted for a warehouse venue to bring their vibrant nuptial theme to life. Marah looked exquisitely stunning in her gorgeous ivory long-sleeved bridal dress from The Boom Blush. She paired up her gown with customised Susan Ewington earrings and a regal bridal bouquet that perfectly resonated with the wedding theme. The colourful drapings made for a stunning backdrop for the couple to exchange their vows and celebrate their union. The dissolvable confetti guns, green smoke and lively Mexican music definitely set the mood and the tone for the big day!
Is there anything more romantic than tying the knot in a colourful vintage-inspired venue?
Jules and Josh, being the modern fashion-forward couple that they are, decided to make their wedding day a direct reflection of their personalities. The Warehouse Geelong brought their dream marital aesthetics to reality. The Good Day Club transformed the bridal locale into a spectacular venue by selecting gorgeous colourful furniture, decorations, balloons, and draping glittery pink and neon green colour details which emanated charm and sophistication. The beautiful backdrop with epic styling details looked exquisite! The bright combo of neon green and glittery pink perfectly resonated with the personalities and dreamy wedding vision of Jules and Josh. The fun and energetic atmosphere created by these vibrant decorations transformed the big day into the most special and memorable moment of the couple's lives.
Jules arrived wearing a classic and feminine gown by Karren Willis Holmes. She decided to go for a gorgeous red lips by Hilary Holmes Makeup to create her stunning statement look. She looked like a dream in her complementary jewellery and off-the-shoulder bridal wear. The highlight of her ensemble was the vintage-inspired bracelet that belonged to her great grandmother which is an important family heirloom. The colourful gorgeous backdrop, confetti, neon 'til' death' sign, and unique wedding decorations served to be the perfect mise-en-scène for this special couple to tie the knot.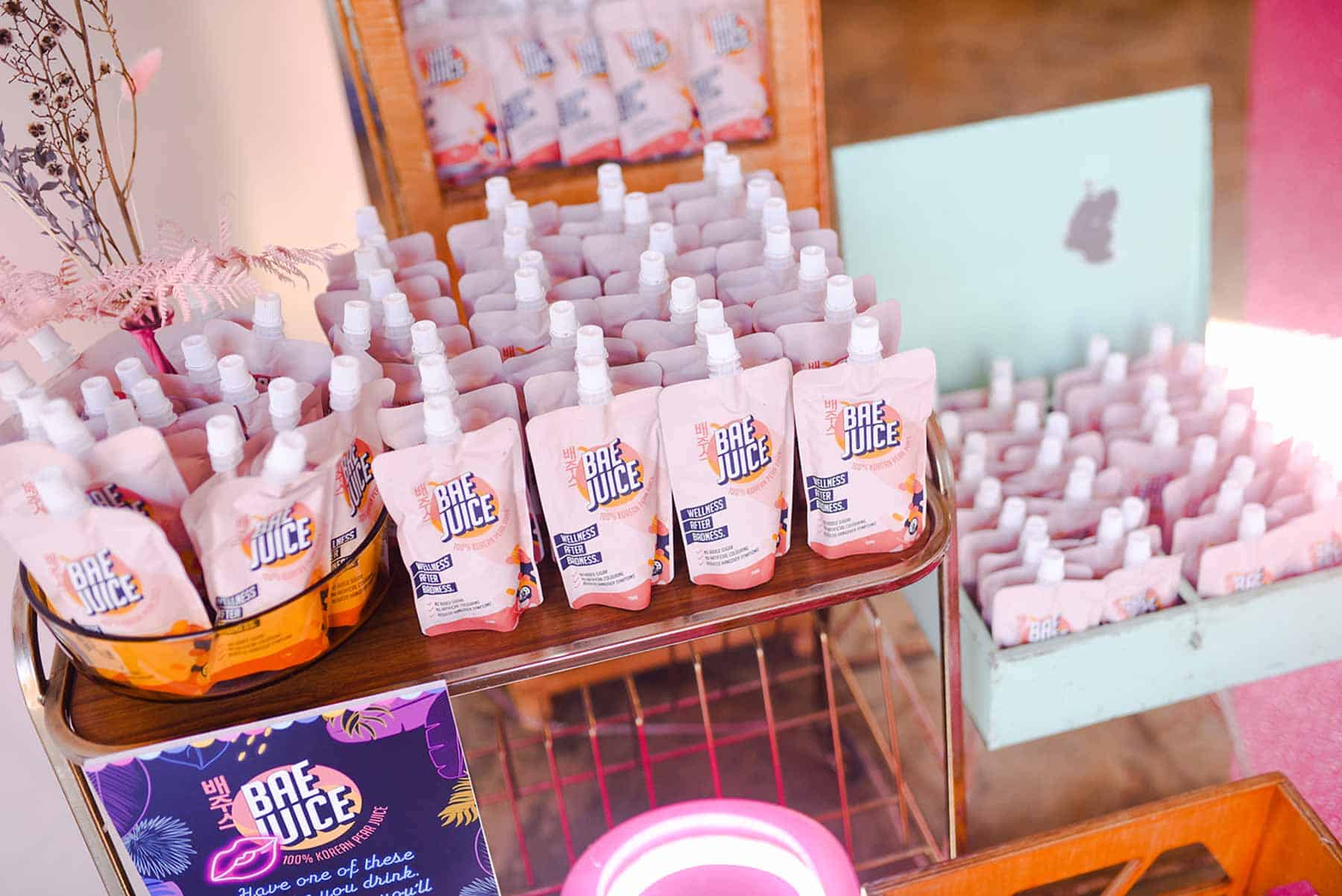 The stunning photographs from Matt and Vy's colourful wedding celebrations in Sydney, captured by I Love Wednesdays are the embodiment of liveliness and charm. The epic styling details, colourful decorations and unique collection of garden gnomes will delight you. All the wedding festivities were inspired by the theme of Alice in Wonderland. The playful tone, vibrant hues and rich assortment of flowers transformed this garden party into the most epic day of Matt and Vy's lives. Oh, and the presence of their little schnauzer, Molly made the day even more pawsome!
The couple decided to incorporate cheerful ribbons into the furniture setup, which emanated lovely fun vibes, and they also included beautiful pink flamingos and multi-coloured decorative elements to make for the wedding of their dreams. The colourful wedding cake was baked by none other than the iconic Suga Blossom. The floral decoration embellishing the cake made for the perfect finishing touches. The amalgamation of pastel colours and gorgeous frosting looked oh-so-sweet.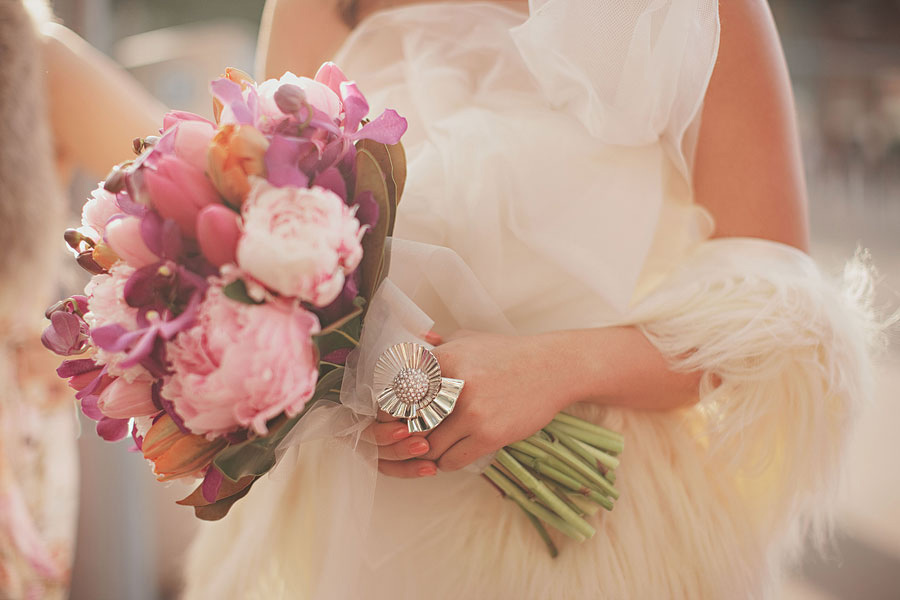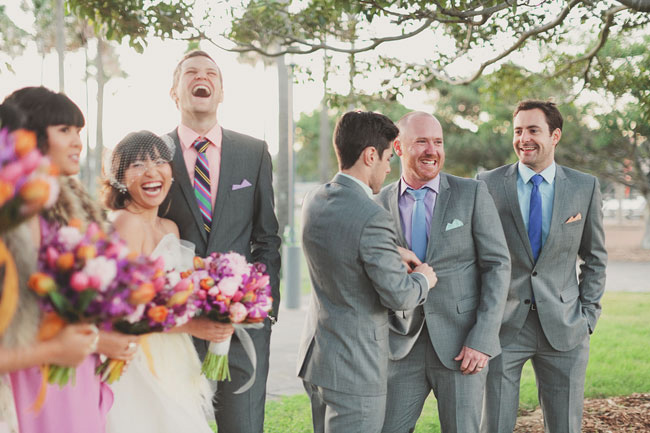 Bernie and Sam's colourful garden wedding was the epitome of nuptial perfection. From the incredible setting, gorgeous botanical gardens to the vibrant decorative elements and bright flowers-everything about this wedding were magical.
To celebrate their love story, the couple decided to tie the knot in the majestic Ampelon Garden. Bernie looked like a vision in her elegant bridal gown by Johanna Johnson with intricate lacy details and breathtaking sweetheart neckline. The delicate hairpiece complimented her entire look. Their beautiful three little kids witnessed these memorable moments. The main theme of their reception revolved around the elements of fun, liveliness and enjoyment. The crystallised bowls, beautiful vases, lavishly elegant flowers and colourful candles perfectly harmonised with the wedding aesthetics. These decorative additions upheld the theme of the big day and added the perfect finishing touches.
James and Skye incorporated all the elements of their elegant personalities into their big day by opting for DIY celebrations at the iconic Somerset Dam, Coronation Hall. The abundance of handmade details, DIY decorations, and illustrations created a bespoke wedding vision. Colourful and vibrant blooms sourced through  Brisbane Flower Market made for bouquets and table arrangements that resonated perfectly with the dream wedding vision of James and Skye. The guests were treated with delish Mexican food from Oitaco.
Tables adorned with colourful accessories, beading and centrepieces created an exquisite and unique look. The pop of colour offered by the floral decorations, table décor, beading, draping and ribbon elements was an expression of the artistic and creative side of this love duo. Tying the knot in front of the gorgeous backdrop, James and Skye celebrated the beginning of their new life.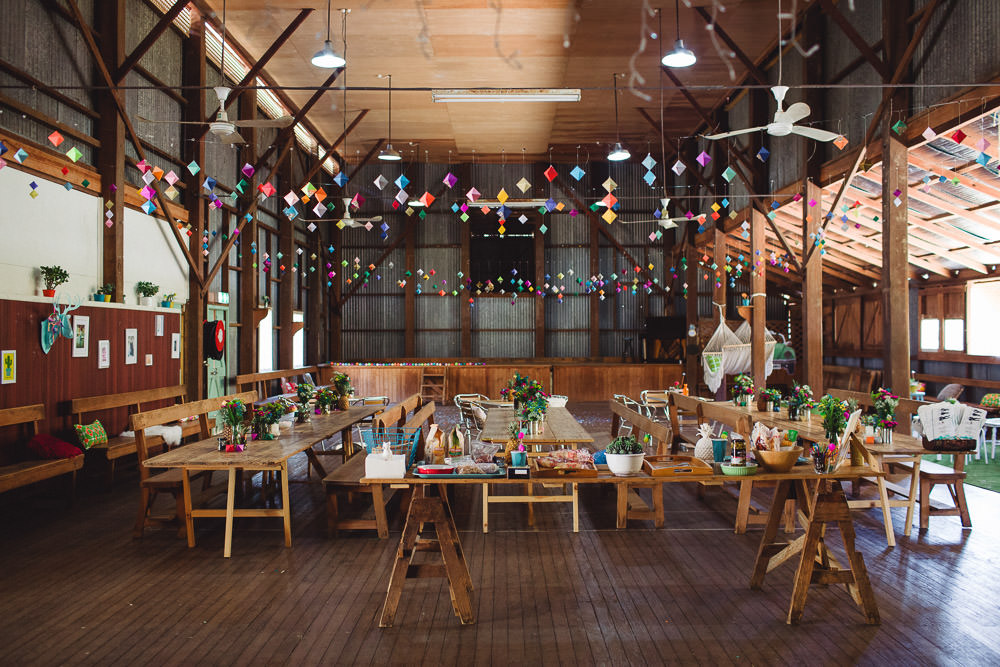 Colourful Wedding Ideas
To spark inspiration and elevate the vibrant aesthetics of your colourful wedding, we have compiled a list of bright and trending ideas to make your big day pop!
Decorate your wedding venue with bright and colourful balloons
To add epic brightness and vibrancy to your big day, we suggest you decorate your bridal venue with bold and cheerful multi-coloured balloons. Embrace the trend by carrying a train of big gorgeous balloons too, or by opting for an artistic arch made from balloons. Tie these fun accessories to your car for an epic entryway or create a statement with elegant rainbow installations for the wow factor!
Opt for colourful wedding cakes
Adding a pop of colour to your wedding cake is an epic idea to celebrate your lively festivities. Experiment with a plethora of unique shades, gorgeous frostings and flavours. We are certain that incorporating unique, delicious and multi-coloured sweet delights and cakes will charm your guests. Forget the traditional white cake and create a wonderful wedding experience by opting for a bright and unusual gateau filled with rich layers of cream.
Consider adding colourful little details
Amp up your wedding aesthetics by adding a subtle dash of colour to the celebrations. Incorporate a pop of colour by opting for bright or pastel toned vessels and vibrant table décor. You could also enhance your theme by adding florets and rainbow ribbons in the bouquets or boutonnieres. For a unique and vibrant décor, consider embellishing your furniture with delicate flowers and quirky elements. Fashion-forward couples are embracing colourful weddings and let's admit this: the vibrant themes and playful elements associated with these celebrations are truly iconic and unforgettable!
Flowers are your best friend
When it comes to colourful celebrations, a lavishly elegant assortment of florals is your best friend. They can enhance the beauty and overall aesthetics of your big day and emanate immense charm, vibrance and liveliness. Make your dream nuptials a reality by incorporating floral décor. Wear flowers in your hair for a natural and eye-catching look, weave them into the ceremony arch to create a bespoke ambience and get creative with floral arrangements to add a splash of colour to your wedding.
Include ribbons
One of the best and easiest suggestions that will make your big day pop with colour is to add vibrant and flamboyant ribbons to your decorations. Ribbons add a touch of fun and whimsy to your wedding day. Unleash your inner creative side by tying colourful ribbons to the furniture or using ribbon decorations around the venue. You can also amp up your vibrant theme by opting for wedding bunting made out of ribbons. These little details look charming and can add easy elegance to your big day and can also jazz up your backdrops by enhancing the draping you're using. If you are in love with the thought of exchanging vows in a visually pleasing locale, consider further beautifying the space by adding colourful ribbons. Oh, and did we mention that adding intermingling ribbons in your bridal bouquet exudes a perfect romantic touch? Highly recommended!
Invitations
Announce your exciting news in style by opting for colourful invitations that perfectly resonate with your chosen nuptial aesthetics. If you wish to delight your guests and let them in on your colourful wedding theme, we suggest you incorporate flowery decorations and ribbons in your bridal suite. The luxury, elegance and vibrancy that these little details add to your wedding stationery can't be underestimated. Create an eye-catching statement by opting for bright and bold or pastel and sweet decorations in your invitation suite. The charm of ribbons, florets, motifs, confetti and bright vibrant palettes is the perfect way to announce your big news and convey your theme to guests. The invitation suite is the first glimpse of your wedding aesthetics, so make it count by sparking major excitement through little details!
Decorations
Flowing decorative ideas can amplify your wedding aesthetics and enhance the vibrant theme that you want for your big day:
Neon signs
Hands down the best decorative element that will literally light up your big day!
Adding vibrant neon signs into the backdrop or venue decorations is the perfect way to inject a splash of colour into your wedding day. On top of that, these signs look exquisite in photographs and create the perfect backdrop for you and your beloved to tie the knot. Elevate your celebrations by adding colourful neon signs that will make everyone fall in love with the vibe!
Decorate your wedding venue with coloured lanterns
Is there anything more romantic and enchanting than the soft glow of coloured lanterns? Imagine dancing under strings of fairy lights and hanging lanterns with the love of your life on your wedding day. The idea sounds utterly charming and will make for a memory that will never fade!
Decorate the ceilings of your wedding venue with illuminating string lights. Add a pop of colour by opting for lights and lanterns that are shaded in pastel or bright tones or are multi-hued instead of more traditional options.
Opt for a floral canopy
Enhance your wedding aesthetics by decorating your nuptial venue with the beauty of flowers. Incorporating blooms is a great way to add a splash of colour and will help you tie the knot in style.
Colourful Wedding Dresses
The design and style of the bridal dress is a vital element of your entire wedding aesthetics. To create an iconic and eye-catching look, have a look at these colourful wedding dresses in Australia.
The collection of rainbow-inspired multi-coloured gowns by Canvas Bridal revolves around the perfect trifecta of charm, elegance and sophistication. The beautiful bridal train consists of bright and vibrant hues. Create your own fairytale by opting for stunning attire from The Canvas Bridal. The fabric, intricate lacy details and self-embroidered flowery patterns are exquisite.
Grace Loves Lace is the go-to bridal wear designer for every fashion-forward bride. Nathalia and Liliana are our top picks for colourful weddings. The Italian straps, gorgeous deep plunging necklines, ivory colours and mirror lace make these dresses perfect for weddings. The silhouette design and soft fabric will make you look like a dream on the most special day of your life.
Renowned Australian brand, Anna Campbell came up with the perfect colourful wedding dress in the Lumiere collection. The exquisite feminine details, elegant flair, luxurious fabric, customised delicate lacy pattern and plunging neckline will make you the sparkling highlight of your wedding day. Everything about these gowns embodies sheer elegance, grace and beauty. Get ready to turn heads in this luxurious and modish gown.
Final Thoughts
Colourful weddings are the embodiment of vibrancy, liveliness, fun and style. They enable you to unleash your inner artistic side and creativity by allowing you to choose from a plethora of adorable decorative elements. If you are a fashion-forward couple who wishes to make your big day a direct reflection of your dream nuptial aesthetics, colourful weddings are the ultimate option for you. Celebrate your union with colours to amaze and delight your guests.
Recent Posts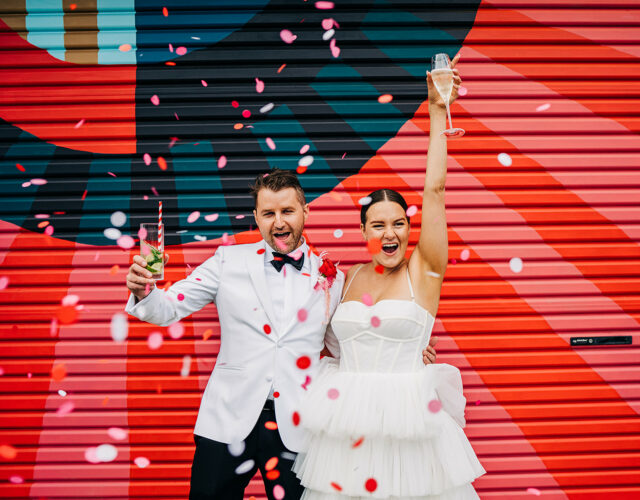 In the heart of the city, a tale of serendipitous love unfolded between Madi and Tim, two accountants…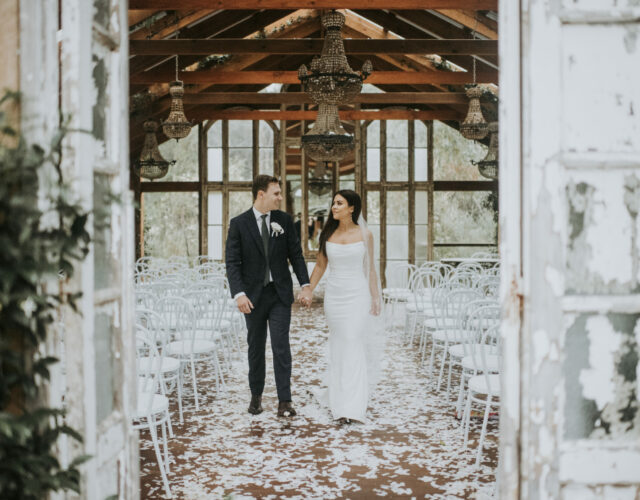 In the serene embrace of The Woods Farm, Jervis Bay, on the 14th of May 2022, Hugh and Felicity tenderly…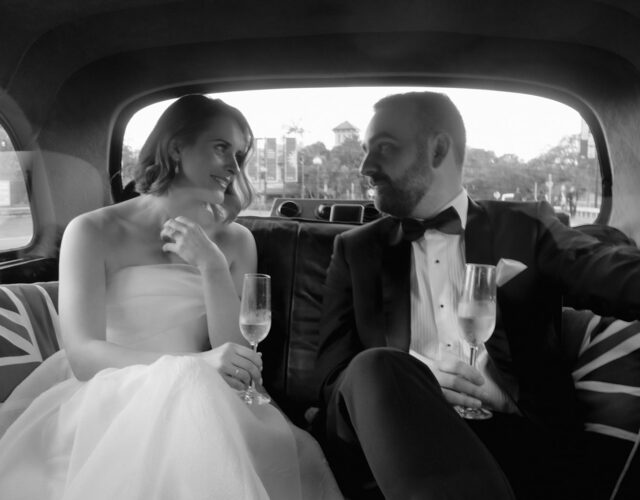 In the bustling cityscape of Sydney, the story of Mariia and Matthew unfolds – a romance that transcends…