Nash & Briony's Earthy Eco Village Wedding
Surrounded by ancient eucalypts, Briony and Nash were in their element at Crystal Waters Eco Village. They tied the knot at the Queensland permaculture community with daughter Zia in tow, and Jazzy Connors was there to capture their earthy affair.
The perfect setting for an intimate, child-friendly gathering, Briony tells us Crystal Waters fit their needs perfectly. "It was rustic, earthy, and being a community space, it really had a bespoke, grass roots feel." Not wanting to detract from area's natural beauty, the creative couple made styling choices that would both blend with and complement their surroundings.
With sustainable DIY in mind, the resourceful groom crafted a stunning arbor from wind-felled branches found on their property. Festooned with foliage, feathers and lush wildflowers by Wildflower Woman, the arbor made for an otherworldly backdrop. Nash also made his own beer, complete with little timber carry caddies – "Brewed it, bottled it, and designed and printed his own labels," says a very proud Briony.
The spiritual pair looked for an alternative and meaningful way to bind them for life. A friend and apprentice in Native American traditions offered up a prayer and smudging ritual for the two. "She gave our ceremony a beautifully earth-based focus," explains Briony, "which was then followed by a hand-binding or hand-fasting ritual, which connects back to our pagan roots."
Naturally, the eco-conscious couple treated their guests to a feast-worthy spread of fresh, organic and locally-sourced produce, lovingly prepared by Crystal Waters' very own Noble Catering. Briony says "We wanted to make a point of supporting the community and small local businesses when sourcing our vendors and suppliers."
When it came to finding a dress, Briony put her faith in the old adage 'good things come to those who wait' but when the perfect dress didn't come along, she took matters into her own hands, collaborating with a local dressmaker to design a stunning relaxed wrap-around gown. With her tendrils of loosely curled hair and a thryptomene crown, Briony was the definition of a bohemian bride. Nash paired a vintage pin-stripe suit with Chuck Taylor's, and an effortlessly on-trend man bun. Together, these two are a match made in eco-heaven.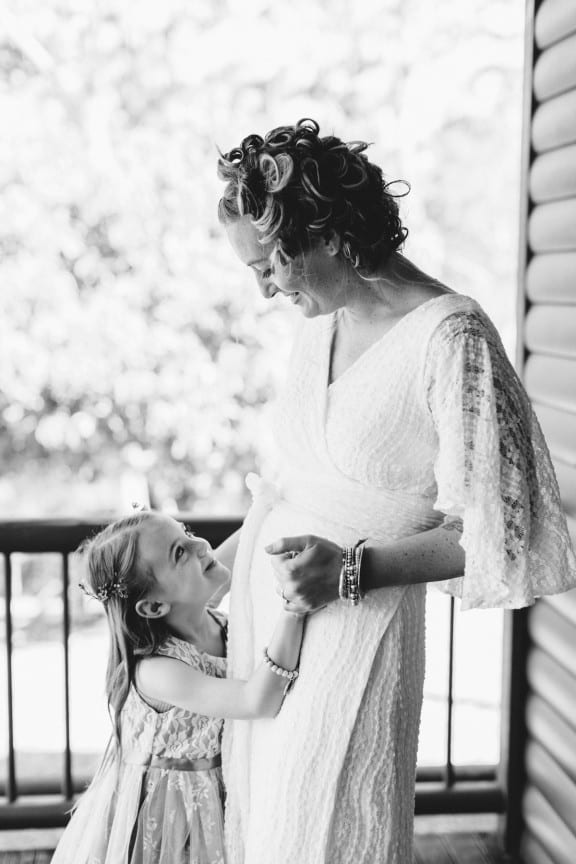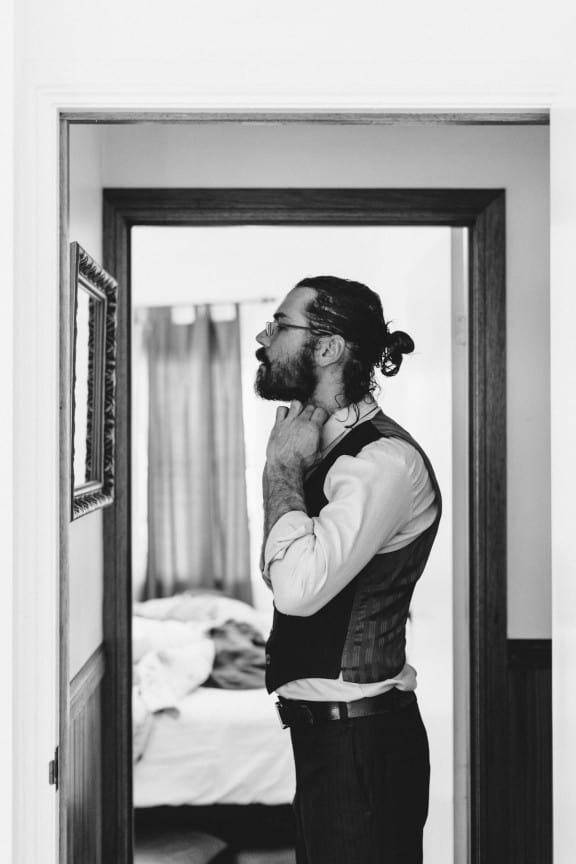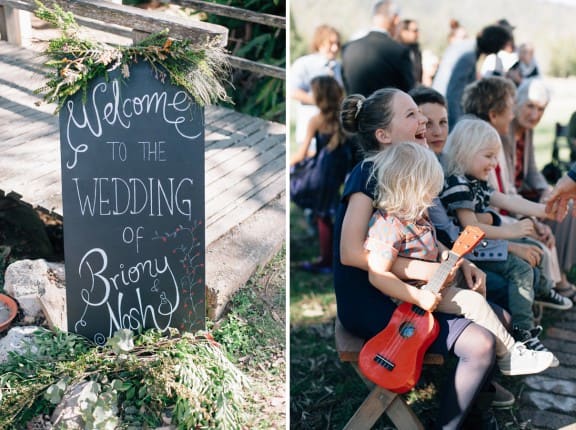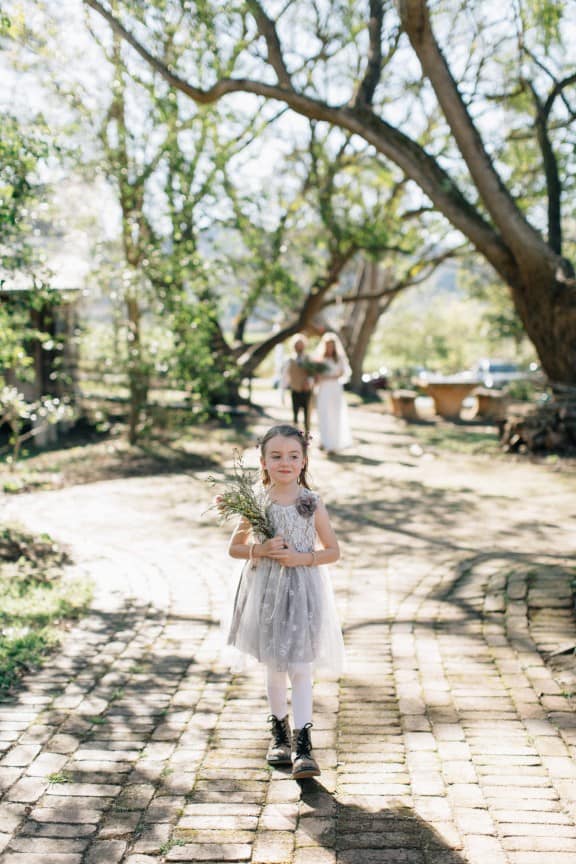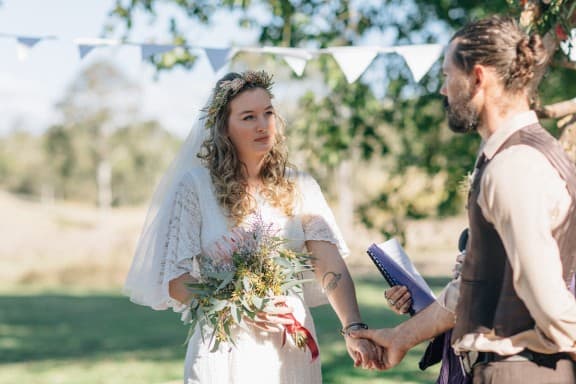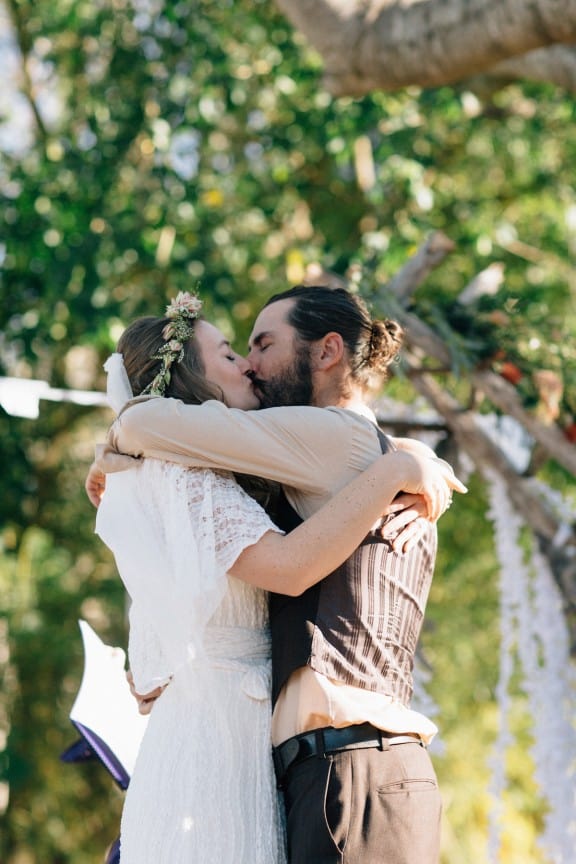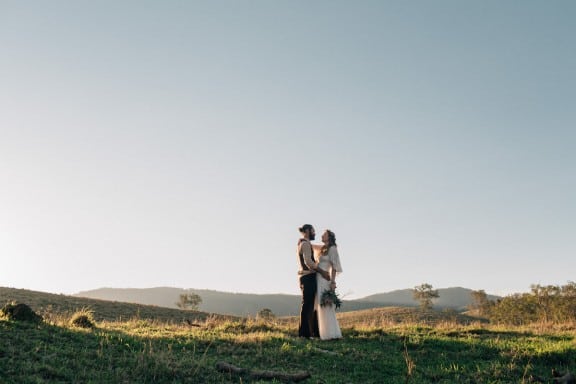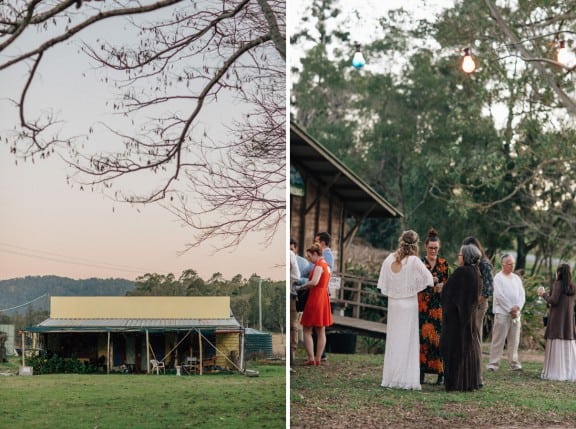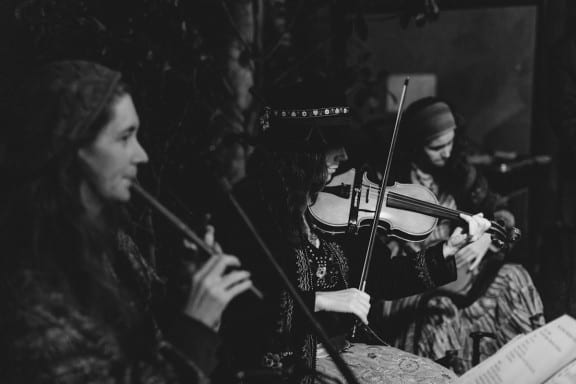 Photography: Jazzy Connors Photography | Bride's shoes: El Naturalista | Groom's suit: Vintage | Groom's shoes: Converse | Rings: Studio Swoon | Ceremony venue: Crystal Waters Eco Village | Celebrant: Beth Dancing Free | Venue: Crystal Waters Eco Village | Flowers: WildFlower Woman | Catering: Noble Catering | Music: Crystal Waters Gypsy Band
Recent Posts
Easing into their wedding with brunch at a local café before heading to their Ooi House Airbnb…
Six years after being introduced by friends, Tom & Libby tied the knot at VIC's luxurious French-chateau style mansion…
After their wedding venue pulled the pin just 24 hours before Chris and Jac were set to say I Do…