Tom & Ellanor's Lush Tassie Wedding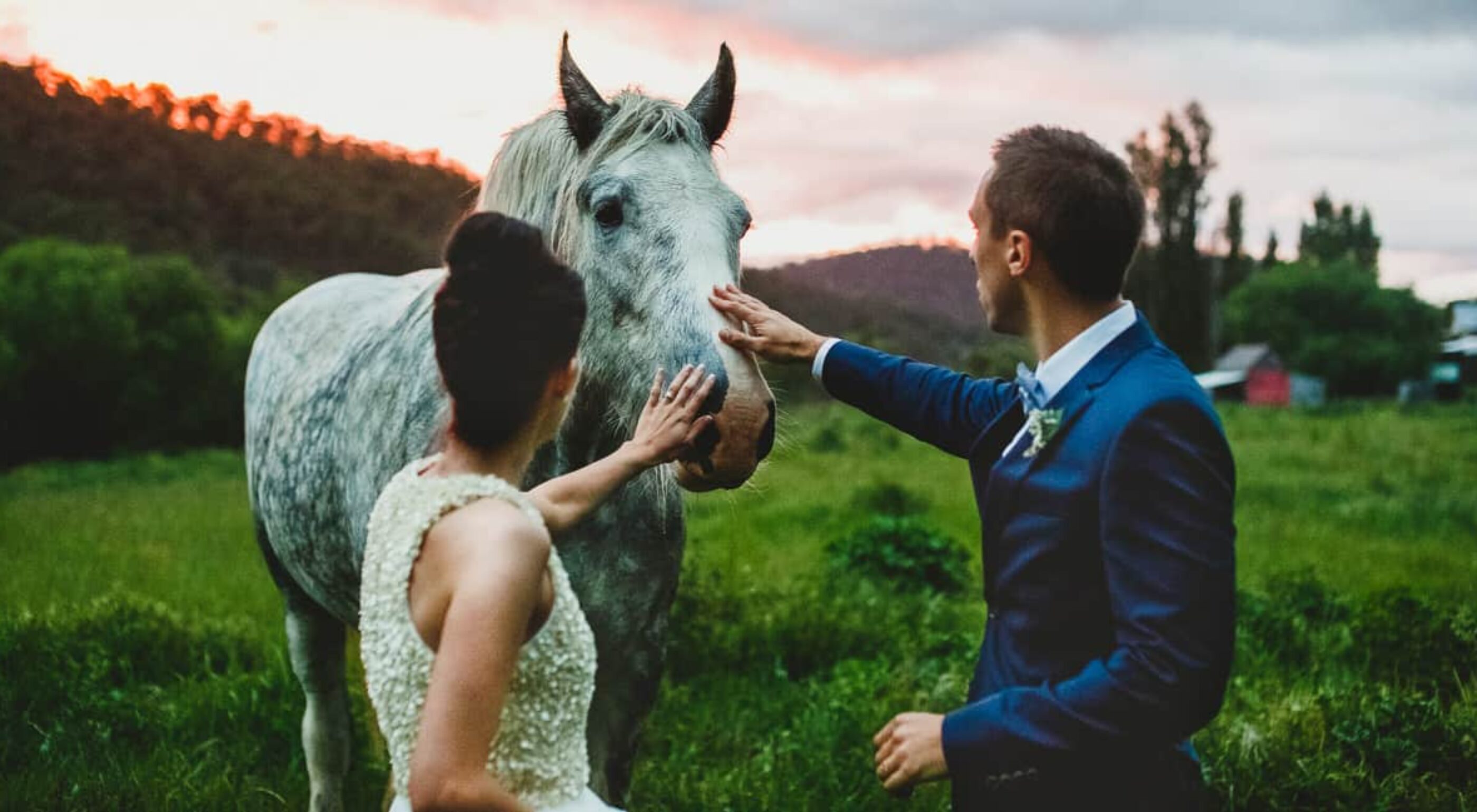 Playing out in the lush grounds of a friend's New Norfolk farmstead, Tom and Ellanor's wedding was a relaxed affair that called upon the many talents of loved ones to bring it all together.
Having scored the venue of their dreams through a family friend, the pair had the exciting but daunting task of working with a blank canvass. "The whole wedding was done by us and our families," says Ellanor, although she does admit they let Mother Nature do a lot of the work. "The garden where we had our ceremony is simply stunning; sheltered and quiet, with crab apple trees climbing the fences."
Free flowing booze kept the vibe relaxed – a high priority for this chilled-out pair. "We wanted people to have a glass of bubbles the minute they got off the buses," say the bride and groom, who no doubt calmed a few nerves of their own with a pre-ceremony toast or three.
Everyone was in good spirits as Ellanor breezed down the aisle, looking stunning in Rachel Gilbert, following her 'flower grannies' (grandmums playing flower girls) and all-in-white bridesmaids. Her talented friends took care of hair and makeup, while a florist friend (Taugusto) together with Tom's mum, created the babies breath bouquets.
The light hearted ceremony was led by celebrant Simone Taylor, whose warm service received as many laughs as tears. "Simone really took the time to get to know us over a few wines," says Ellanor. "She was so open to all our ideas and wrote the most amazing ceremony for us. It was perfect!"
Before joining their guests in the white stone barn for DIY tacos and tunes from Baker Boys Band, the pair stole away with photographer Adam Gibson for some magical sunset captures. "We climbed a fence to capture the sunset and three huge white horses came over to say hello! Such a magical moment!"
Photography: Adam Gibson | Bride's dress: Rachel Gilbert | Bride's shoes: Tony Bianco | Bridesmaids dresses: South District on Chapel St | Groom and groomsmen's suits: Peter Jackson | Bow ties: B.Ties | Rings: Claudia Jewellers | Hair & Makeup: friends of the bride | Venue: private property | Celebrant: Simone Taylor | Reception venue: | Flowers: Taugusto and groom's mum | Catering: Taco Taco | Music: Baker Boys Band
Recent Posts
Toowoomba lovers, Savannah and Dominic, started planning their wedding with rolling hills and a floral extravaganza in mind.
The 2019 release from bohemian bridal label Lovers Society has landed, and it's got us all a…
An eye for detail and a shared love of Italian food were at the heart of this marketer/designer duo's Carlton…