Sarah & Trent's Fitzroy Town Hall wedding
Some people feel pretty awkward about being the centre of attention, then there are couples like Sarah and Trent, who look like they were born for this day!
Sarah is a total babe with a killer smile, and as couple, these guys are confident, photogenic and impossibly elegant. Their exquisite 1000 £ Bend/Fitzroy Town Hall wedding, epitomises Melbourne style. A stunning day, a beautiful couple, all captured by the very talented Leo Farrel.
The ceremony was at 1000 £ Bend in the cinema room upstairs and the reception at the Fitzroy Town Hall. "We wanted to get married in a gallery", says Sarah "and would have loved to get married outside but with Melbourne weather you never know what it will do… We had been to other functions at 1000 £ Bend and loved the walls, floors and giant windows."
Keen to organise their own catering, the Town Hall was the perfect option. It also had a special significance to Sarah, whose Nanna used to attend dances there. "Walking in to the hall before anyone arrived and seeing it look magical with so many beautiful flowers, the room looked incredible," recalls Sarah.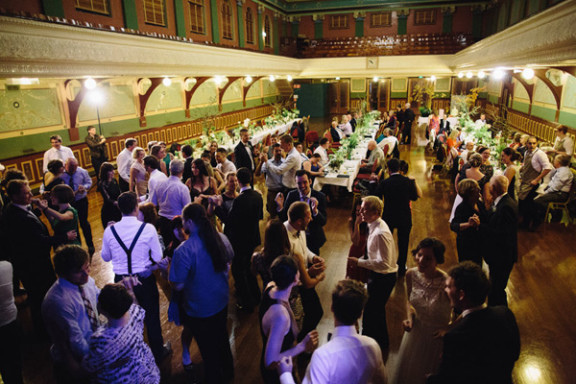 Photography: Leo Farrel | Bride's dress: Anaessia | Bridesmaids dresses: Carla Zampatti and Thurley |Bride and Bridesmaid's shoes: Zomp | Faux fur shrugs: Cruz | Groom's and groomsmen's suits: Hugo Boss | Hair: Rommelik | Makeup: Megan Harrison | Flowers: Sarah at Casa Verde | Cars: Triple R Luxury Car Hire | Stationery: printed by The Hungry Workshop | Celebrant: Gerard Van Dyke | Catering (Lebanese banquet): Rumi | Cake: Georgina Plunkett | Favours: Rooftop Honey
Recent Posts
Well versed in playing host, Marah and Simon graduated from house party to epic warehouse party with…
Having suffered through months of drought, it could only be a good omen that the heavens finally opened on Chris'…
After toying with the idea of a destination wedding, Georgia and Adam opted instead to keep things closer to home.