Tom & Libby's French-Chateau Style Wedding at Campbell Point House
Six years after being introduced by friends, Tom & Libby tied the knot at VIC's luxurious French-chateau style mansion Campbell Point House. Wanting a moody, opulent vibe, the couple strayed from traditional in favour of black roses, gold accents and rich colours complimented by softer blush tones. Photographer Daniel Neucom shares all the snaps from this lavish, private affair.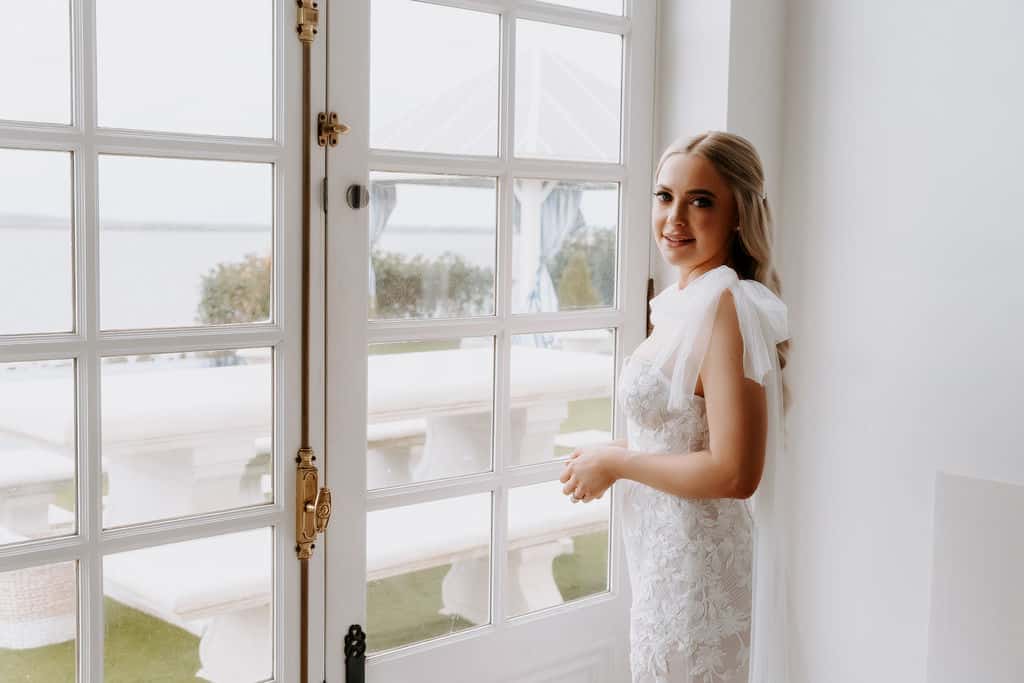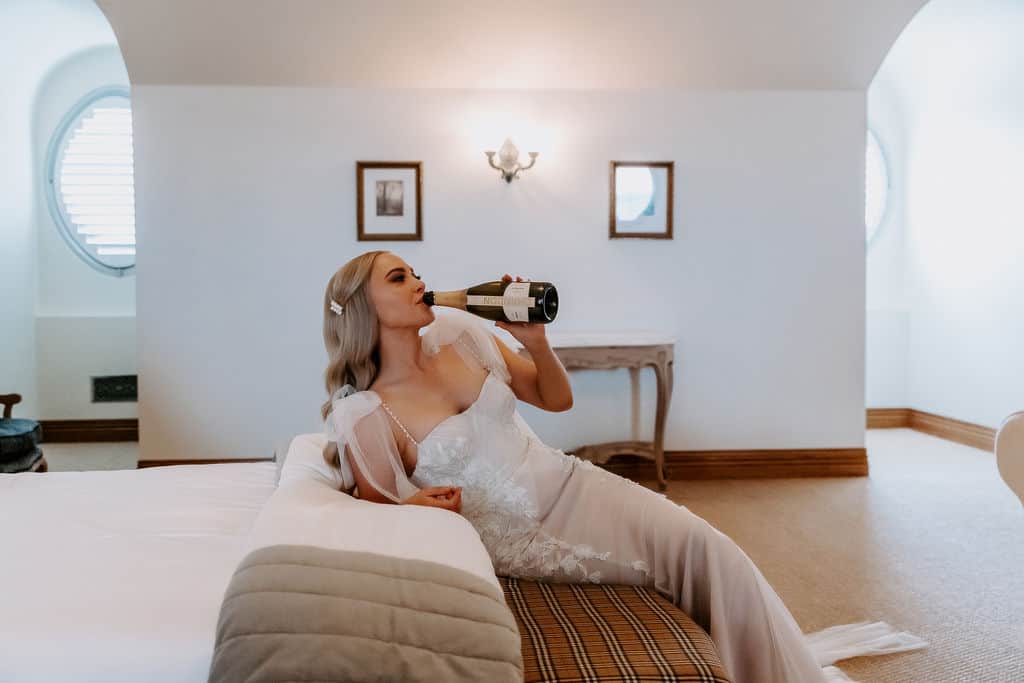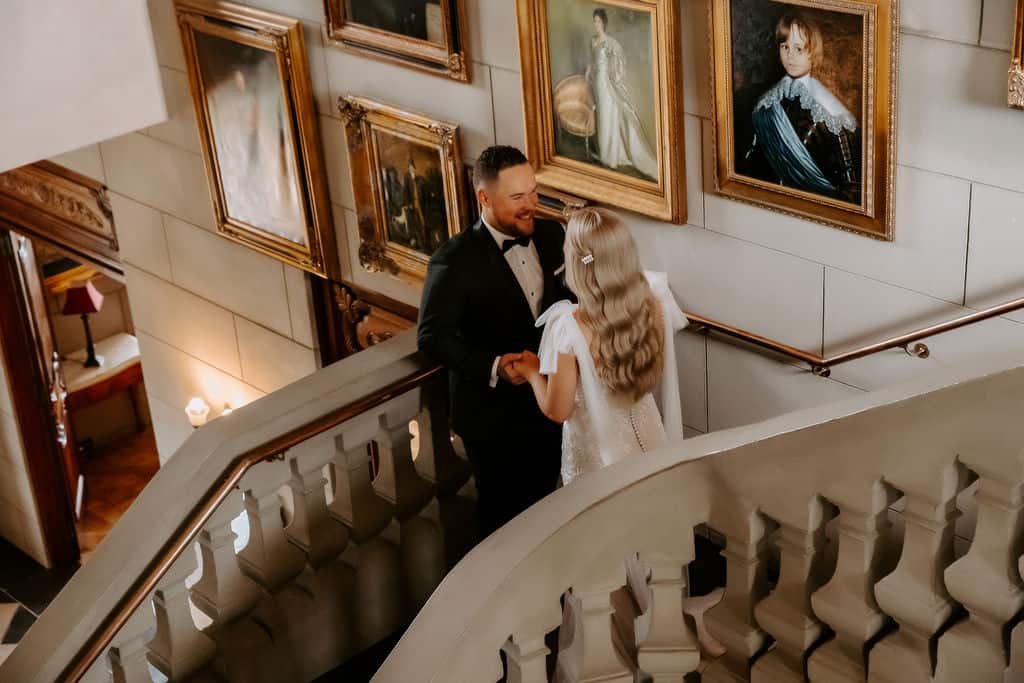 Courtyard Ceremony at Campbell Point House
Wanting a venue that could host guests overnight while highlighting their love for travel, Tom and Libby found a perfect fit in Campbell Point's stunning views and secluded grounds. "Our brief was to give our guests an amazing trip away with a quick wedding ceremony added in," shares Libby. Married in the estate's lush green courtyard, styling was hardly necessary, though the couple did opt for a gorgeous State of Nature floral arrangement as their backdrop.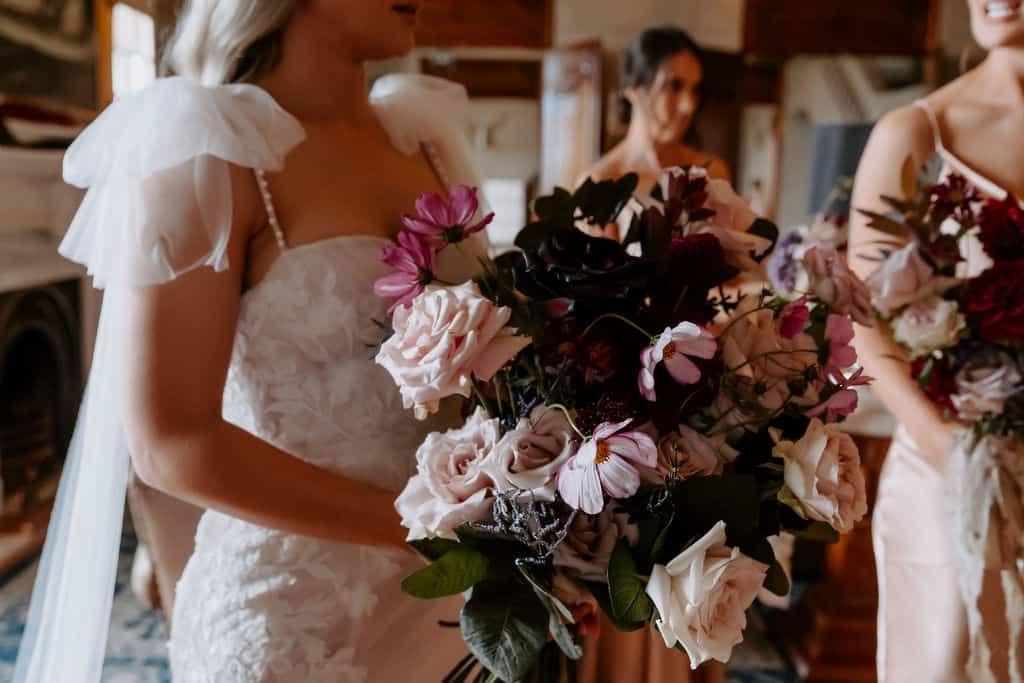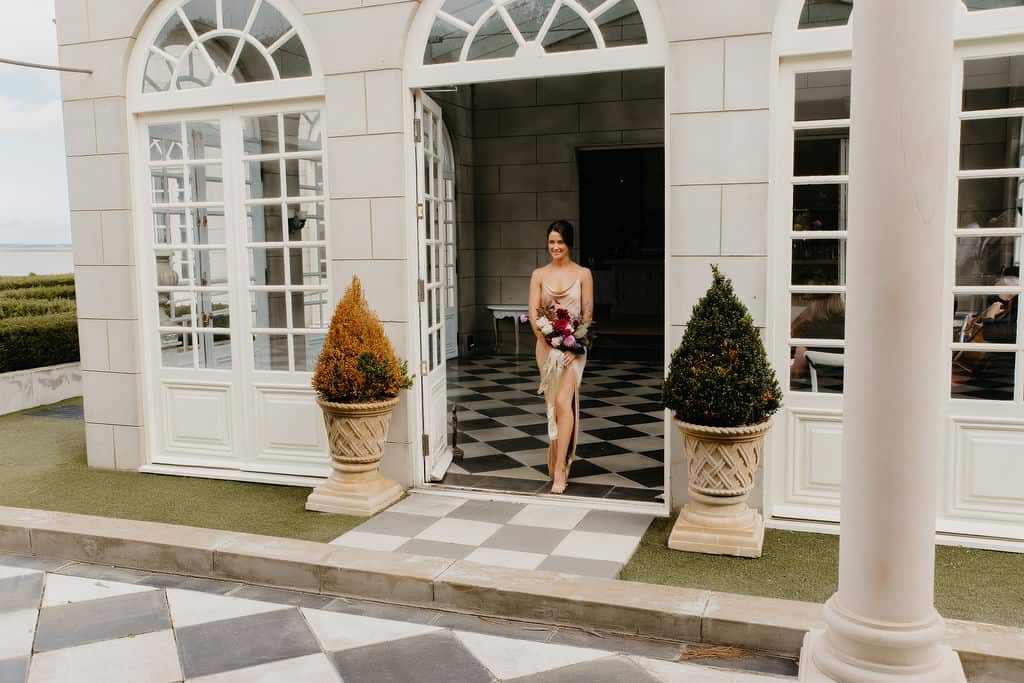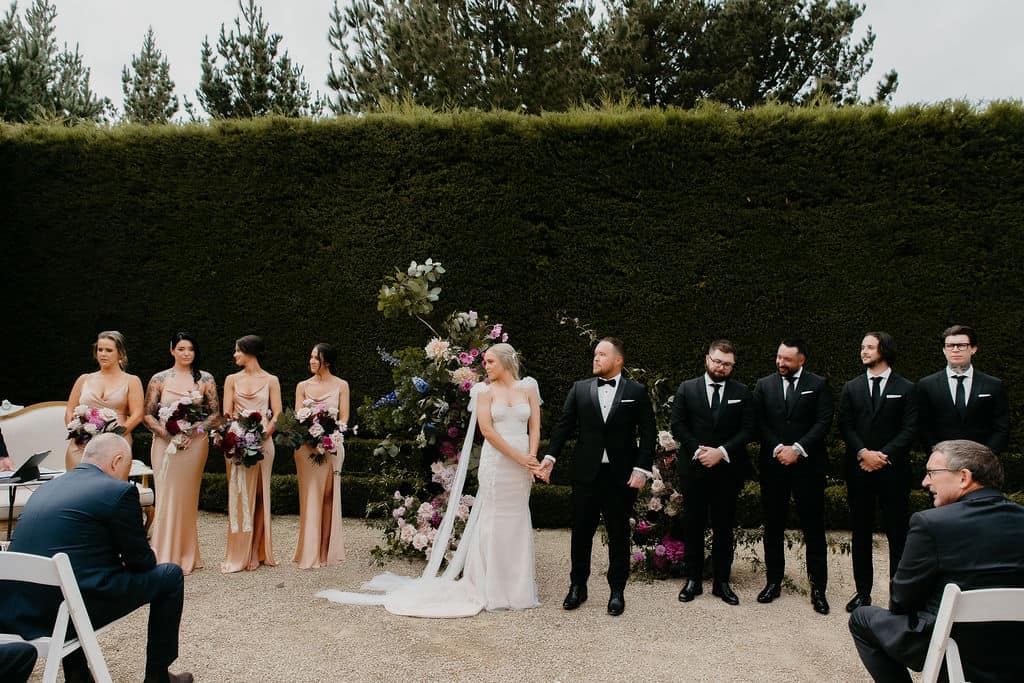 Bride & Bridesmaids' Dresses
Wearing a custom Cassandra Renee dress featuring soft tulle, embroidered lace, pearl straps and bow accents, Libby fit perfectly with the French-chateau style of the venue. "I think I tried on a million dresses and couldn't really find 'the one'," remembers Libby. "Cassandra was so helpful and turned my mess of random ideas into the perfect dress. She added some really beautiful personal touches as well, like stitching my Grans pearls into the wrist loop which was really special." Libby's Bridesmaids on the other hand wore mismatched Shona Joy dresses, which they got to pick out themselves. "I wanted them all to feel amazing and really enjoy the day – one of the best parts of the whole wedding experience was being together and getting ready," says Libby.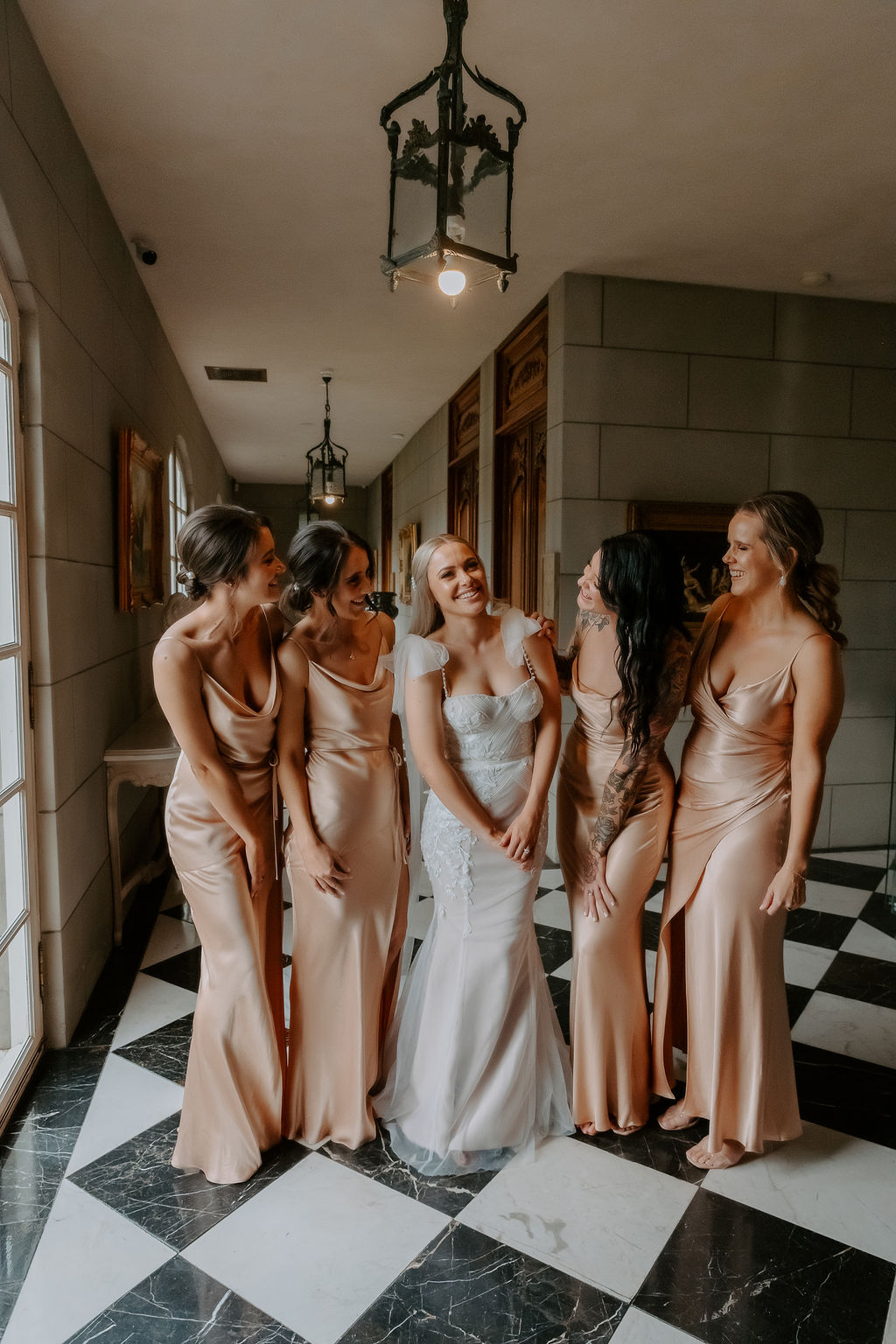 Reception at Campbell Point House
In a private room overlooking the Bellarine Peninsula, the reception featured all of the couple's favourite foods including ceviche, crispy pork belly, slow cooked beef cheeks and roasted potatoes. "We let our guests pick their mains and entrees prior to the day so that everyone had something they liked and nobody left feeling hungry," shares Libby. Tom and Libby particularly loved how their venue allowed guests to settle right in and enjoy themselves, whether that be playing games of pool or getting stuck into the cocktails. Later, guests were treated further with what Libby recalls as 'the best chocolate mud cake ever', followed by lots of dancing.
Vendors
"If we were to plan our wedding again, we wouldn't change a thing," the couple tells us. "We feel like every vendor that helped us absolutely made our day. They were all able to take our ideas and create something that was perfect and considered to be the best day of our lives."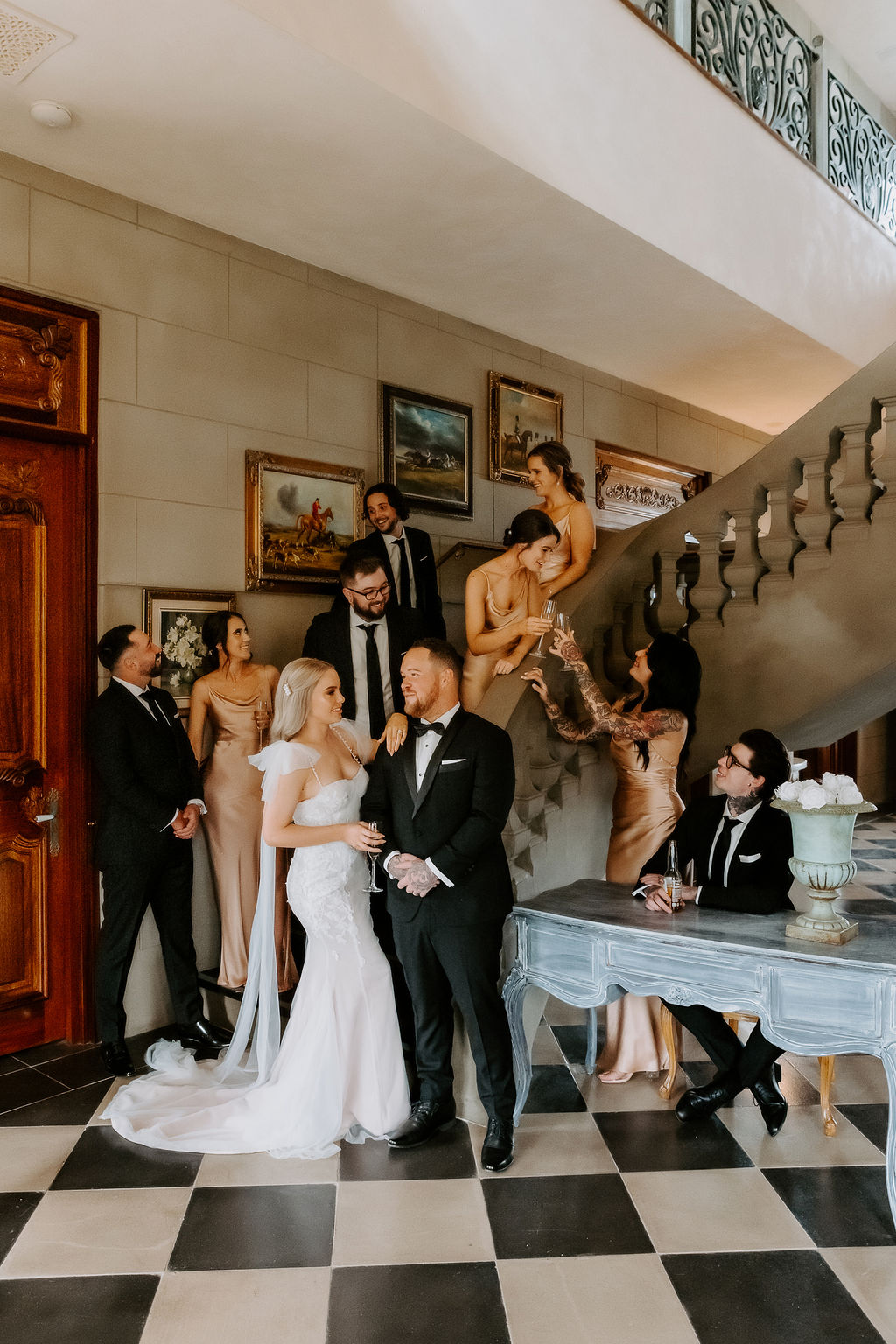 Recent Posts
Easing into their wedding with brunch at a local café before heading to their Ooi House Airbnb…
After their wedding venue pulled the pin just 24 hours before Chris and Jac were set to say I Do…
2022 has seen the return of weddings and of course, wedding dance floors, in a huge way! After multiple lockdowns…