Tessa & Nick's Modern Perth Wedding
Both Perth natives, Tessa and Nick met in London and neither of them doubted that they were in it for the long haul. In a nod to tradition, the two tied the knot 'neath the stunning Gothic architecture of the Mercedes Chapel, before relocating to Lamont's Bishops House for a night under the stars. Carly from CJ Williams Photography was there to capture their chic summer soiree.
With a space as beautiful as the Mercedes Chapel, Tessa and Nick kept things simple, letting the chapels stained glass windows and pure colour palette speak for itself. The chapel was especially nostalgic for Tessa, who attended the adjoining high school, and the two swapped vows they had written themselves, "It was just a really special emotion-filled ceremony. I will never forget walking down the aisle towards Nick." Tessa shares.
Suited up in a black Jack London tux, Nick looked very suave indeed, while Tessa, in her delicate Grace Loves Lace gown and veil, was the epitome of elegance. This babe of a bride didn't need much help in the beauty department, but with Kobe Cutri on hair and Erin Maie on makeup, she had the glow that every gal deserves on their wedding day.
After the ceremony, the bridal party took a stroll through the city's charming little lane-ways and West End, where they looked right at home. In fact, this lot looked so at home they could have been shooting the next Tiffany and Co. campaign. The gang stopped by Bar de Halcyon for some celebratory drinks, while Tessa and Nick snuck off for some snaps. With CJ Williams behind the camera, they couldn't have been happier, "She captured the day perfectly," Tessa tells us, "She made us feel really comfortable and was a total legend!"
Back at Lamont's Bishops House, the garden party was just getting started and the same minimalist approach meant less stress for Tessa and Nick, while still allowing them to make a stylish statement, with a slightly Scandinavian feel. LUA LEUCA Floral adorned the two trestle tables with lush foliage, and captured Tessa's vision perfectly with wild bouquets of blooms. These darlings wined and dined their guests under the stars and festoon lights, with a meal so good their guests are still raving about it, "One of the main reasons we chose Lamont's was the food" says Tessa "and the 3-course dinner was spectacular!"
With Nick and his mates on guitar, a friend singing and the bridesmaids on backing vocals this creative groom treated Tessa to a surprise rendition of 'Gloria', with G-L-O-R-I-A changed to T-E-S-S-A of course! There's nothing sweeter than a serenade! As the night rolled on, everyone took to the dance-floor, and if the massive LOVE letters didn't spell it out already, according to Tessa and Nick the amount of love in the air was palpable.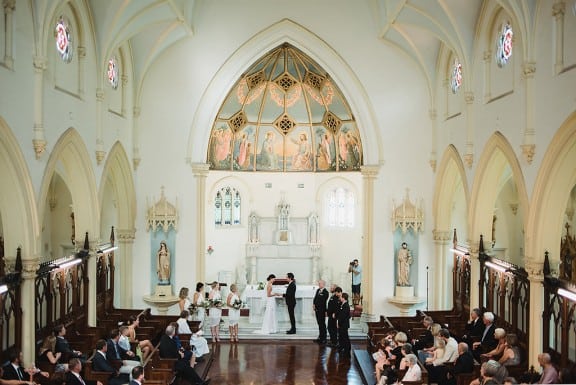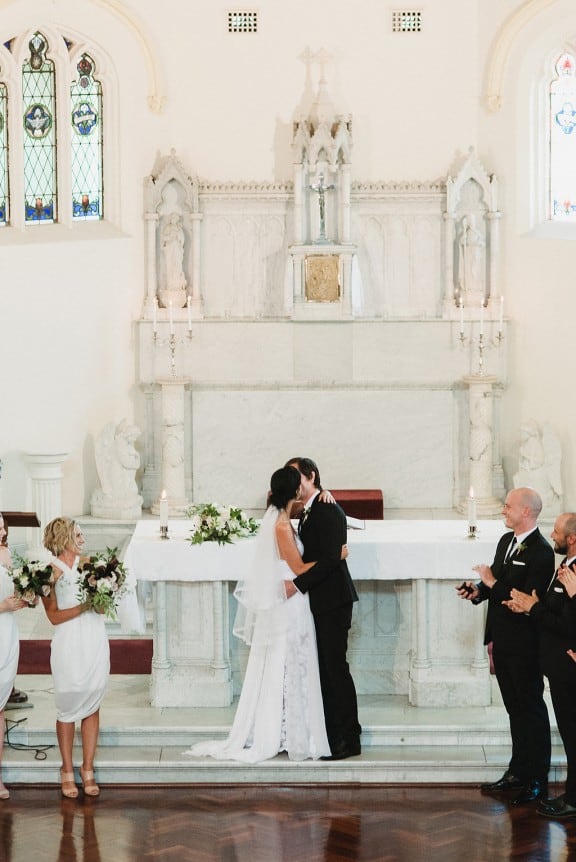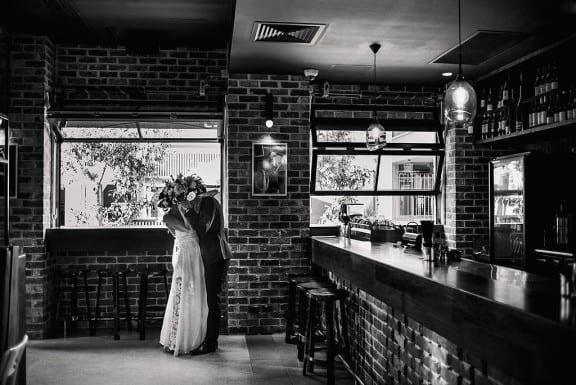 ---
Photography: CJ Williams Photography | Bride's dress: Grace Loves Lace | Bride's shoes: Tony Bianco | Bridesmaids dresses: Unspoken Label |  Groom's suit: Jack London | Groom's shoes: Jack London | Accessories: Grace Loves Lace | Hair: Kobe Cutri | Makeup: Erin Maie | Ceremony venue: The Mercedes Chapel | Celebrant: Father Brian Limbourn | Reception venue: Lamont's Bishops House | Flowers: LUA LEUCA Floral | Catering: Lamont's Bishops House | Entertainment: DJ Chico |  Transport: A Old Limo Company | Videography: Shannon Stent
Recent Posts
After rekindling their romance twelve years after going separate ways, it's pretty obvious this Melbourne couple were always a sure…
A colourful, vintage-inspired party that was all about good times and good tunes, Geelong couple Jules and Josh chose to…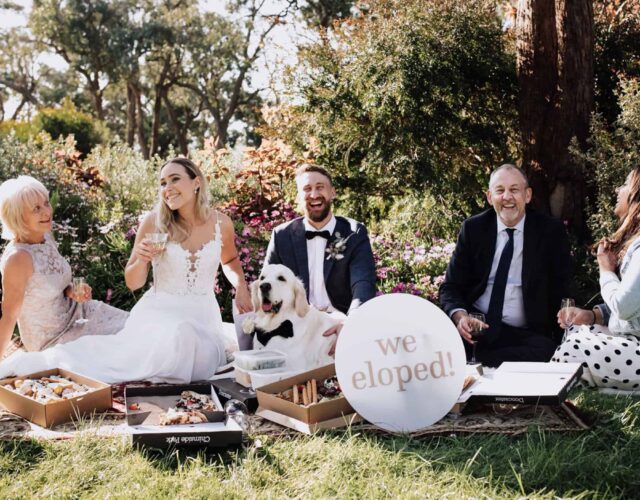 Pulling a wedding together in two weeks (thanks COVID) may not be an ideal scenario for most, but it didn't…