Josh & Tiarne's Forest-to-Brewery Wedding in Margaret River
From the lush forest ceremony, to the glam reception at Black Brewing Co, Josh and Tiarne's Margaret River wedding looked like something out of a modern fairy-tale. Planner/stylist The Wedding Concept captured the couple's fun and adventurous spirit with statement details and plenty of pop. Freek Florals went big and bold with vibrant arrangements, metallic accents and a seriously spectacular ceremony flower wall. Luckily, unlike on the day the two got engaged, this time Tiarne's ring was on the right finger – no photo flipping necessary!
Flowers
Tiarne couldn't say enough about Eden from Freek Florals, who was responsible for creating the epic moody, metallic bouquets and dreamy circular flower wall. "We honestly have no words," says Tiarne. "Best damn florist on planet earth! Her magic, creativity and amazingness is what made our wedding so epic and beautiful! The ceremony arbour is what dreams are made of and our bouquets, just WOW!"
The ceremony
Set in a clearing within Boranup Forest, the ceremony was every bit as magical as it looked. "The fresh air, birds chirping and rustling of the leaves – it was surreal!" admits Tiarne. "With all the natural setting being green, we wanted the florals to really pop – and oh boy did they POP!" With acoustic guitarist Tom (Askya) setting the mood with his tunes, Josh was in tears by the time Tiarne was by his side!
Photography
Adam Levi Brown Photography blew the couple away with his talents. "Adam is an absolute legend he went above and beyond as our photographer making the whole process natural, fun and comfortable," Tiarne tells us. "We've already booked Adam to capture every life event moving forward – he just doesn't know it yet!"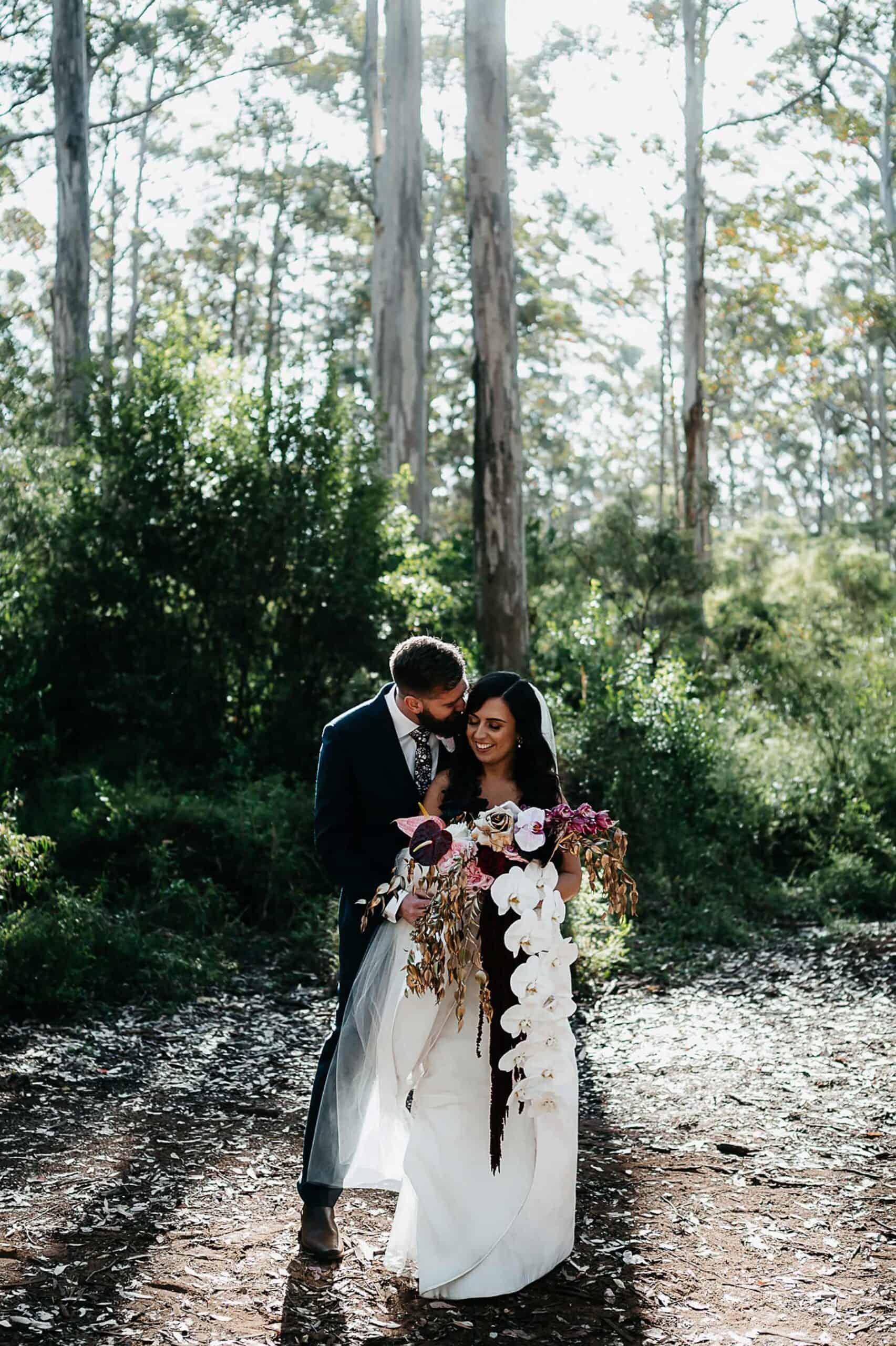 Bridal Party
Going for modern elegance, Tiarne wore an Enzoani mermaid gown with an illusion neckline and hints of lace and embroidery, paired with Charlotte Mills shoes and Amelie George earrings. Tying in seamlessly with the flowers and styling, bridesmaids wore silky burgundy Elle Zeitoune gowns while groomsmen incorporated burgundy ties from Suit Vault and sculptural boutonniere by Freek Florals.
Styling and Planning
On wedding planning duties was one of our favourites, Kim from The Wedding Concept, who the couple say they owe their special day to. "Kim was so organised, had everything sorted for us and it meant we were stress free on the big day," explains Tiarne. "You know all the things you have nightmares about, that you're going to forget in the lead up to the big day? Well fear not, because Kim is always 10 steps ahead and will already have it sorted! She thought of everything and was so accommodating with any changes or requests – we really treasured Kim's support and her being with us each step of the way!"
The reception
Being frequent visitors of Caves Road Collective, the couple knew the venue would be the perfect canvas for their modern reception. With styling that brought more life into the space, including flowers (Freek Florals) and neon signage (Sketch and Etch), the reception felt fun while sticking to their modern but unique theme. Also bringing the fun, Josh surprised Tiarne with some opera singing mid-speech! This left Tiarne in tears and guests thoroughly entertained – the cherry on top of a night full of joy and laughter.
Recent Posts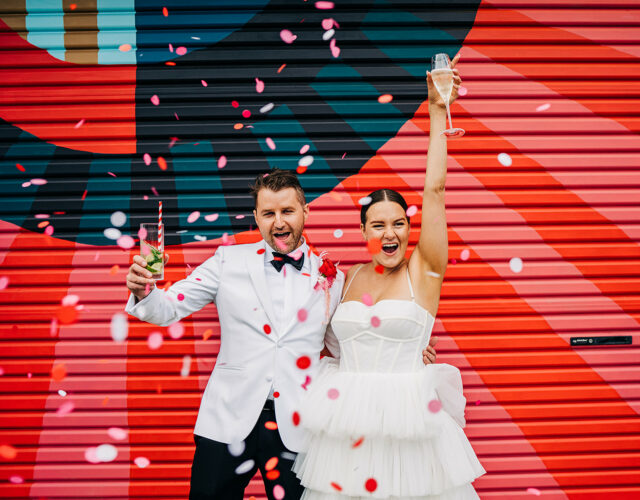 In the heart of the city, a tale of serendipitous love unfolded between Madi and Tim, two accountants…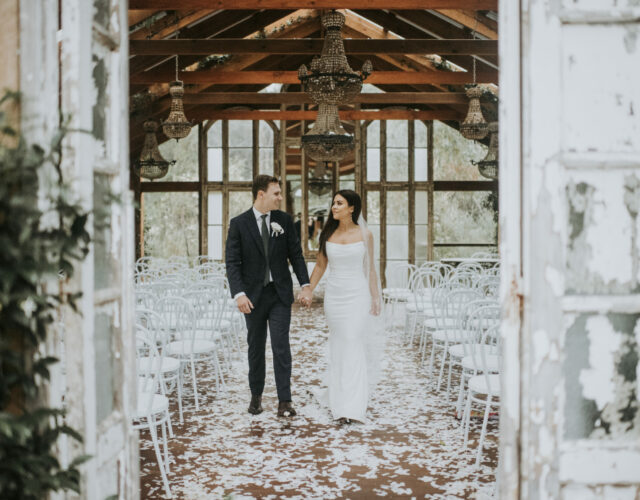 In the serene embrace of The Woods Farm, Jervis Bay, on the 14th of May 2022, Hugh and Felicity tenderly…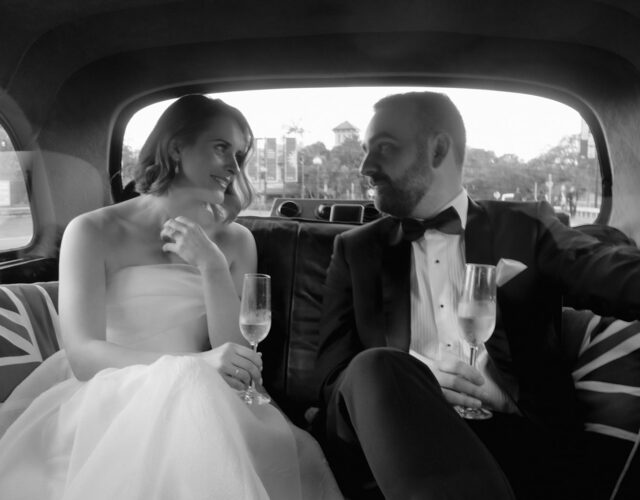 In the bustling cityscape of Sydney, the story of Mariia and Matthew unfolds – a romance that transcends…