Mel & Dan's 'Modern, Minimal, Chic' Urban Wedding
After rekindling their romance twelve years after going separate ways, it's pretty obvious this Melbourne couple were always a sure thing. Mel, the more extroverted of the two, asked for shy-guy Dan's number way back in 2006, only to find herself many years later asking if they should get married! Of course, Dan said yes, bringing us to their modern, minimal, and chic wedding in Melbourne's Royal Botanic Garden and Half Acre. With their YOMO (You only marry once) motto in mind, these two agreed to make room in their budget for everything deemed important – including a bounty of good food. Photographer Eric Ronald shares some stylish shots from the day (and we recommend taking a peek at the couple's epic pre-wedding shoot too!)
Bridal gown
Mel was every bit the modern bride, walking down the aisle in a minimal, off-shoulder gown by KYHA Studios, complimented by fresh hair/makeup by Andrea Takagi and perfect petals by Wildflos.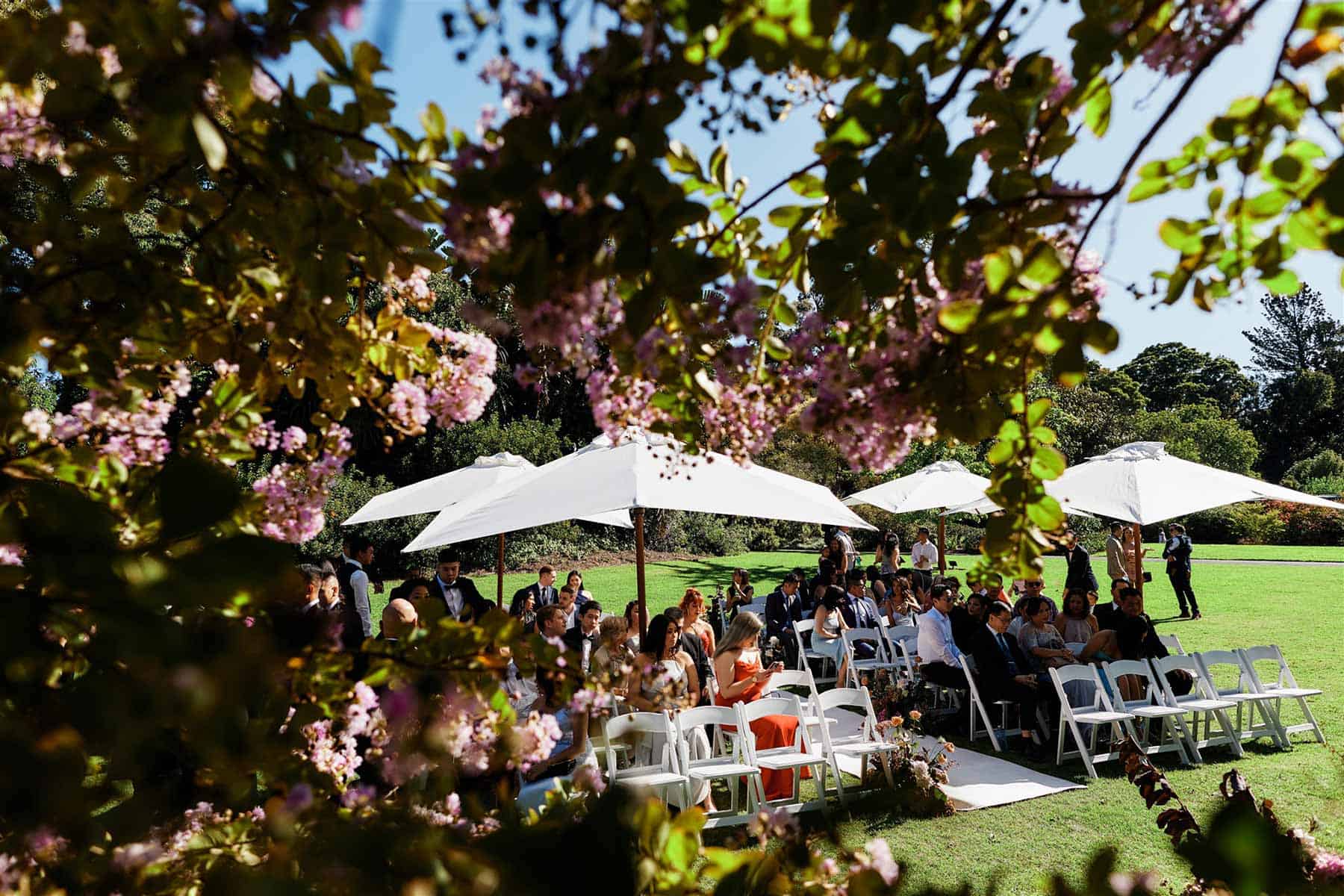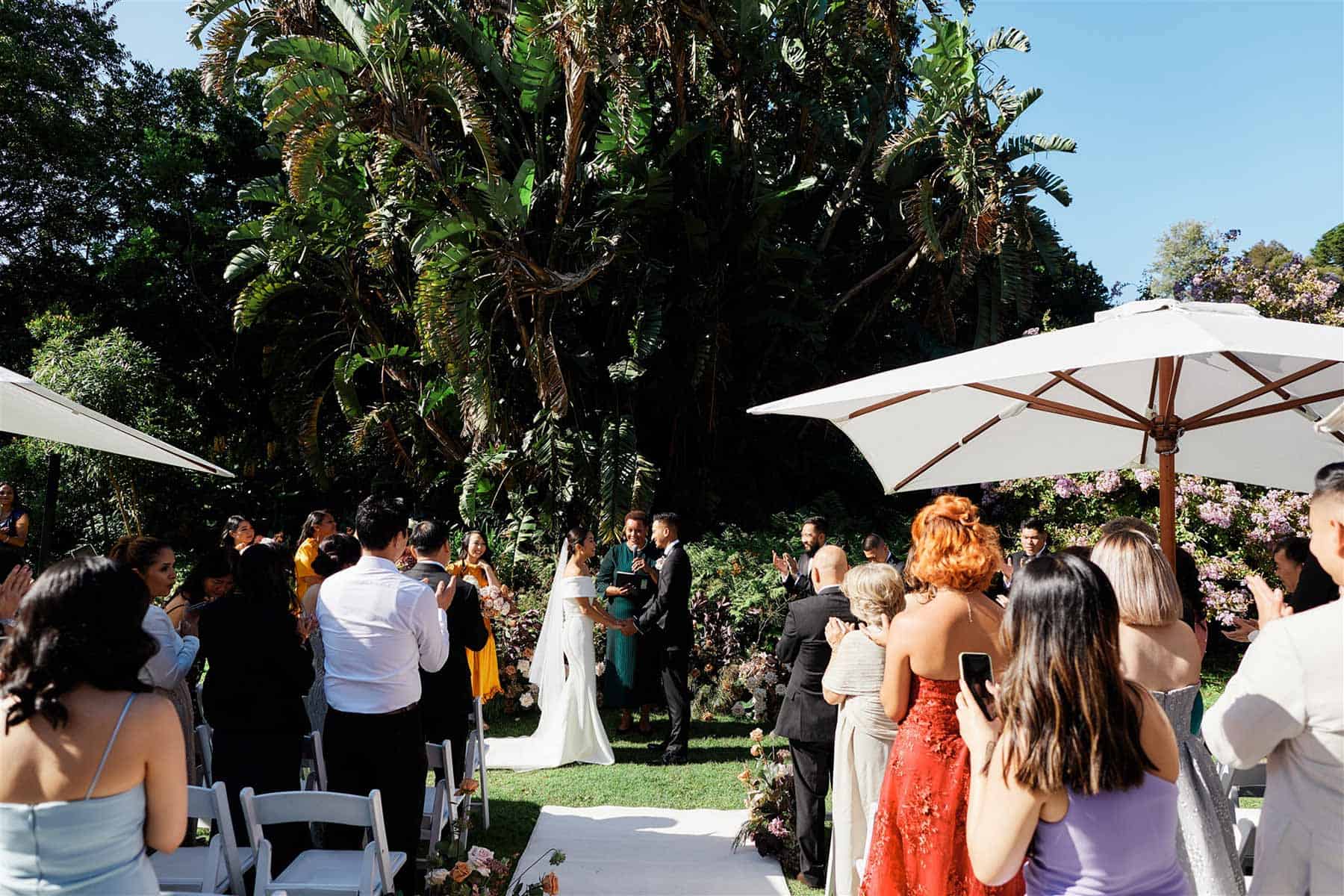 Ceremony
Held at Nymphaea Lake in the Royal Botanical Gardens, Mel says she knew from the beginning she wanted an outdoor, garden ceremony. "The location was in the nook of the gardens and felt very intimate," says Mel. No stylist necessary, decorations were kept minimal to compliment the garden with only flowers by Wildflos, white chairs and market umbrellas. "The way it looked, the vows – it was everything I imagined it would be," says Mel.
Bridesmaids
Mel's bridesmaid's wore mustard-hued dresses, custom made by the bride's own ethical fashion label ITA NIA. Being a total girl-boss has its perks!
Photography
Master of the drone and timeless portrait images, photographer Eric Ronald captured plenty of wall-worthy images for Mel and Dan.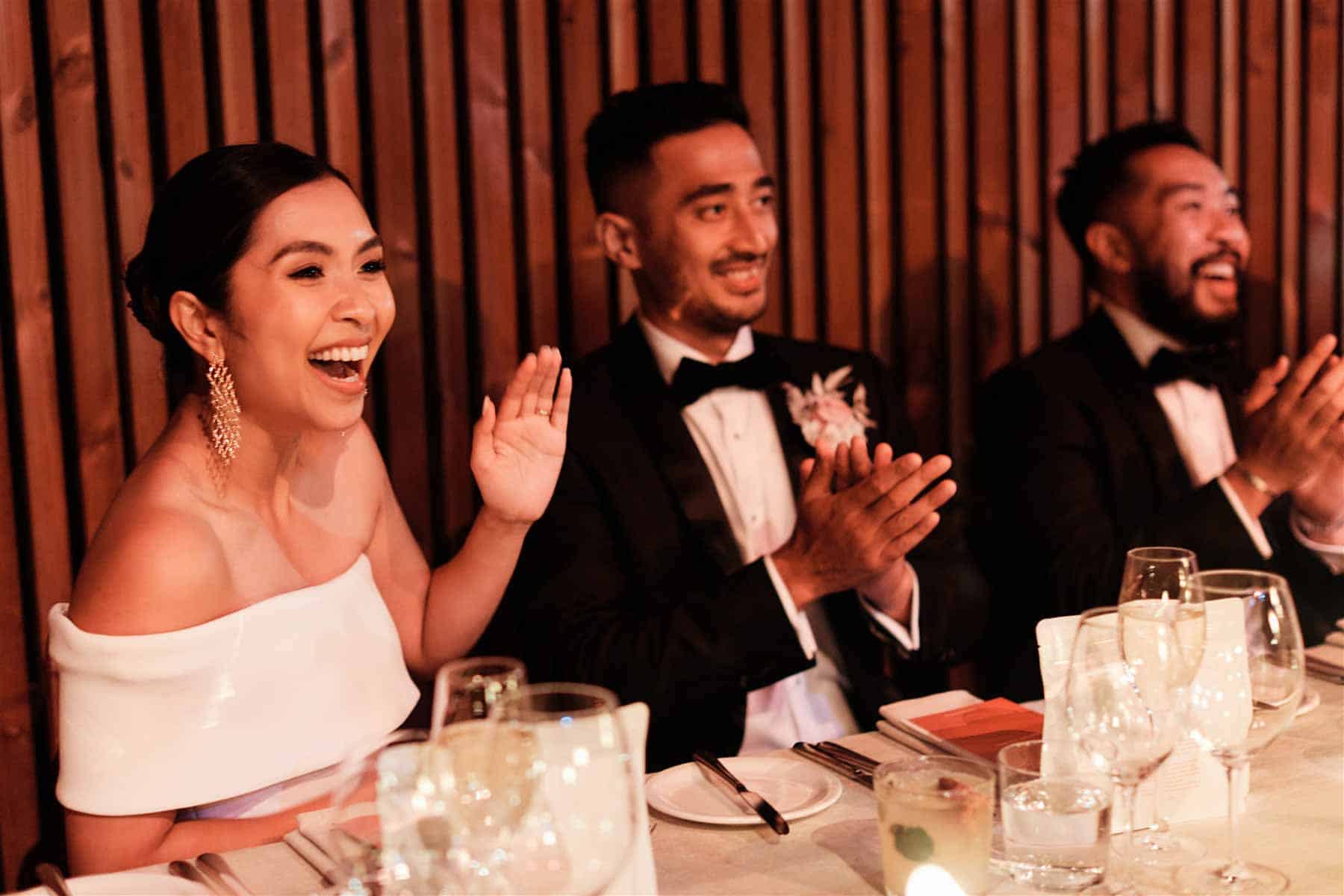 Reception
Needing a venue that had a modern vibe whilst able to accommodate their 100 guests, event space Half Acre in South Melbourne was the perfect fit. "We loved the character of the place – the high ceilings, the timber and cream brick walls," remembers Mel. Needing little in the way of styling, the couple kept things simple, only introducing a few essential elements like warm lighting. At the top of their priority list though, was ensuring there would be plenty of food. Leaving catering duties to Food and Desire, this was no problem. "We went with family style shared meals, roaming desserts and chips and popcorn chicken as late-night snacks," says Mel. "It cost more, but we had friends and family raving about the food months after the wedding."
Wedding planner
Some final words of advice? "Budget for an On-the-Day Planner – having Judith (Toko Events) on board really allowed me to be completely present on the day of the wedding," says Mel. "I can honestly say, there was not a single moment of stress that day, and it's all credit to Judith and the role she played in the lead up and on the day of the wedding!"
Recent Posts
Inspired by the historic Rift Estate in Bowral, photographer Zelda Green teamed up with…
What better time to chat all things cake than while we're still basking in the haze of our Easter chocolate…
Former travelling DJs and forever partners in crime, Steph and Callum's NSW backyard and beach wedding prioritised all that the…