Neon 'You Make My Heart Glow' Styled Shoot
While moody grey and black with bright neon could be considered an odd pairing at first thought, this team of Perth vendors managed to pull it off. Shot at event space Moana Hall, the venue's heritage look provided an elegant aura for Manis Moments and Jacob Gordon Photography who planned to shake things up with bold, fluorescent tones. Their take on 'modern' may even encourage you to take the plunge and follow your own unique style when wedding planning.
Neon Theme
While 2021 may have felt a little doom and gloom, Naz (photo legend behind Manis Moments) says the idea for the shoot came from wanting to brighten up those darker times with some tasteful neon. "Not in the 80s bubble gum popping, plastic jewellery kind of way, but in a more time-relevant, modern, almost minimalistic way," describes Naz. They say in the midst of darkness light persists; a metaphor brought to life through gloomy, grey bases and bright fixtures.
Moana Hall Venue 
Wanting a venue that would mesh well with their theme, Naz says Moana Hall with its stunning architecture was the perfect backdrop. The space, favouring high ceilings and distressed paintwork, added a vintage, minimal charm necessary in making those neon's pop while remaining tasteful.
The Clothes
Bride Marion oozed elegance in her understated Madeleine Ruth designs, while groom Tim wore a classic Britton's Formal Wear black tux. To tie-in the theme, Naz says the bride's bright citrus Ferragamo shoes and floral bouquet by Angela Sav Design provided the pop of colour needed while highlighting the stunningly chic attire.
Styling by Angela Sav Design
Curating a moody yet vibrant feel with the flowers, tablescape and fun invites by Butterfly Days, Stylist Angela Sav Design nailed 'sophisticated neon'. "The florals and stationary were the main source of colour brining neons into a modern era, highlighted by the grey tones of the table setting and a touch of black for added dramatic contrast," describes Naz.
Wildflower Home Kitchen Cake
With a love for bold colours, cake maker Wildflower Home Kitchen was excited with the brief to create something bright. Though still on theme with its neon pink detail, the cake's design acted to bring some minimalism to the shoot, as Naz shares. "The cake's design screamed modern less-is-more with its splash of bright pink on a clean white canvas."
Recent Posts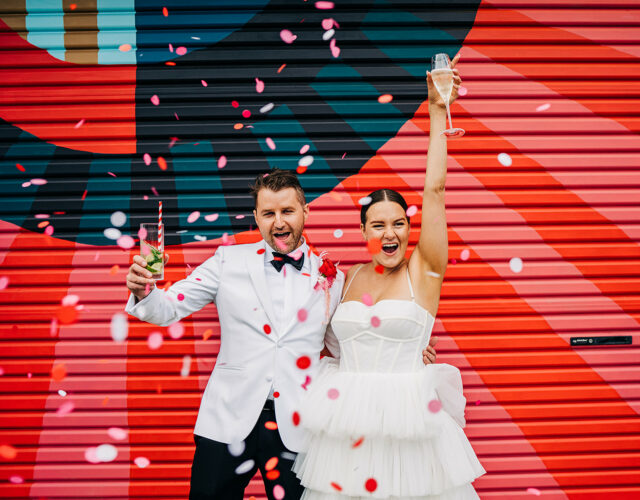 In the heart of the city, a tale of serendipitous love unfolded between Madi and Tim, two accountants…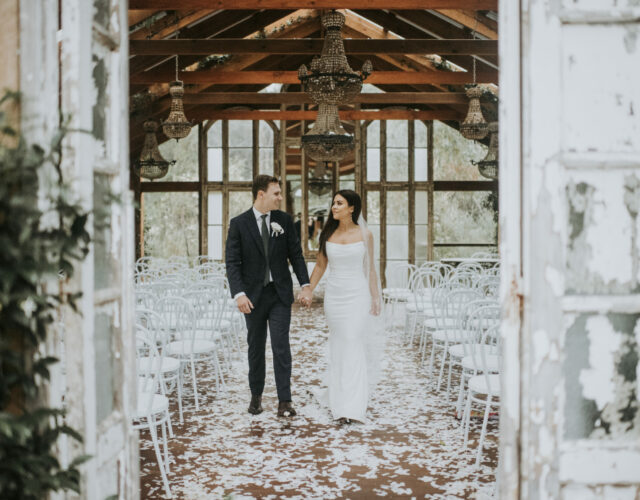 In the serene embrace of The Woods Farm, Jervis Bay, on the 14th of May 2022, Hugh and Felicity tenderly…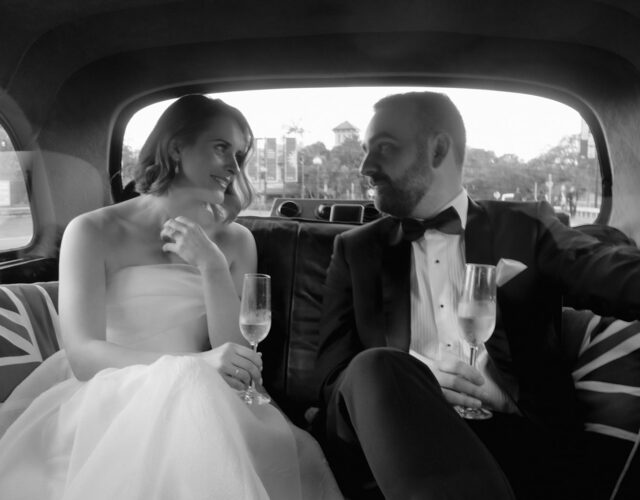 In the bustling cityscape of Sydney, the story of Mariia and Matthew unfolds – a romance that transcends…