Hannah & Ben's Newcastle Museum Wedding
The thought of marrying Hannah must have been playing on Ben's mind for quite sometime, because one average night at home, amid jokes about being old by the time they get married, Ben all of a sudden got up, went to the bedside table and produced a ring, saying "I can't wait any longer!"
And so this loved-up pair were married last October, 'neath the majestic organ pipes and stained glass windows of Hamilton Uniting Church. The very able lens of James Goff captured the festivities of the day.
The festivities in question were a fusion of vintage, urban and rustic ­– an affair bursting with boldly coloured floral arrangements by Jade McIntosh, complemented by a simple palette of white, with gold accents.
Hannah's dress, a soft pink, collared gown with short sleeves and beaded bodice, was hand-dyed and custom made by Bell Street designer Ali Dibley. With Dibley based in the Philippines, the two collaborated over the design in the most new-age way possible – via a shared Pinterest board.
The involvement of family and friends allowed these newlyweds to curate a day that was them all over. Ben's grandma lovingly baked the cake, and even their celebrant Reverend Simon Hansford was an old friend, making for a very personal ceremony.
The warehousy Newcastle Museum provided a cool backdrop for the banquet-style reception and the space was tastefully decked out by friend and stylist Styled by Linda.
Fairy lights flickered above as #hanandben shared their first boogie together, and a Dr Seuss quote that featured throughout the day seemed to sum it up perfectly for these quirky kids – "We are all a little weird and when we find someone whose weirdness is compatible with ours, we join up with them and fall in mutual weirdness and call it love."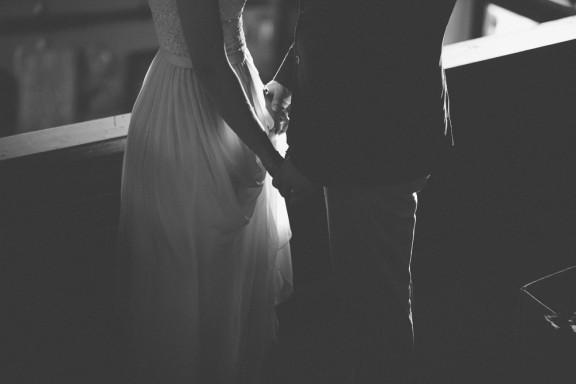 Photography: James Goff | Bride's dress: Bell Street | Bride's shoes: Jonak Paris | Bridesmaids dresses: Modcloth/Forever New/Zimmerman | Bridesmaids shoes: Modcloth/Betts/Tony Bianco | Groom's suit: Topshop/Country Road/Calvin Klein | Groom's shoes: RM Williams | Rings: Robert Alan| Accessories: Kate Spade | Hair: Hair by Sophie | Makeup: Style by Divine | Ceremony venue: Hamilton Uniting Church| Celebrant: Rev. Simon Hansford | Reception venue: Newcastle Museum| Stylist: Styled by Linda | Flowers: Jade McIntosh | Catering: Sprout | Stationery/invitations: Suely Lu Design
Recent Posts
What started out as a crush for Elizabeth, who would see Dan, a hunky skateboarder, passing her work…
After originally planning an outdoor, rustic themed wedding at a vineyard, James and Emily's plans quickly went astray due to…
You and your fiancé may be the most organised people you know, or you could be struggling to…