Organic Bridal Editorial that Celebrates Sustainable Practice
This carefully curated wedding inspiration keeps sustainable practice in mind while celebrating all the beauty to be found in Australia. Designed and coordinated by The Bluebird Collective and brought to life by photographer Leeroy T, these gorgeous frames showcase the talents of skilled and environmentally kind suppliers from across NSW and Victoria, with ethereal results.  
The Bluebird Collective share their vision, "These bridal snaps show that beauty and quality can be found all around us, wherever we are. Modern style, use of lavish, seasonal florals and finely crafted woodwork captures some of the finest things Australia has to offer."
Flannel flowers and white orchids by Rachel Cullen of Botanica Bird offered the perfect contrast of colour and texture against the muted native greenery. Handcrafted at their solar-powered warehouse in Marrickville, Reso & Co are the team behind the gorgeous modern furniture. As well as offering bespoke wedding styling, The Bluebell Collective designed minimalist and modern stationery perfectly suited to the organic feel of the day.  
In a move we can get behind, the team shone the spotlight on Aussie produced tipple from Port Maquarie's Cassegrain Wines, to Poor Tom's Gin– handcrafted in their Marrickville distillery, served in a dedicated G&T bar! 
Bride Kara wears two stunning two-piece ensembles that combine lace, silk and beading, designed and made by White Meadow Bridal in Sydney. Mindfully sourcing creators who share their ethos, the team share their thoughts, "It's no secret that events can have negative effects on the environment and many suppliers are becoming more aware of this. We love to support local businesses and will always support those who use locally and sustainably sourced products." 
Recent Posts
After rekindling their romance twelve years after going separate ways, it's pretty obvious this Melbourne couple were always a sure…
A colourful, vintage-inspired party that was all about good times and good tunes, Geelong couple Jules and Josh chose to…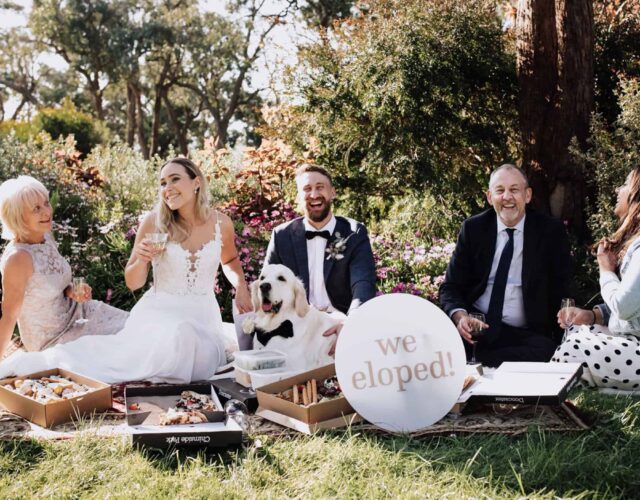 Pulling a wedding together in two weeks (thanks COVID) may not be an ideal scenario for most, but it didn't…