Helen & Scott's Relaxed Piha Beach Wedding
Helen and Scott aren't traditional 'wedding' people, so wanted to keep things natural – and with the rugged beauty of Auckland's coastline to work with, why wouldn't you? The kindred, laid-back souls behind Bayly & Moore captured their chilled little Piha Beach wedding, in a day filled with DIY touches.
These two were instantly drawn to one another on meeting ten years back, but true to form, took it nice and easy. "It was always just fun and natural, but due to being at different places in our lives, we decided to just stay friends." Little did Helen know, Scott wasn't so keen on the friendship thing. "I have to admit I was the last person to see it," she says, "and suddenly realised I was completely in love with him." Their wedding was as relaxed as this patient fellow's proposal – "very 'us', no grand gesture, no tears, just a simple statement of love followed by a slightly stunned 'yes' from me."
Guided by a map designed by Scott, their guests wandered through the Piha rainforest to a pretty patch know as 'the clearing'. Having stolen the scene in a stunning Rue de Seine bustier, skirt and headpiece, Helen tells me this special spot was the first place they chose for their wedding. "It's always been a family place for Scott, but it's also somewhere we can go whenever we like" – and they've already snuck back for a one-month anniversary picnic.
A short stroll away was Barnett Hall, where weeks of collecting and cutting fabric culminated in a gorgeous ribbon canopy, spanning the ceiling. "We are so lucky to have such talented, creative and dedicated friends and family," says the bride, with the floral styling, canapés and cakes also the work of their beloved, crafty crew. Those sweet ice-pops were one of Helen's favourite DIY details. "We cut hearts out of watermelon and froze them in natural lemonade" – hours of work, she admits – "but so worth it to see everyone enjoying these after the ceremony."
The Luscious Food Store saw to some simple, seasonal share plates, while six months of "dedicated drinking" was invested into the favours. The pair filled cut wine bottles with stones from Helen's childhood beach, sand from Piha and a little plant and thank you message. "I love that even now when we visit people, I can see these plants going strong!"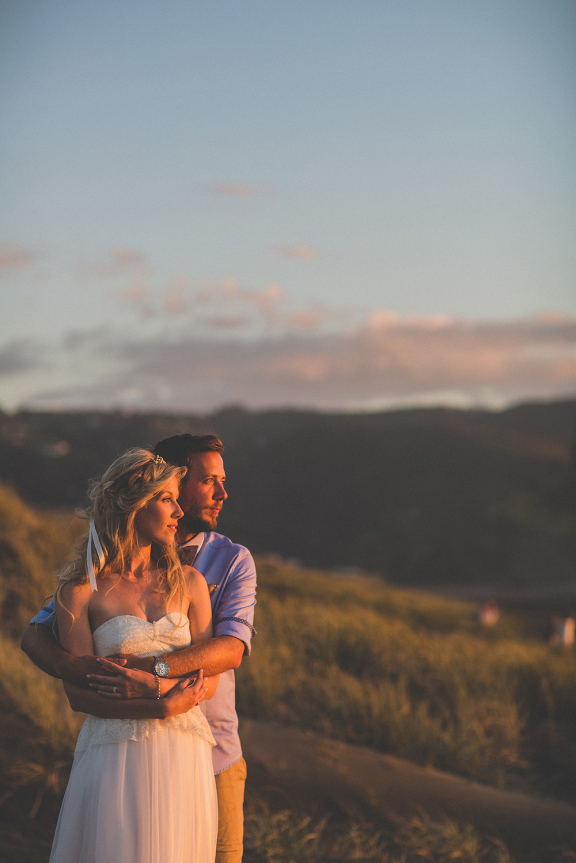 ---
Photography: Bayly & Moore | Bride's dress: Rue de Seine | Groom's suit: Witchery shirt, Crane Brothers short and bow-tie | Rings: Petra Bettjeman | Hair: Bettjemans | Makeup: Nikki Loverich | Celebrant: bride's stepfather | Reception venue: Barnett Hall | Flowers: bride's sister and friend | Catering: The Luscious Food Store | Entertainment: groom's brother and friends | Stationery/invitations: groom | Prop Hire: La Lumiere
Recent Posts
For a perfect example of going with your gut, look no further than Erin and Shaun's big day.
Known for its botanical splendour and industrial warehouse feel, Melbourne venue Glasshaus Inside hosted Lindy…
Black Friday has never sat well with us here at Nouba. All that crazed spending on things which, let's be…