Sault Restaurant and Wedding Barn
It's no secret that we love a love story, but pair it with a tale of two lovers chasing dreams – well that's something we can't go past.
Having tied the knot at Daylesford's Sault Restaurant, Jodi and Damien fell hard for the idyllic venue – so hard in fact, that when the opportunity arose to buy, it was one they couldn't pass up. "After months of number crunching we made it work," Jodi shares. "And what a wonderful ride we have been on since!"
With its fields of lavender, private lake and majestic stone building, it's not hard to see why Jodi and Damien we so taken with Sault. The decision to buy meant a huge career and tree change for the Melbourne couple, whose lives until then had centred around the performing arts and city life.
10 years and over 400 weddings later, this passionate pair has realised their vision to create one of Spa Country's best restaurants and most sought after wedding venues. We caught up with Jodi about their incredible journey…
What was it about Sault that you fell in love with?
The property's 120 acres of lavender as far as the eye can see is breathtaking. Also, the beautiful building with its majestic stone front and the expansive views over the lake as the sun sets are incredible.
When did you buy Sault and what changes have you made since taking ownership?
We bought Sault 10 years ago, when it was almost solely a wedding venue. Our goal was to lift its profile to make it an amazing regional restaurant – a destination where guests could enjoy the magical property and beautiful food at the same time.
We now have an amazing Spainish head chef – Santiago Nine-Fernandez – who is Michelin-trained and the most talented and humble chef we've ever worked with.
The beautiful wedding barn was built 2 years ago and has been the most wonderful addition to the Sault family.
We have since garnered numerous appearances on Getaway and Postcards as well as TV spots on Spanish television, all of which we feel very grateful for and all have helped Sault to grow.
Are you originally from Daylesford?
No, we're both from Melbourne. It was a big tree change for us and we now have two children – Max and Lily, 6 and 4 – who adore our life in the country. On Mondays we bring their bikes out to Sault and they ride for hours around the lavender, then we have an afternoon picnic on the lawn. We love our Daylesford life.
What's special to you about the region?
We love the crisp, clean air, the kindness of the people in our town, the sense of support within our community is very strong.
The changes of season here a magical too – in autumn we plant bulbs with our children so that in spring we have daffodils and tulips. We've planted herb boxes for the kitchen and love to see our customers' faces as they watch our chefs picking fresh herbs to use in their dishes.
We have beautiful local suppliers who hand deliver the stunning local produce to us weekly. The team who work with us are passionate about food wine.
There is something quite magical about our town, it has an incredibly healing feel to it, even brides feel at peace here… or maybe it's the sweet calming smell of our lavender.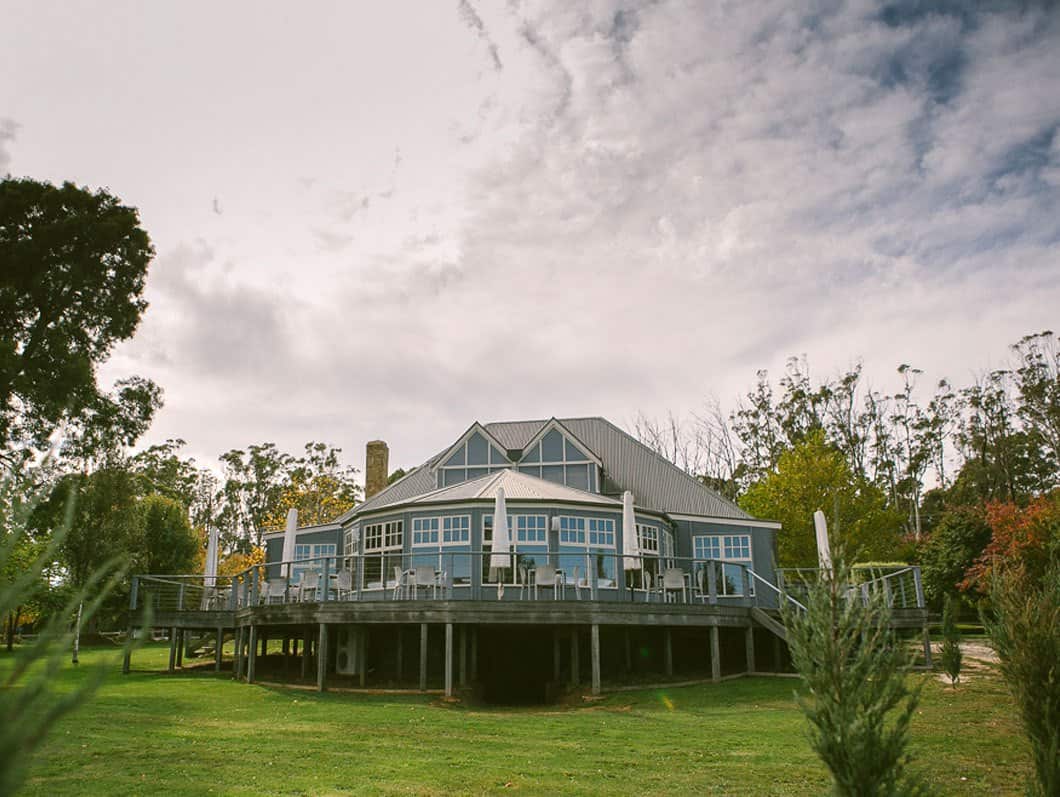 Sault has an enviable reputation as on of the best restaurants in the region – can you tell us about your food ethos?
This has evolved over time; initially it was to deliver the best regional produce we could in a very honest and clean manner. Now with our Spanish head chef we have developed our menu to include a selection of Tapas and to honour Santiago's heritage.
Most recently we launched our Tasting menu – a 6 course degustation designed with Santiago's home town of Galecia in mind. Guests are really enjoying this.
Who are some vendors that you love working with?
Local artist Bridgete Bodenham – we use her handcrafted ceramic vases and salt dishes in the restaurant. My favourite local florist is Zara at Wooton & Nicholls. She does such beautiful work and was involved in our recent autumn styled shoot with Melbourne designer, Gwendolynne – another talent we love working with. Also when Photographer Jai Long of Free the Bird is shooting I am rapt, he is amazing.
We always provide a list to our couples of all our favourite local vendors to help with the planning of their day
Finally, what kind of weddings do you love to be involved with?
I love weddings where the styling really reflects the couple, and those where on the day they can relax and just let the day unfold while our team looks after them.
We recently has a stunning autumn wedding – the turning leaves so bright and beautiful. The bride had chosen soft white linen and lace dresses for the bridesmaids and her dress was heavily beaded and just stunning.
Credits
Venue/location Sault | Images Various, as captioned |
Recent Posts
What started out as a crush for Elizabeth, who would see Dan, a hunky skateboarder, passing her work…
After originally planning an outdoor, rustic themed wedding at a vineyard, James and Emily's plans quickly went astray due to…
You and your fiancé may be the most organised people you know, or you could be struggling to…