Loren & Cameron's Modern Wedding at Zonzo Yarra Valley
With Loren and Cam's love of the Yarra Valley and the bride's Italian heritage (and the groom's penchant for Italian cuisine) Zonzo Estate was an easy choice of wedding venue for this Melbourne pair. Inspired by a big Italian family dinner, the styling was simple but special, with statement details like abundant florals and a mismatched bridal party. Melbourne photographer Jess Nicholls doubled as schedule stickler, ensuring memories were perfectly captured from first-look to dance floor.
Wedding venue
"Cam and I love the Yarra Valley, eating and drinking good wine and felt that Zonzo really provided the full package we were looking for. We had been there a few times previously with friends and family and it's always packed to the rafters so we were excited by the chance to book the venue out just for ourselves for this occasion. Half of my family are also Italian, it's also Cam's favourite cuisine, so it wasn't a hard choice."
Flowers & Styling
Pomp & Splendour created Loren's incredible cascading bouquet and bold reception designs. Loren explains that her bridesmaid (Alicia of Wildflower Perth) also worked her floral magic for the day. "Alicia created the bridesmaid's hanging florals which were spray painted pale pink and intertwined with pearls strings and the ceremony arrangement where Cam and I stood."
The ceremony
"We both wrote our own vows for the ceremony but Megan Thompson our Celebrant was just awesome and put the hard work into making it a unique, entertaining and romantic celebration – we had a lot of comments about it afterwards as being the highlight of the day."
Bridal gown and bridesmaids
Loren chose a modern bridal gown by Savannah Miller from Bluebell Bridal. "Savannah designs with beautiful fabrics and minimalist designs which I immediately loved." Her bridesmaids wore mismatched dresses in mixed blue hues and prints from Alice McCall, Dion Lee and Shona Joy.
Favourite moment
"Our Photographer (Jess Nicholls) was amazing and really kept us to schedule for the day to make sure we captured our best memories. Before leaving Jess came over to pull us outside for one of our now favourite photos under the festoon lighting outside. Also snapped some of the most amazing memories with family on the dancefloor (thanks Jess!)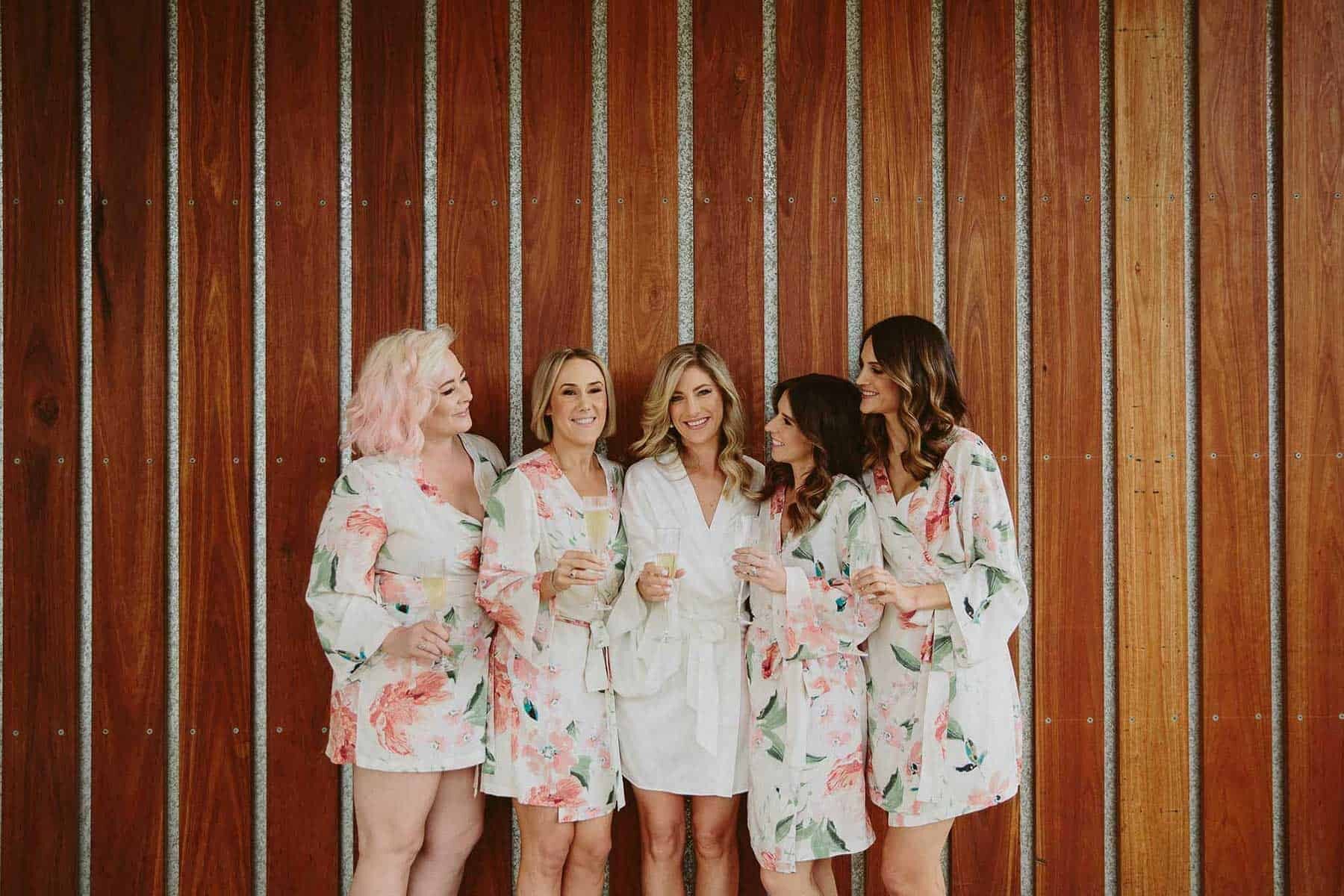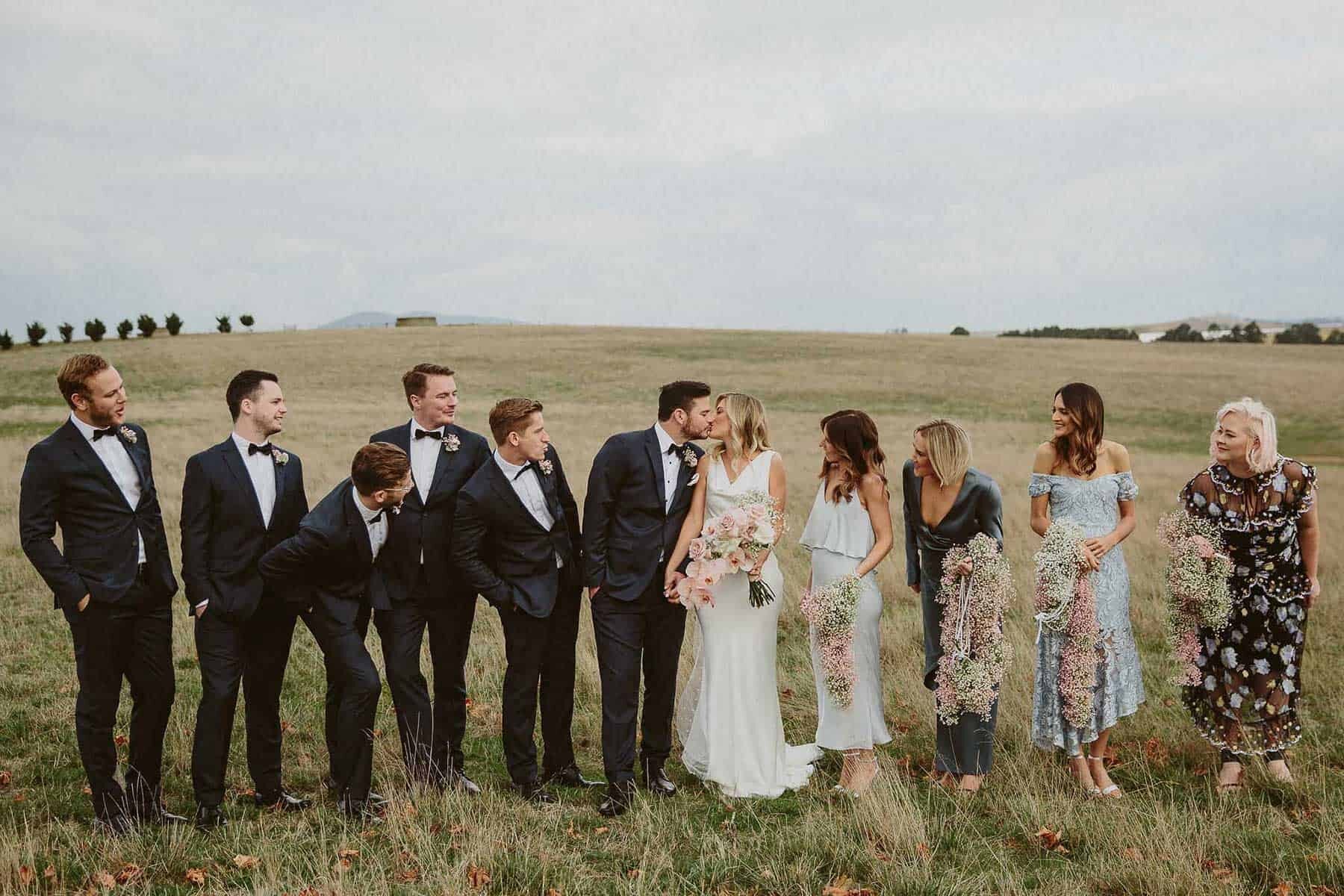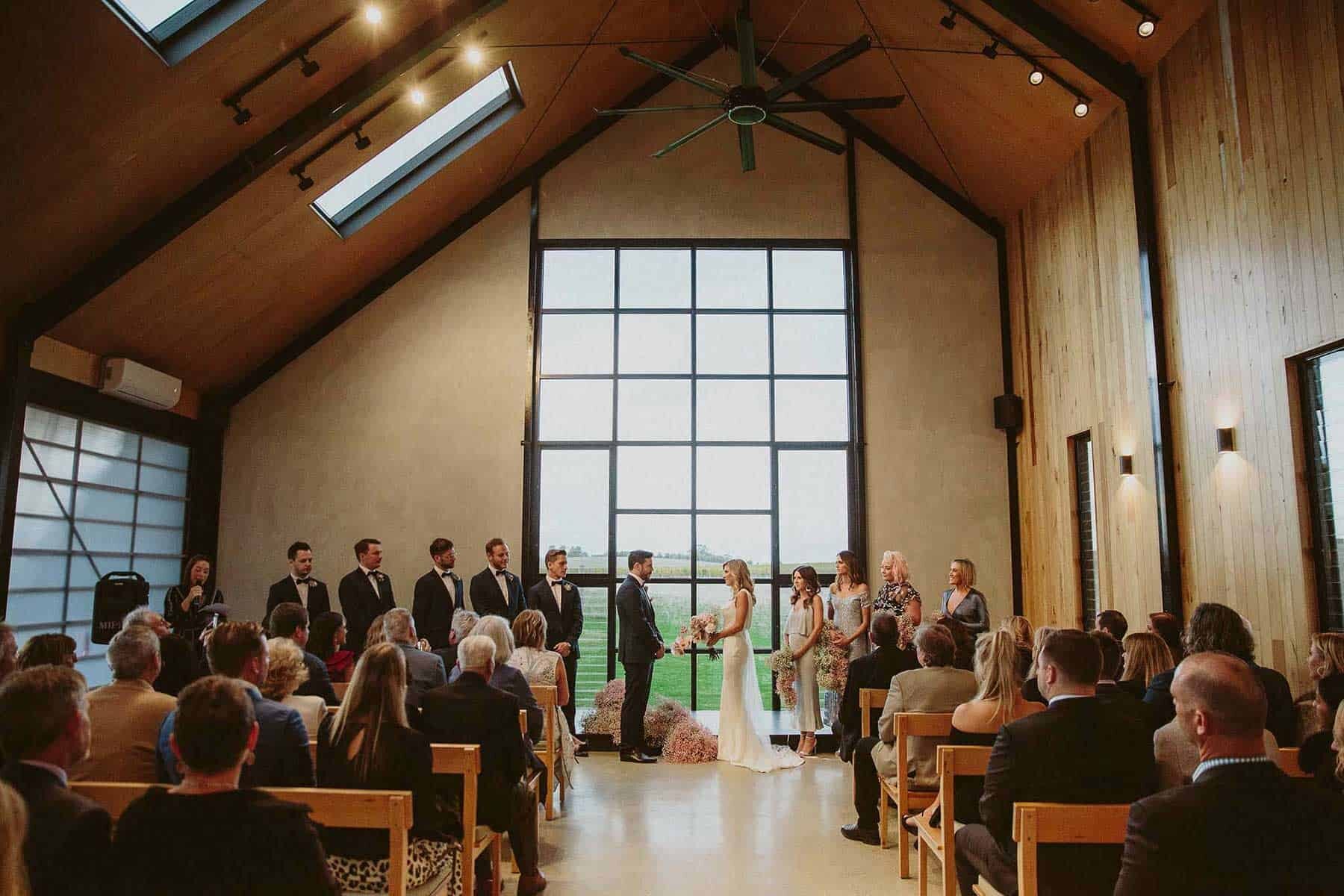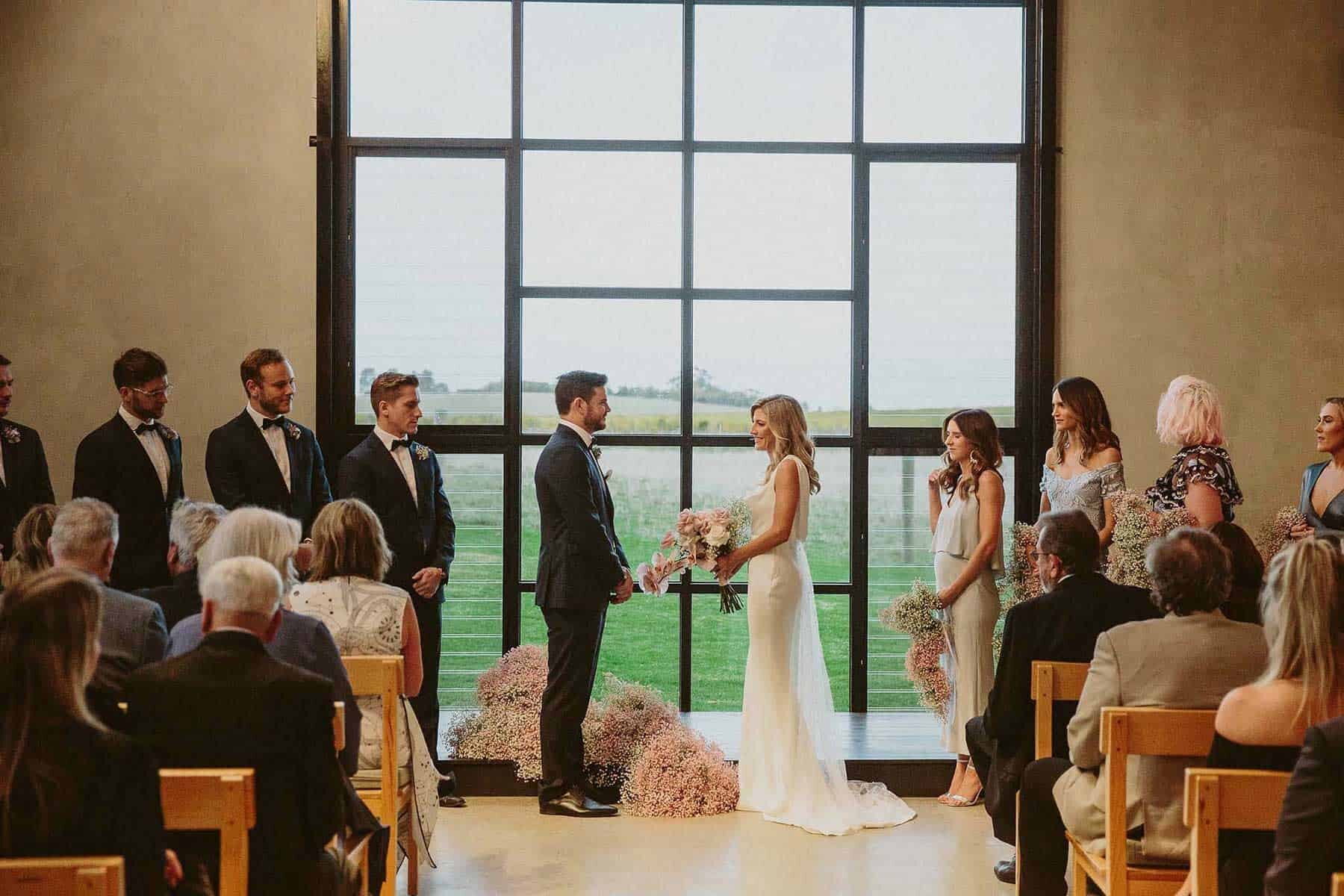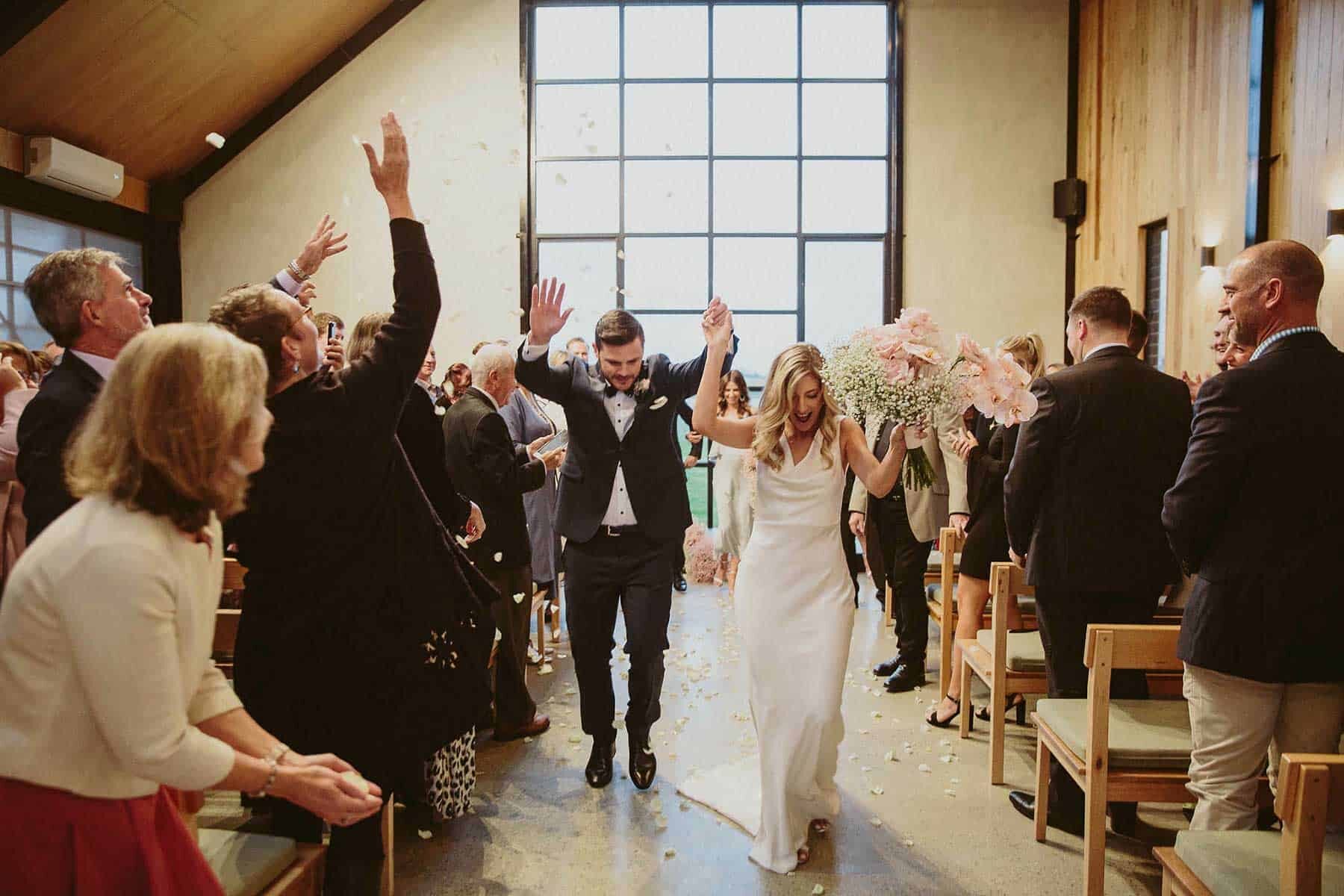 Recent Posts
Well versed in playing host, Marah and Simon graduated from house party to epic warehouse party with…
Having suffered through months of drought, it could only be a good omen that the heavens finally opened on Chris'…
After toying with the idea of a destination wedding, Georgia and Adam opted instead to keep things closer to home.