Amy and Taylor's Wedding: A Symphony of Love, Family, and Personal Touches
In the enchanting backdrop of Bundaleer Rainforest Gardens, Amy and Taylor orchestrated a wedding that was a distinctive blend of love, style, and family. The event was more than a union; it was a carefully crafted narrative of their journey together, epitomized in each detail and moment.
From a Toast to Forever: Amy and Taylor's Unforgettable Proposal and Love Journey
Amy and Taylor's journey together spans more than a decade, a connection that started 13 years ago through mutual friends. Although there was an instant mutual attraction, it wasn't until 2012 that they decided to make their feelings official. After a year of nurturing a long-distance relationship, Taylor relocated to the Gold Coast to be closer to Amy. While Taylor worked as a concreter and chippy, Amy took up a role in childcare after the arrival of their son Fraser.
Eight and a half years into this enduring relationship, Taylor decided it was time to pop the question—prompted in part by Amy's less-than-subtle hints. The moment was as perfect as one could imagine, set in the beautiful Italian restaurant Persone, located in the heart of Brisbane city. On New Year's Eve of 2020, in the company of two of their closest friends, Taylor seized the moment right as everyone was raising their glasses for a toast. Dropping to one knee, he said, "Speaking of best friends, I want to be yours forever. Will you be mine?" Amy was so overcome with emotion that the ring was on her finger even before Taylor finished his question. Her response, a heartfelt "always, always," was sealed with a kiss. Thus began a new chapter in their love story, leading to a wedding that was as genuine and full of love as the couple themselves.
A Ceremony Under a Jacaranda Tree
Beneath a venerable jacaranda tree, adorned with ethereal white draping, the couple pledged their eternal commitment. Gold lanterns with succulent embellishments punctuated the aisle, adding a subtle elegance to the surroundings. Their 1-year-old son melted hearts as he toddled down the aisle as the page boy.
Taylor, accompanied by his groomsmen, welcomed the arriving guests, offering an atmosphere of warmth and camaraderie. Amy's father then led her down the aisle, sharing a quick, nerve-settling sip from his hip flask just moments before. The ceremony reached its emotional pinnacle as the couple recited their personalized vows, sealing their promises with a kiss.
Reception: A Night Under the Stars
The reception marquee was nothing short of dreamlike. Fairy lights strewn across the ceiling mimicked a starlit sky, while dual chandeliers added a touch of grandeur. Long tables arranged in a U-shape around the dance floor allowed for easy mingling. The table decor mirrored the ceremony's colour scheme, featuring green runners and golden lanterns. The seating arrangement was thoughtfully complemented by hand-branded leather coasters, each bearing the couple's initials and the date of their special day.
A sumptuous dinner ensued, featuring chicken and beef for the main course. The vegan guests were equally delighted with their specialty dishes. The cake, a tri-flavor marvel crafted by Amy's sister-in-law, was met with unanimous approval.

Exceptional Vendors
Sean Reefman's photography captured not just images but emotions, while Expressions Wamuran and Amber West ensured everyone looked their best. Andy's acoustic renditions added a sonic layer to the day's sentiment. Celebrant Karen wove a ceremony that reflected the couple's relaxed personalities, and the Kombi van from Old's Cool Limo Company provided a sentimental yet stylish mode of transportation.
Personal Touches and DIY Details
Amy's talents were evident in the handmade invitations, menus, and signage. Her father, Brian, not only branded the leather coasters but also stamped heart-shaped gum leaves, which were used as unique, biodegradable confetti. The cake, a labour of love by Amy's sister-in-law Samantha, added a sweet, familial touch.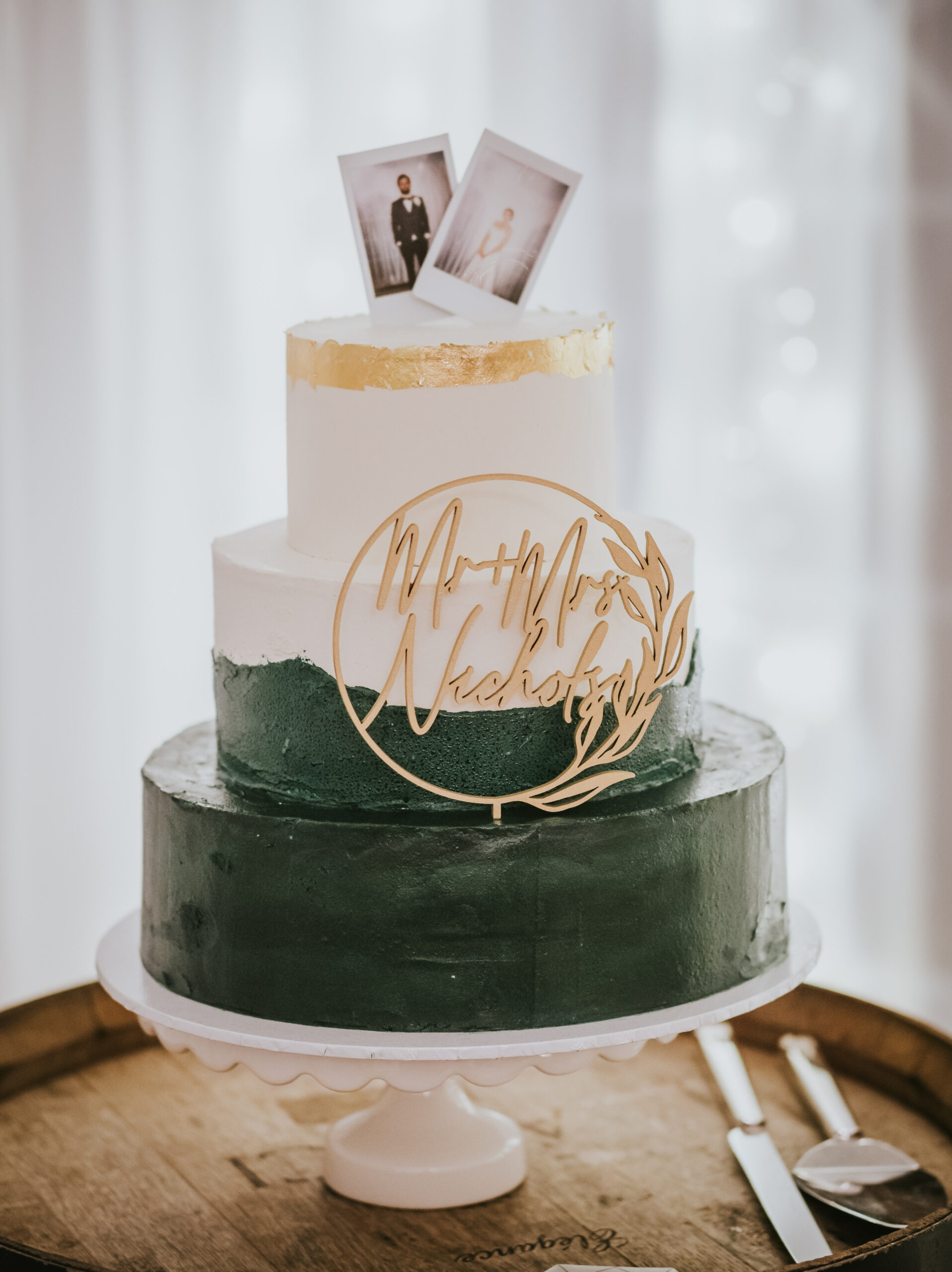 Behind the Scenes and Special Moments
Amy's brother Todd doubled as the comedic MC and unexpected "Flower Dude," lightening the atmosphere and breaking the ice as the ceremony commenced. These unique roles and performances served to make the day even more memorable.
Budget and Reflections
While the initial budget was extended, the couple agrees that the additional expenditures enriched the day's experience, making it an unforgettable celebration that was worth every penny.
Pearls of Wisdom
Amy and Taylor have a straightforward suggestion for those planning their wedding: "Plan the wedding that represents you. Pause and absorb the moment; it's your unique story that deserves to be told in its own unique way."
Final Words
More than just a wedding, Amy and Taylor's celebration was a declaration of their shared life, vision, and love. From the sun-dappled ceremony under the jacaranda tree to the last dance of the evening, it was a harmonious blend of individuality, family, and timeless love.

Recent Posts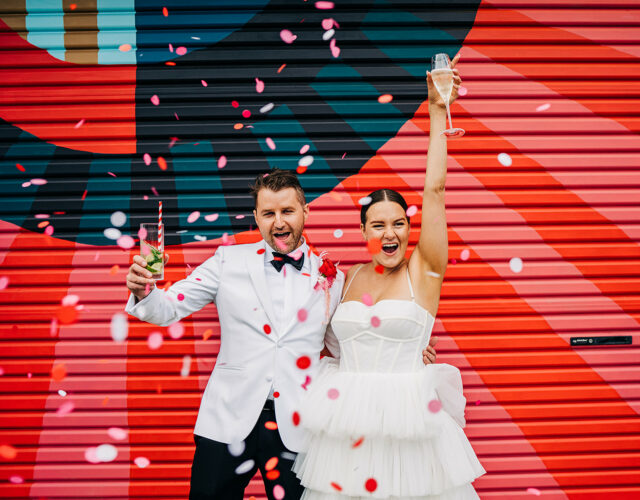 In the heart of the city, a tale of serendipitous love unfolded between Madi and Tim, two accountants…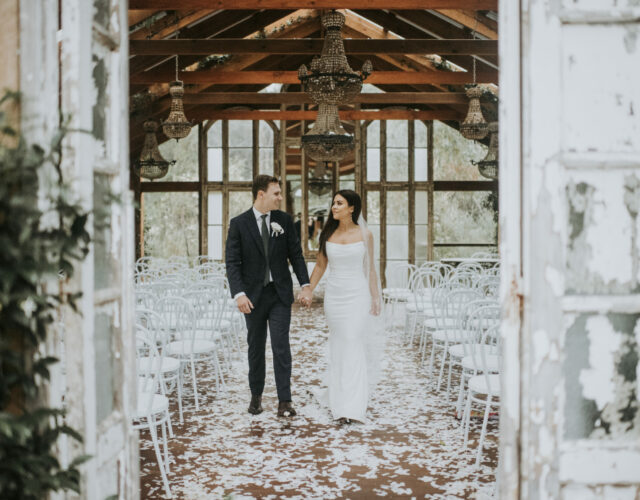 In the serene embrace of The Woods Farm, Jervis Bay, on the 14th of May 2022, Hugh and Felicity tenderly…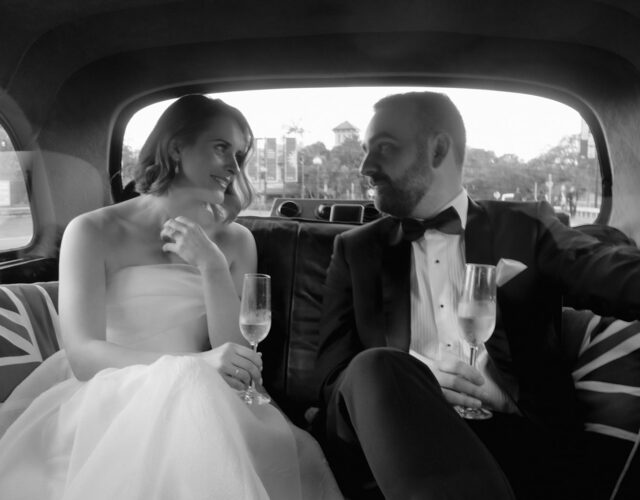 In the bustling cityscape of Sydney, the story of Mariia and Matthew unfolds – a romance that transcends…