Reece and Shalea Whimsical Wedding at Mona Farm, Braidwood
Reece and Shalea Davidson's union is a testament to the serendipity of fate. Their relationship is rooted in a shared history, where their fathers played professional football together in the NRL. This shared past led to frequent family get-togethers, but as their fathers retired, their meetings became less frequent. However, thanks to school and mutual friends, their paths crossed repeatedly, eventually leading them to their shared present and future.
Having been together for 10 years, and with an 8-month-old son, Kayln, in tow, the couple manages a harmonious balance between their personal and professional lives. Shalea brings her aesthetic touch to spaces as an Interior Designer while Reece handles the operational side of their gym franchise, The Yard Gym Marrickville, along with his job as a Stevedore.
The Proposal
Reece's proclivity for spontaneous trips worked to his advantage when he popped the question at the serene beach of Narrawallee. What followed was a weekend filled with romance and gourmet delights at Bannister's Mollymook and Rick Stein's restaurant, solidifying it as a weekend to remember.
The Wedding Theme
The original plan was to get hitched in the enchanting surroundings of Rippon Hall, Wanaka, New Zealand. However, the pandemic led them to the mesmerising Mona Farm in New South Wales. Shalea's wedding gown, tinted with a soft pink hue, became an inspiration for their decor, setting the tone for a dreamy and whimsical theme.
The Attire
Shalea's pursuit of the perfect wedding dress ended at Helen Rodrigues Bridal with a stunning Monique Lhuillier piece, complemented by accessories from Keren Wolf and shoes by Cult Gaia. Reece cut a dashing figure in an MJ Bale tux, paired with Gucci loafers. The bridal party exuded elegance, with bridesmaids donning dresses from Camilla & Marc and the groomsmen in MJ Bale suits.
Vendors
Navigating a wedding, especially one re-planned within three short months, demands a league of exceptional vendors. Reece and Shalea's day was beautifully orchestrated with the help of such talents. The ethereal moments were captured through the perceptive lens of Zelda Green, while Alexandra Pratt Wedding Videography elegantly framed the emotions into a keepsake film.
Transforming the bridal party into their best versions were the beauty maestros Ellise Pressley (hair) and Rachel Pitt (makeup).

A seamless blend of aesthetics was achieved through the combined styling efforts of Mona Farm, Love Stoned Styling, and The Pretty Table. The atmospheric magic of the day was further enhanced with ethereal floral artistry by Wiluna.

As guests received their first glimpse of the day's theme, the bespoke wedding invitations from Michaela McBride Calligraphy set the anticipatory tone.

Harmonic melodies by Cadena Strings floated through the ceremony air, while the dual talent of Sam Jake on the saxophone and as a DJ added the party vibes to the reception. 
Culinary delights graced the day with a cake masterpiece by Spice & the Icing and decadent Whittikas chocolates as favours.

The rings, intricate creations by jeweller Anne MacPherson and the timeless Cartier, sealed their bond.

Each vendor played an instrumental role, transforming a day of love into an unforgettable celebration.

The Ceremony
Held in the lush gardens of Mona Farm, the ceremony felt intimate, even with 130 close friends and family in attendance. Their heartfelt vows reflected their genuine connection, making the event deeply personal and memorable.
The Reception
The reception, set under a clear marquee and flanked by Highland Cattle, was a gastronomic delight, thanks to Chef Tristan Rebbettes of Mona Farm. The whimsical theme extended to the hand-written calligraphy menus on handmade paper, ensuring a consistent and enchanting motif throughout.
Words of Wisdom
For couples embarking on their wedding planning journey, Shalea and Reece have two pieces of advice: Firstly, don't sweat the small stuff; guests won't notice minor hiccups. Secondly, and most importantly, take a moment to step away with your partner and soak in the day – it goes by faster than you think.
Recent Posts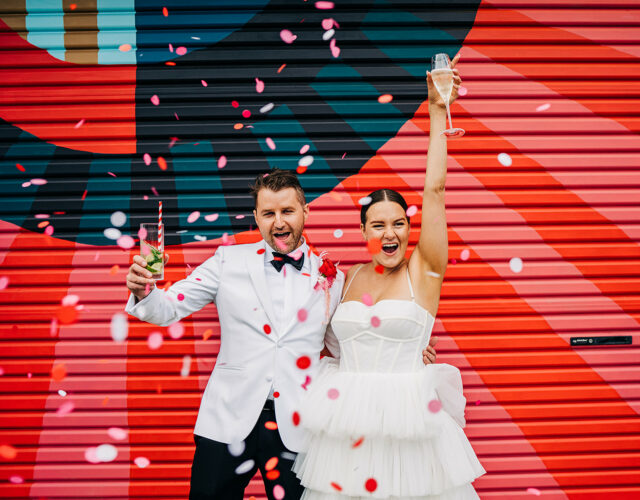 In the heart of the city, a tale of serendipitous love unfolded between Madi and Tim, two accountants…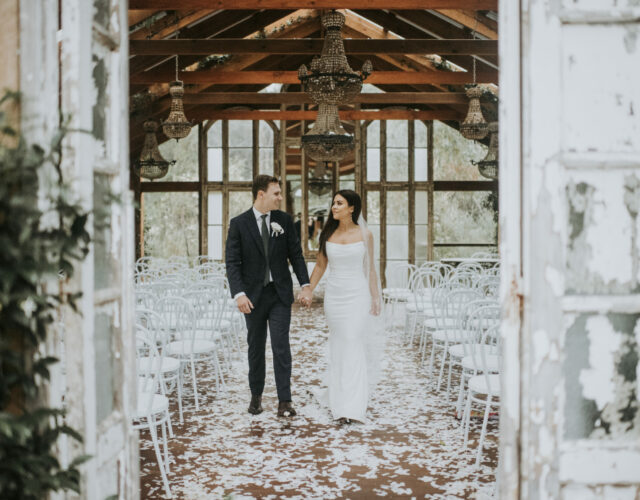 In the serene embrace of The Woods Farm, Jervis Bay, on the 14th of May 2022, Hugh and Felicity tenderly…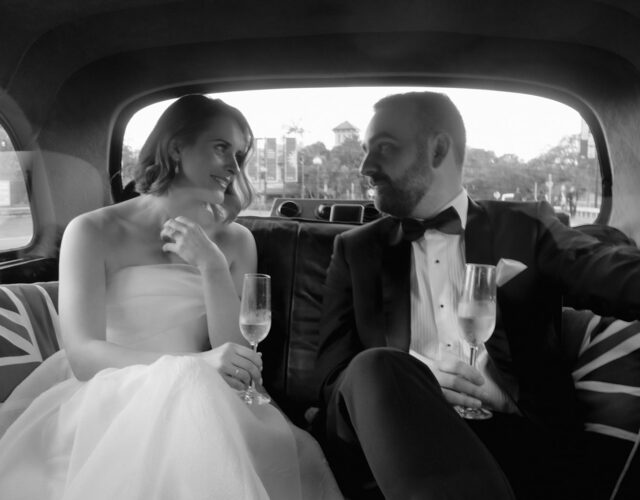 In the bustling cityscape of Sydney, the story of Mariia and Matthew unfolds – a romance that transcends…