A Whimsical Garden Affair: The Wedding of Elizabeth and Chase
Nestled amidst the scenic landscapes of Tremblant, Quebec, Elizabeth and Chase celebrated their love with a wedding that can only be described as deeply personal and utterly enchanting. It was a union steeped in sentimental touches, meaningful details, and countless unforgettable moments. Every facet of the wedding was thoughtfully planned to make the day not just a celebration but an emotionally charged experience that everyone—bride, groom, and guests—would carry in their hearts forever.
The Meeting of Minds
The universes of Chase, a budding biologist from Ottawa turned Floridian, and Elizabeth, a Tampa native with a keen interest in chemistry, converged in South Florida. Thanks to their mutual friend, Jon, the two science enthusiasts met under unexpected, almost impromptu circumstances, much to Jon's determination. The immediate spark between them was undeniable. From synchronised sips to shared chuckles, the chemistry (pun intended) was palpable.
Their journey together didn't just stop at shared academic interests. They both harboured dreams of achieving Ph.D. degrees. Their aspirations led them to Europe, where they braved the challenge of getting into the same university, and successfully did in Belgium.
A Proposal Under the Stars
Their bond only grew stronger as they ventured together through the vast landscapes of eastern North America. From the backdrop of fireflies on the Blue Ridge Parkway to the cold, festive atmosphere of Mont Tremblant, their love story thrived. And it was on a snowy December evening, amidst holiday lights and family at Chase's most cherished location, that he popped the question. The proposal, though not going exactly as planned, had all the hallmarks of their relationship: spontaneity, laughter, and a sprinkle of magic.
A Whimsical Theme
With Mont Tremblant's picturesque surroundings serving as inspiration, the couple envisioned a whimsical garden affair. The wildflowers that carpet the area during the summer became the muse for their wedding palette: an enchanting blend of purples and yellows. This vision found its fulfilment in the artistry of Annie Lord, an ecological forager from Quebec, whose commitment to local sourcing perfectly aligned with Elizabeth and Chase's eco-friendly ethos.
Their special day was vividly captured by the renowned photographer Myriam Ménard. Her shots enveloped the ethereal ambience, making every moment seem like it was taken straight out of a fairytale.
Wedding Priorities
Elizabeth and Chase, from the beginning, were clear about the kind of atmosphere they wanted for their wedding. With the help of the 'Bridechilla' guide gifted by Chase's mother, they zeroed in on three things: soulful music, mouth-watering food, and exquisite cocktails.
However, residing in Belgium and planning a wedding in Canada presented its challenges. Enter Ludivine Reuter, the saviour and orchestrator of their vision. Not only did she have the expertise they were looking for, but the serendipitous fact that she hailed from Belgium made the entire process smoother.
The Venue
The stunning resort town of Tremblant served as a breathtaking backdrop, setting the stage for an unforgettable wedding for Elizabeth and Chase. Marrying the natural beauty of the locale with rustic elegance, Tremblant infused the day with its own unique charm. The couple always cherished the dream of tying the knot at Chase's parent's property, a dream that required immense planning and stretched their budget, given they were essentially building a venue from scratch.
The ceremony unfolded at a carefully chosen spot on the property overlooking the lake. An altar of wildflowers, masterfully arranged by Annie, added a perfect finishing touch to the natural setting. The ceremony itself was conducted by their friend Jon, who had initially introduced them. Collaborating on the script, they opted for a ceremony that lasted approximately 20 minutes. Jon opened with a heartfelt and humorously told version of the couple's meeting story. As for their vows, Elizabeth and Chase took a unique approach: they wrote two sets, one more personal that they shared privately and another they shared in front of friends and family, adding layers of intimacy and sentimental value to the proceedings.
Timeless Beauty: Elizabeth's Look 
Perhaps one of the most extraordinary aspects of this wedding was Elizabeth's dress. Designed by the artistic Linda Frisen from her Atelier in Maastricht, the gown was the result of hours spent pinning inspiration on Pinterest. With a subtle touch of faint purple—a surprise for the groom—the colour of the dress changed with the lighting, making it a truly one-of-a-kind masterpiece.
Complementing the dress was an extraordinary headpiece designed by Laura Arroyo from her atelier in Brussels. Through a collaborative effort, the headpiece was made to perfectly match the faint purple hue of Elizabeth's dress. Laura also created matching pieces for the bridal party, ensuring a cohesive and unique overall look.
Sentimental Touches
From Chase wearing his father's ring inscribed with his parent's wedding date to Elizabeth donning her grandmother's earrings, the day was peppered with personal details. Elizabeth's cousin lent her a blue dragonfly brooch, their grandmother's, fulfilling the tradition of "something borrowed, something blue, something old."
Perfume for Memory's Sake
Elizabeth, ever focused on the intricate details, took the idea of wearing a special perfume for her wedding day. After a challenging search for the perfect scent, her friends surprised her with a visit to a perfume workshop during her bachelorette weekend. Elizabeth crafted her own perfume, a concoction of fresh-cut grass, pink peppercorn, and iris, each element representing something unique to her. Now, whenever she wears it, she is immediately taken back to the idyllic settings of Tremblant.
The Reception
Hosted under a Sperry Tent located on a tennis court, the reception embodied a whimsical forest atmosphere. Organic centrepieces and rock table numbers provided a rustic yet elegant backdrop, further complemented by luxurious velvet chairs and goldware. Napkins handcrafted by Ludivine seamlessly blended with the chosen colour palette and table setting. To add a touch of personality to the event, themed bars were set up, notably "Chase's Gin Tasting" and "Eleven's Libation Station." Each bar came with its own unique story and significance, contributing to the overall character and charm of the celebration.
The Gifts that Keep on Giving
The challenge of finding the perfect thank-you gifts for parents was met with creativity. Chase's art-loving parents received a live painting of the wedding ceremony by Paige Smith, a Seattle-based artist. Meanwhile, Elizabeth's mother received a custom vinyl record featuring a playlist of the day's most important songs—a tribute to her love for old tunes.
Budget and Planning
The couple admitted to readjusting their initial budget, which proved to be less realistic than they had thought. Elizabeth advises future brides to allocate a portion of the budget for last-minute, personalised touches.
Words of Wisdom
Elizabeth and Chase part with sage advice for couples diving into wedding planning: Have fun and don't take things too seriously. The best moments often come from the unexpected. And finally, take a moment before the ceremony to imprint the scene in your memory. The day will fly by faster than you can imagine, so make each moment count.
In a world where weddings can often become more about spectacle than substance, Elizabeth and Chase's Tremblant celebration stood as a heartwarming testament to what can happen when every detail is infused with love, meaning, and a touch of personal magic.
Recent Posts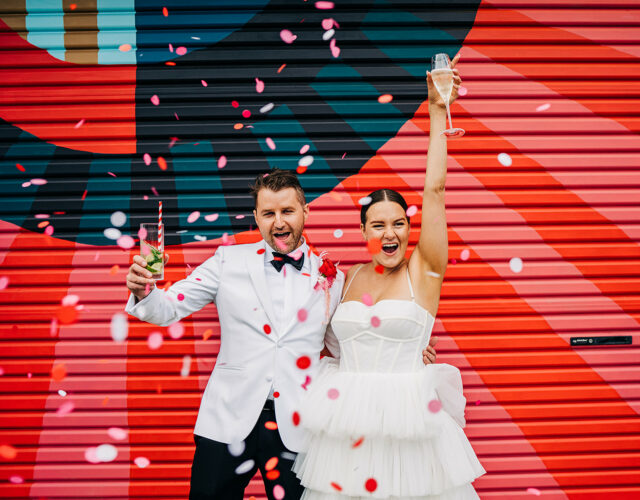 In the heart of the city, a tale of serendipitous love unfolded between Madi and Tim, two accountants…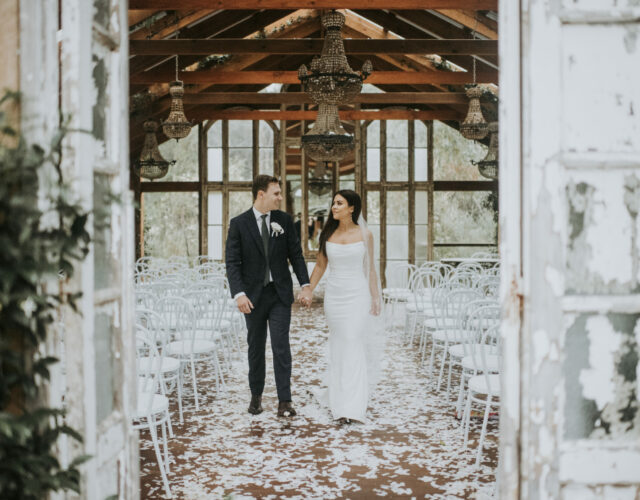 In the serene embrace of The Woods Farm, Jervis Bay, on the 14th of May 2022, Hugh and Felicity tenderly…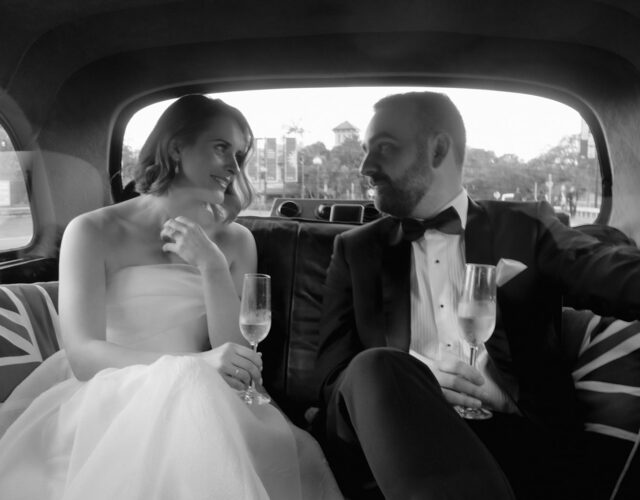 In the bustling cityscape of Sydney, the story of Mariia and Matthew unfolds – a romance that transcends…