Natasha & Pat's Sun Studios Wedding
This Sun Studios wedding oozes old-world glamour. From the bride's Jenny Packham dress (with beadwork to die for) to the groom's suave, Saint Laurent get-up and a ceremony on the grounds of Sydney's 19th-century Vaucluse House, Natasha and Pat's celebration was all class – with more stand-out vendors than you can poke a stylish stick at.
These guys have been together an impressive eleven years (as the 'finally' brandished by their invites will attest), so it may come as no shock that their favourite part of the day was the actual sealing of the deal. The bride, however, was not expecting as much. "I was surprised as to how much I enjoyed the formalities," she tells me, "with all our guests bunching in close when I walked down the aisle." Celebrant Rochelle Haley had a lot to do with keeping the intimate gathering "warm, natural and inviting."
A garden ceremony was a given for these two, but they wanted a warehouse-style reception – and not just any warehouse would do. "We really didn't want a stock standard reception where guests felt like they were bound to their chairs," they say. "We wanted a bit of a different type of venue, with a warm, free-flowing vibe."
Enter Sun Studios, Alexandria's 1930s renovated photography space designed to host anything from fashion parades and gala dinners to product launches and performances (and of course, very cool receptions). Needless to say it's flexible as heck, and we bet Tealily Photography, the talent behind these gorgeous shots, felt right at home.
"Hiring a venue without any tables and chairs did require a lot of extra work," the pair admits, "although we managed to get a lot of helping hands" – and put their own mitts to the invites, signs and dessert table. With the exception of a Black Star Pastry wedding cake, Chat Thai had that table well and truly laden – all part of their scrummy, authentic Thai feast.
Pat's sister was behind the pretty peony bouquet and florals, while Nat's sis made for a stunning, Carla Zampatti-clad bridesmaid. "It was much harder finding a dress for my sister," says Nat, who had quickly narrowed her own quest down to two Jenny Packham creations from Helen Rodrigues. "I pretty much didn't like anything else from any other designer, so that made choosing much easier," and as far as we're concerned, she picked an absolute winner.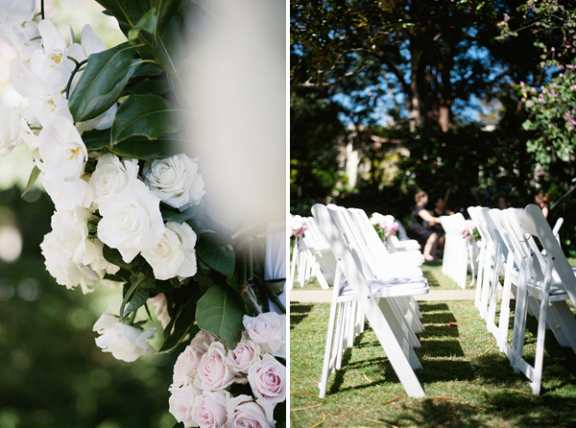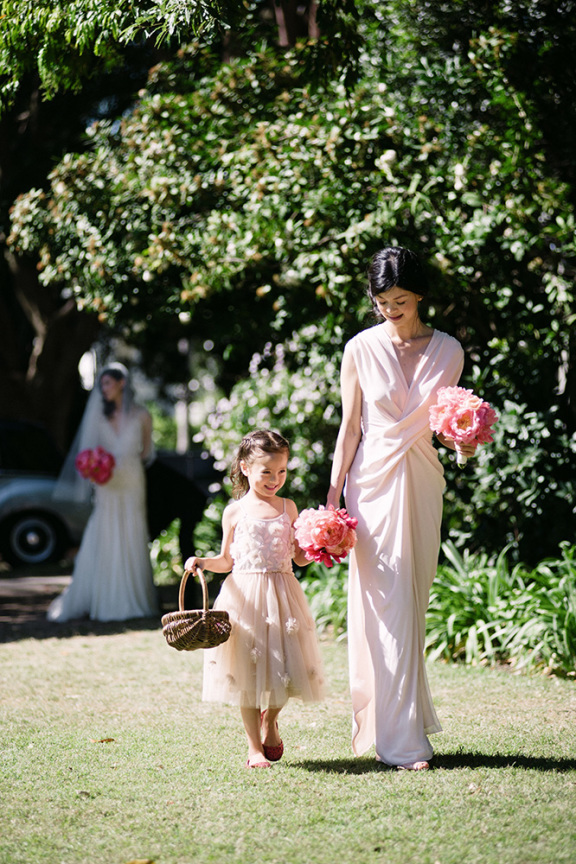 Photography: Tealily Photography | Bride's dress: Jenny Packham | Bride's shoes: Jimmy Choo | Bridesmaids dress: Carla Zampatti | Groom's suit: Saint Laurent | Groom's shoes: Prada | Hair/makeup: Eternal 2 Elegance | Ceremony venue: Vaucluse House | Celebrant: The Asking – Rochelle Haley | Reception venue: Sun Studios | Flowers: groom's sister | Catering: Chat Thai | Cake: Black Star Pastry | Entertainment: Tillee Music | Stationery/invitations: DIY | Photo booth: Flashback Photo Booths
Recent Posts
Inspired by the historic Rift Estate in Bowral, photographer Zelda Green teamed up with…
What better time to chat all things cake than while we're still basking in the haze of our Easter chocolate…
Former travelling DJs and forever partners in crime, Steph and Callum's NSW backyard and beach wedding prioritised all that the…