Lulu & Harry's Vintage Biker Wedding
This vintage bride and her biker groom were so smitten with their wedding photographer, they tell me "we want to throw more parties just so we can have Jai come back over here!" That's Jai of Free the Bird, an Aussie-based lensman who shares his heart (and some of his time) with the USA.
Lulu and Harry tied the knot in a crowded park on a summer's day. "The park was full of families picnicking and kids running around playing," says Lulu. "A group playing soccer stopped to clap for me as I walked down the aisle!"
Her vintage wedding dress was a 1950's original, found many years earlier before Harry was even in the picture! She paired her treasured find with "the most magical red patent leather Valentino pumps with bows."
And red was the colour of the day, with a bold crimson flower crown of roses and dahlias and stunning bouquets to match. Her bridesmaids each picked their own red vintage party dresses from various Etsy sellers and vintage shops, and a sneaky pair of red socks tied Harry into the colour theme too.
But that's as far as the pair went in terms of a theming their day. "We really wanted our styles and personalities to be evident, so we strayed away from doing anything too matchy-matchy or cookie cutter," the bride tells me. "There was a definite sense of garden-y, backyard dinner party and a cool mix of vintage and biker vibes."
An army of talented friends pitched in on just about everything – from styling and setting up, to hair and makeup and everything in between. Friend and celebrated chef, Jason Vincent, catered the "most delicious food imaginable" while muso friends Animal City kept people dancing through the night.
While generous input from mates and a tonne of DIY certainly helped to keep costs in check, a party for 150 guests was always going to be pricey. The laid-back couple took a philosophical view, "we both just looked at it like this: we're in love and we want to celebrate that love by throwing a big party for our friends and family. There comes a point where you gotta just roll with it!"
Photography: Free the Bird | Venue: Pottawatomie Park | Bride's dress: Vintage | Bride's shoes: Valentino | Bridesmaids dresses: Etsy | Groom's suit: Vintage | Flowers: Pollen Floral Design | Hair & Makeup: friends | Celebrant: Groom's sister | Catering: Jason Vincent | Music: Animal City and Eli Paperboy Reed
Recent Posts
This carefully curated wedding inspiration keeps sustainable practice in mind while celebrating all the beauty to be found in Australia.
Jeepers, what a year! We've been looking back at last year's most loved bridal styles,…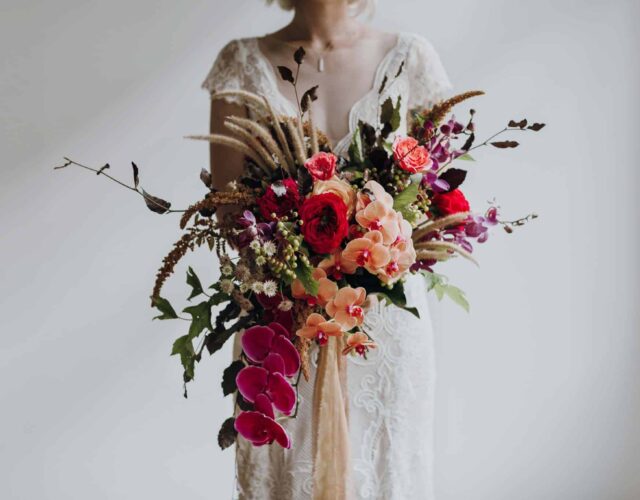 Looking back at 2018's most popular florals, the three elements that really stood out were colour, form and scale. Continuing…