Bernie & Sam's wedding Colourful Garden Wedding
There are so many things to love about this wedding. An incredible setting, beautiful hand-made details, photogenic bride and groom and three divine kids to complete a perfect picture. Add to that a very sweet love story and we have Bernie and Sam's wedding day, captured by the ever-lovely Beck Rocchi.
With the help of friends and family, Bernie and Sam styled, sourced and upcycled most of this gorgeous wedding, which was not only a celebration of their partnership, but of their beautiful young family. "Sam and I met and fell in love at just 17," Bernie tells me. "We both knew we'd one day marry, have kids and grow old together, but due to a very beautiful surprise, this happened a lot earlier than we had ever anticipated. At just 19 we had our son Harper, and by 23 we had completed our young family, with Roxey and Mimi as well."
It was only natural that the kids would play important roles in the nuptials. Sam recalls "Seeing my three girls walk down the aisle with my man Harper at my side such a memorable moment." Bernie was looking breathtaking in Johanna Johnson. "I am big on accessories and wanted a gown that I could personalise, and what better way to do that than with some Johanna Johnson jewels! I chose the double garland bracelet, which I actually wore as a headpiece for the ceremony."
The ceremony was held at Ampelon Gardens and was followed by a fun, alfresco reception. "In terms of a theme for our wedding, choosing just one was far too hard!" Recalls Bernie. "In the end we went with a bohemian feel, with slight eclectic touches. Our florist was a family friend, Mary (from Mary Crisera Floral Design) upcycled pharmaceutical bottles from Etsy. Crystal bowls and bud vases were vintage finds and shandy glasses and jam jars were made in to candles."
Bernie believes that having a family first made it easier to focus on the important stuff. "We didn't have the pressure to please everybody – our families knew and appreciated that it was about our own little family and the history we hold." Her advice for others? "As long as the beverages are cold, the music is good and the food is a plenty, your guests will be happy. As long as you say the words 'I do' and stand with the one you love, you will be happily ever after. Simple."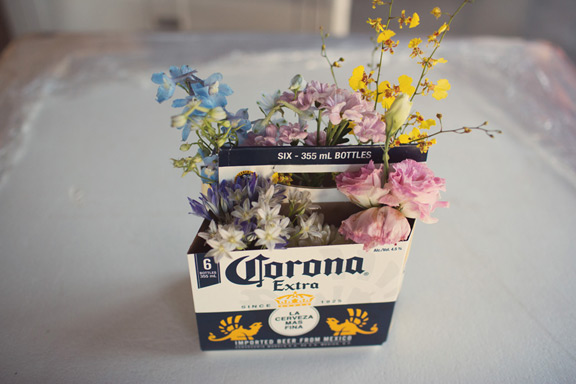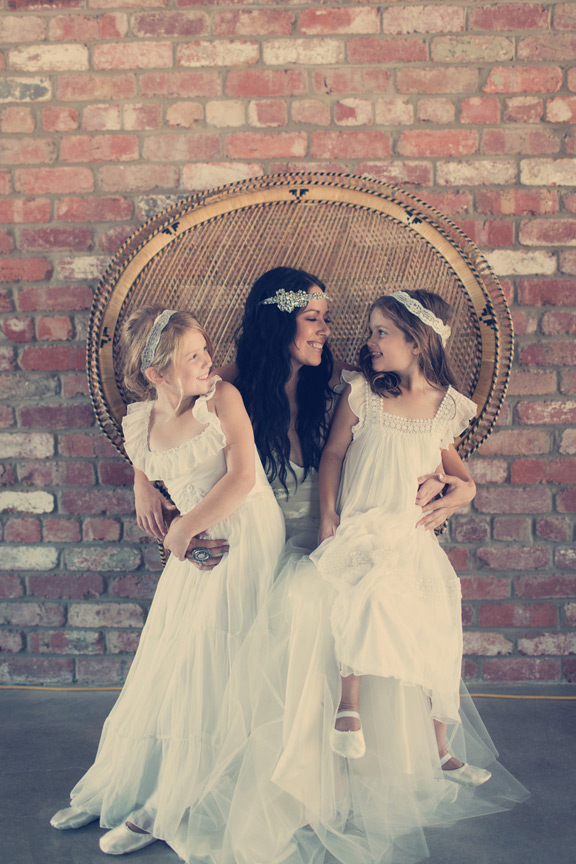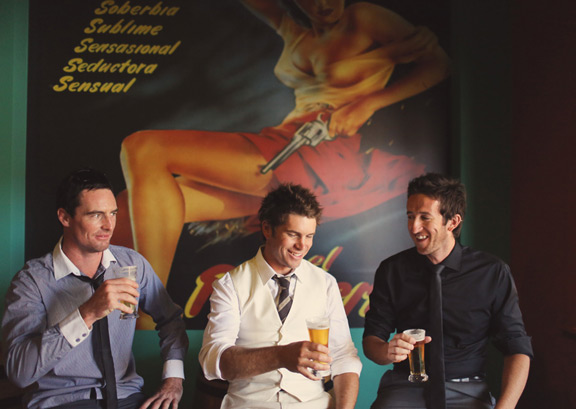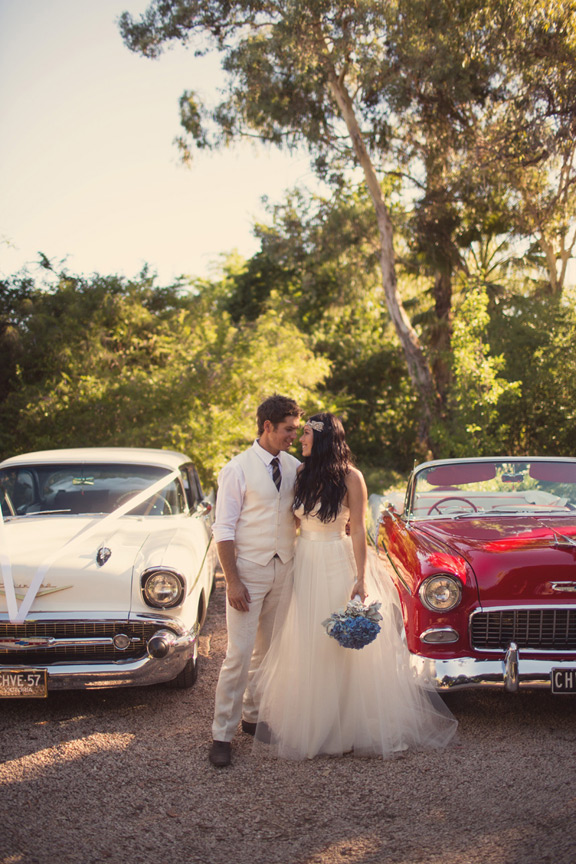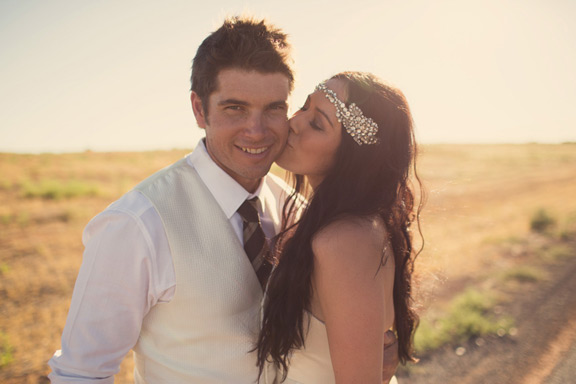 Photography: Beck Rocchi | Ceremony Venue: Ampelon Gardens, Gol Gol, NSW | Reception Venue: Private residence | Bride's Dress: Johanna Johnson | Flower girls' dresses: Tea Princess | Groom's suit: Hugo Boss | Hair: Ruby Hair Design | Makeup: Visible Effects | Catering: The Gourmet Chef | Cake: Farmgate Cheese | Florists: Mary Crisera Floral Design
Recent Posts
Well versed in playing host, Marah and Simon graduated from house party to epic warehouse party with…
Having suffered through months of drought, it could only be a good omen that the heavens finally opened on Chris'…
After toying with the idea of a destination wedding, Georgia and Adam opted instead to keep things closer to home.