DIY: Floral and Wheat Wreath
Wreaths are obviously great for Christmas but can make beautiful decorations at any time of the year. Craft them from various materials – fresh or dried flowers, foliage, wheat, berries – whatever you like to get the look you're after.
Ivy Flowers and Flights of Fancy by Kristy made these wreaths in gold and earthy tones, finishing them off with black satin ribbon to tie in with our colours and theme. Read on for their step by step…
Step by step
1. Purchase a ready-made wreath at your local florist supply store or make your own out of grape or ivy vine.
2. Select foliage/florals and nuts/berries to decorate the wreath – dried products or natives are best to use for this as they will last longer.  Of course using fresh foliage and flowers will give your wreath a different look.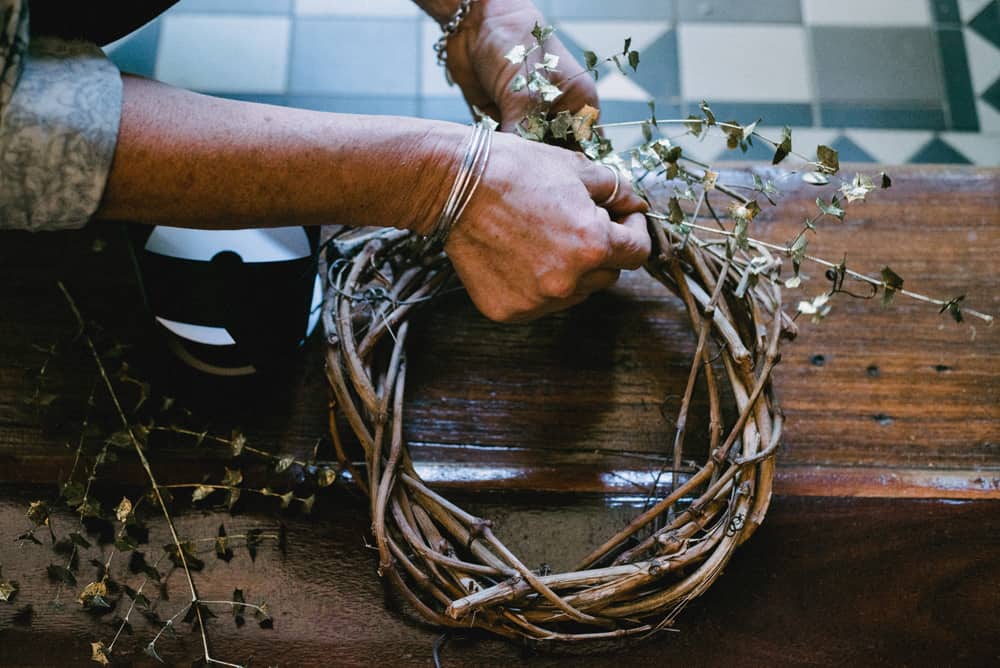 3. Start by threading your foliage through the wreath – the more you thread through it the more everything will knit together and become more secure and full looking.
4. Add any accents such as florals, nuts/berries or wheat.
5. Finish by selecting some beautiful ribbon and tying it on the wreath wherever you think it looks good.
6.You can use your wreath in a number of ways – suspended in a cluster as we used ours, hung on a door or wall, or laid flat on the table as a centrepiece.
Feeling festive? Get inspired for the holidays with our Holiday Pinterest board!
Recent Posts
Easing into their wedding with brunch at a local café before heading to their Ooi House Airbnb…
Six years after being introduced by friends, Tom & Libby tied the knot at VIC's luxurious French-chateau style mansion…
After their wedding venue pulled the pin just 24 hours before Chris and Jac were set to say I Do…