Georgia & Adam's Melbourne Rooftop Wedding at The Prince
After toying with the idea of a destination wedding, Georgia and Adam opted instead to keep things closer to home. A rooftop wedding at The Prince Hotel was the perfect choice for these St Kilda locals, who now take every opportunity drop in and reminisce about their big day over a cocktail or two.
Photography
The wet, blustery weather was not quite the perfect summer's day they had in mind, but Georgia and Adam embraced the wild weather and scored some great portraits with photographer Jessica Tremp of Brown Paper Parcel. "It was so windy in St Kilda that all the wind surfers were out at the beach and my veil kept getting tangled around my face," recalls Georgia. "My hair was not the same afterwards, but having that time with Adam alone was great before returning to the mayhem!"
"Jess was unbelievable, going with her was one of the best decisions we made for the wedding! She made us feel so comfortable the entire day, her candid shots (all her shots really) are so beautiful."
Bridal party
Georgia tells us she had the best experience finding her modern and minimal wedding gown at the Suzanne Harward showroom in Melbourne. "Carly and Olivia were amazing. They were super accommodating and even suggested black bridesmaids dresses." Lo and behold, black was the perfect choice for Georgia's girls, who wore mixed styles from Héxié.
Styling and details
With no idea what they wanted but a solid idea of what they didn't, Georgia and Adam enlisted stylist Georgia Munn to weave her wedding magic. A ceremony backdrop of geometric forms in warm pastel hues formed the centre point of the design, mirrored by similar details throughout the ceremony and reception.
Georgia introduced the couple to florist, Zoe Langbridge Flowers, who created bold arrangements in a pastel palette. "Zoe really is amazing and the florals were one of my favourite elements of the day. She had a bit of a challenge as a lot of the flowers growers were impacted by the bushfires, so some of what we wanted was not available."
Ceremony
Wanting a fun and memorable ceremony, Jesse Belle was the perfect choice of celebrant. "Working with Jesse was effortless and we could not have asked for a better energy throughout the whole process," shares Georgia. "We had Perolas play Songbird by Fleetwood Mac as I walked down the aisle and it started the waterworks (on me, our guests and Adam). Adam and I wrote our own vows and honestly that was one of my favourite elements. We both like to crack a few jokes so it wasn't all serious, there was laughter and tears so many emotions."
Reception
"The reception was electric, I can't describe the atmosphere. The speeches were hilarious, everyone was having a good time. When the dance floor opened, everyone rushed on to it before we got to do our first dance. We had to kick people off for the dance before they all rushed on again. A thriving dance floor is all I could have asked for through the night, and DJ Eddy delivered it."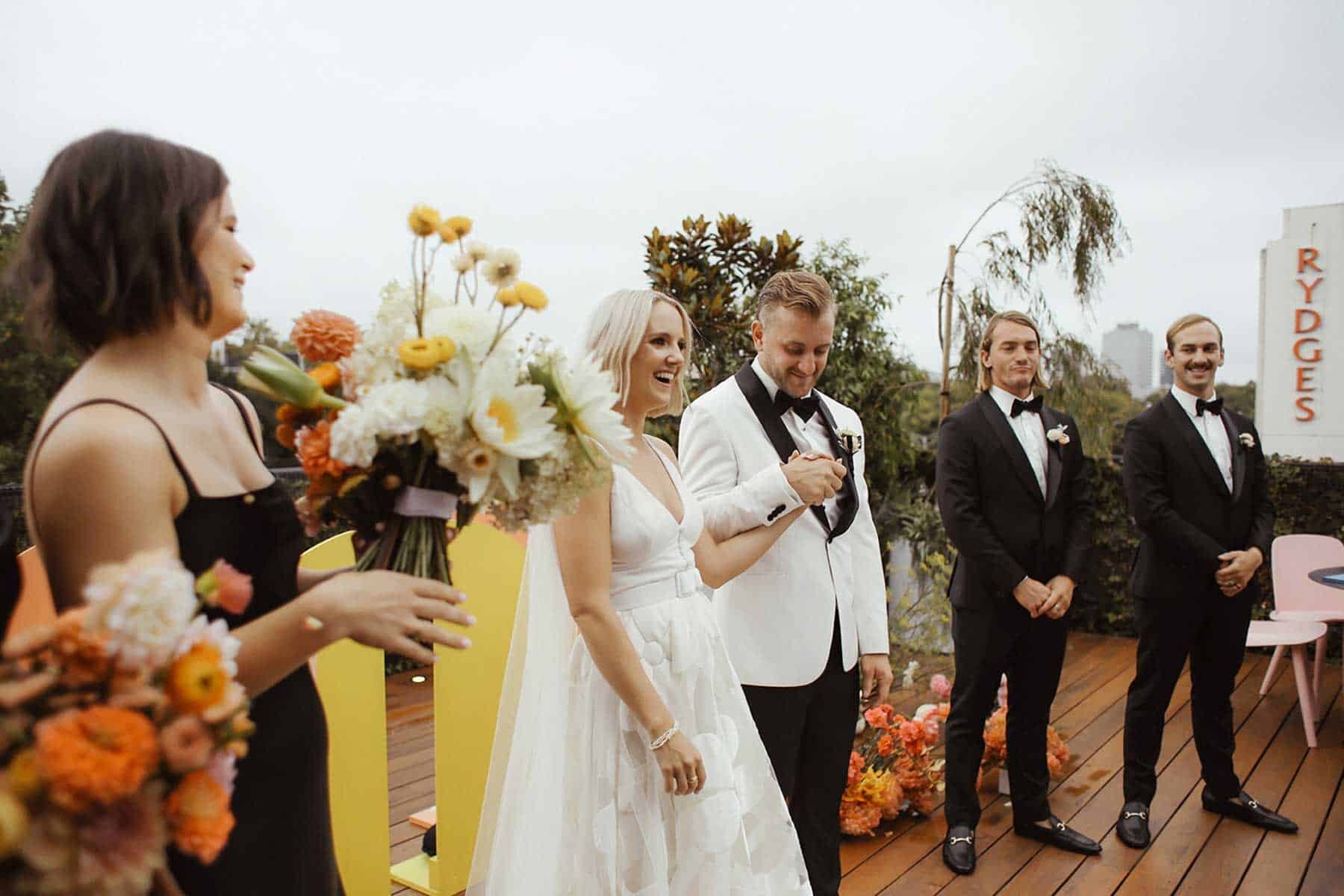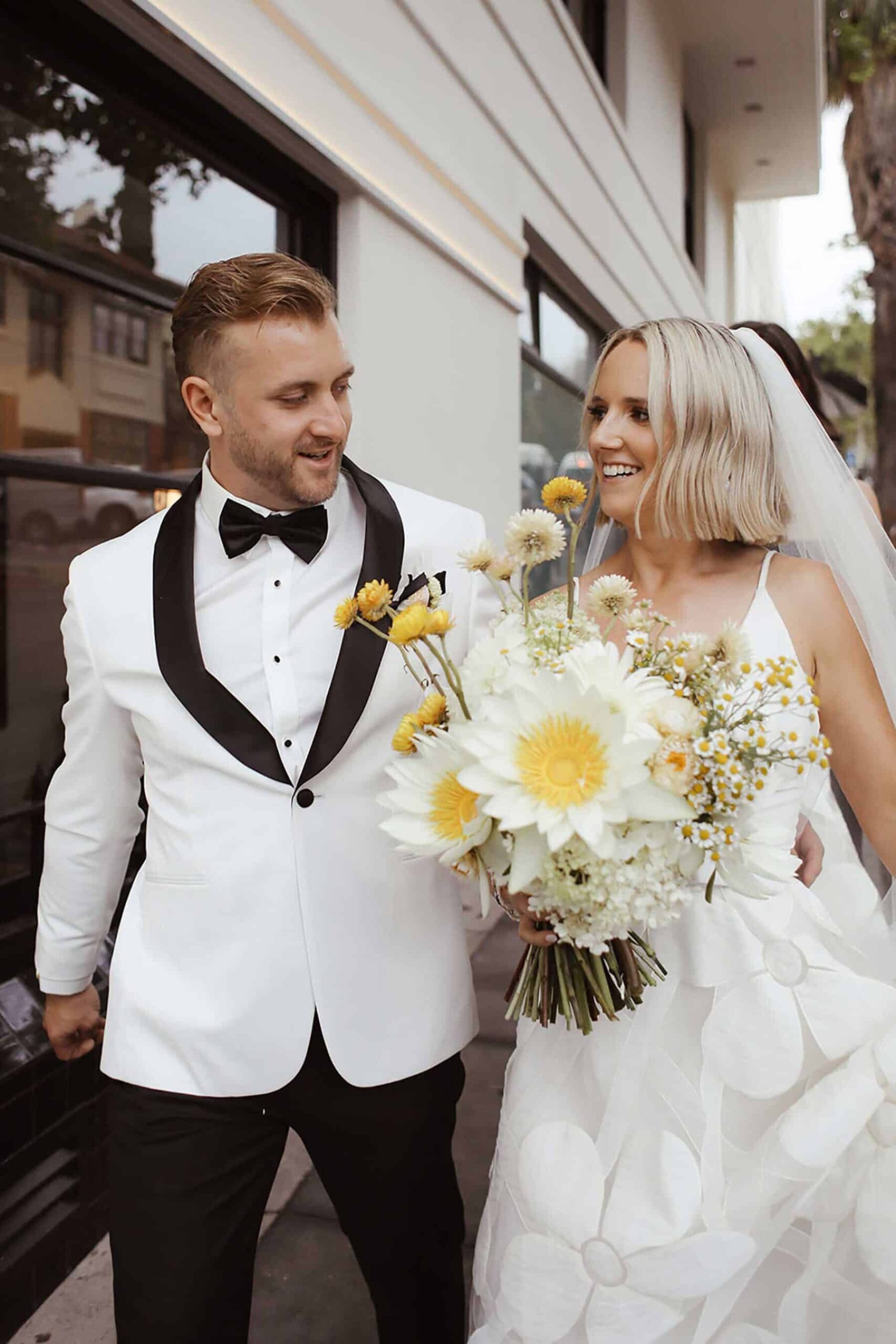 Recent Posts
Easing into their wedding with brunch at a local café before heading to their Ooi House Airbnb…
Six years after being introduced by friends, Tom & Libby tied the knot at VIC's luxurious French-chateau style mansion…
After their wedding venue pulled the pin just 24 hours before Chris and Jac were set to say I Do…