Taylor & Simon's Country Farm Wedding at Yabbaloumba Retreat
Amidst the vibrant Australian native blossoms and rustic barn ambience, kissed by the golden sunlight, Taylor and Simon truly embraced the charm of saying "I do" at the Yabbaloumba Retreat.
Tucked away as a luxury hideaway in the Mary Valley, this award-winning venue is the one for those looking for a break in the lush, green country farm settings. Simply put, it is a little slice of paradise.
Taylor & Simon met on Halloween night in Sydney over eight years before Simon proposed. Initially, the gorgeous couple were not ready for a serious relationship. However, as fate would have it, their paths intertwined again, ultimately leading them to unite under the sunny skies of the Sunshine Coast.
The couple shares, "When we reconnected, it was one of those cheesy love-at-first-sight moments. Our values, goals, and lifestyle were perfectly in alignment, and we were both ready for the next chapter in our lives together."
Simon initially planned an ultimate proposal to surprise his beloved. He considered taking her family and close friends to the Sunshine Coast for a celebration. However, Covid scrapped all his plans, so he booked another trip to the Whitsunday islands and Great Barrier Reef. He dropped to his knees to propose to Taylor, saying, "Tay, I love you, you're the woman of my dreams, and I want to spend the rest of my life with you. Will you marry me? "
Taylor & Simon aimed to keep things simple and reflective of themselves on their wedding, so as soon as they found Yabbaloumba Retreat, they knew they had found the one! For their country-chic event, they invited over 135 guests travelling from Sydney and abroad. When looking back, the couple shares, "We made the decision relatively quickly. After visiting the Yabbaloumba Retreat (the first venue we inspected), we knew that was the spot. It was so magical and everything we wanted. It was a perfect mix between casual, classy, elegant, and rustic. The theme was an elegant country summer wedding."
Yabbaloumba Retreat offered panoramic views of the farming country against the craggy mountain ranges. It has a special rustic flair accompanied by modern amenities. Before you enter and lay eyes on this charming place, you are greeted with beautiful gardens, fields, and gorgeous settings – making this place every photographer's dream! The sprawling deck offers plenty of space for guests to relax and enjoy celebrations. Honestly, what else can you ask for?!
Taylor looked charming in her dream wedding gown from LUV Bridal ST Patrick and Novo shoes, complemented with hair by Lauren Kelly and makeup by Kate Ellen. While Simon looked dapper, wearing an M.J. Bale suit, Aquila shoes, and a Michael Hill watch.
Once they both were ready, their first look was planned amidst the natural green spaces – this venue has captivating and beautiful spots providing unique photogenic opportunities. Another highlight from the wedding was custom-made cornhole boards with the hashtag #foreveringham on them. Taylor's mother and sister-in-law crafted cones from rose petals, while her mother devoted her skills to creating all the floral arrangements for the day.
The outdoor wedding ceremony was truly incredible. Taylor walked in with her parents while Simon waited for the beautiful bride. The adorable flower girls and bridesmaids followed, making it look magical. With the help of L & L CO Events, the aesthetic was tailored to perfection!
Taylor says, "We had our dog as a flower girl, and it was so special to have her there as she is such a big part of our lives."
The most emotional moment of their wedding was their vows. The couple shared, "They have spent weeks and hours thinking about what they wanted to say."
The venue's settings were truly captivating, with music being played in the background by Call Me Will. The couple felt on top of the world while saying I do to one another, guided into marriage by the celebrant Dan Ford and eternalising their love with the rings by Lulu & CO.
The reception venue included a large barn on the dam with three long tables. The newlyweds shared platters down the middle of Lamb and chicken and delicious locally-made bread rolls – all courtesy of Something For Catering. And the feast did not end there – the guests were treated with cake by Chocolate to Chilli and local Kenilworth doughnuts for dessert. Also, the couple opted for customised shot glasses with the fireball in them so guests could get the party going. The dance floor opened once the guests were treated to a delicious culinary experience, and everyone danced their hearts out till the end of the night. As a token of appreciation, the couple included favours by Custom Favours. 
Taylor and Simon revelled in the evening's festivities, immersing themselves in dance and laughter, uplifted by the cheerful surroundings and inviting atmosphere. Yet, the vibrancy of these memories would have faded with time if not for their skilful photographer, Daniel Neucom, and videographer Jake Ainsworth. They did an epic job capturing their story's meaningful moments so seamlessly!

And for all couples who are currently planning their own love celebration, Taylor & Simon have a few words of wisdom:
"Being present during every part of the day is so important to slow the day down and appreciate every moment to the fullest. Be yourself, and don't worry about what other people think. They are all there to celebrate you and your relationship. If there is something you want to do on your wedding day, do it!"
Recent Posts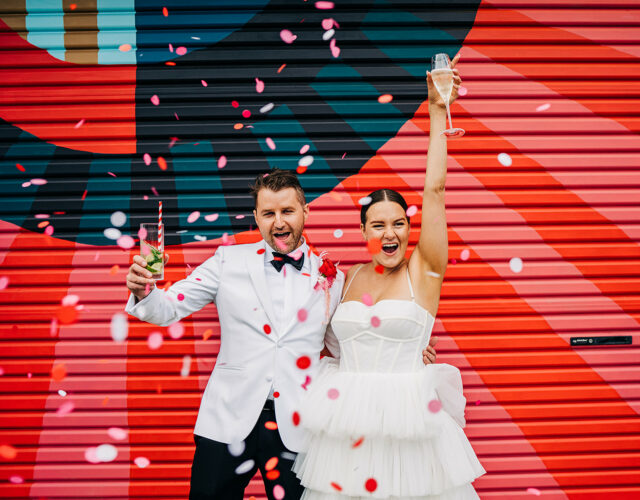 In the heart of the city, a tale of serendipitous love unfolded between Madi and Tim, two accountants…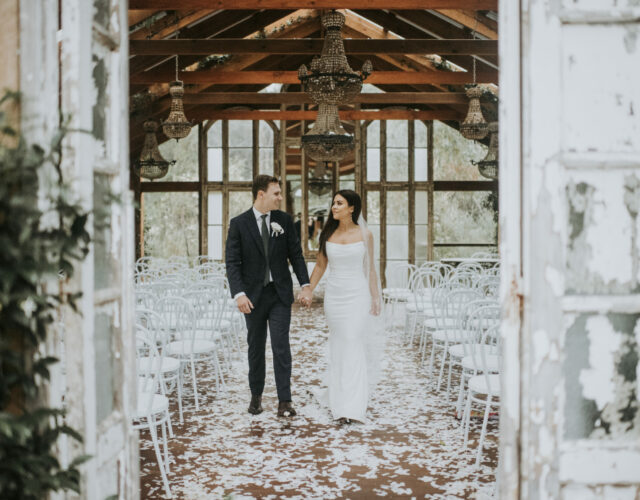 In the serene embrace of The Woods Farm, Jervis Bay, on the 14th of May 2022, Hugh and Felicity tenderly…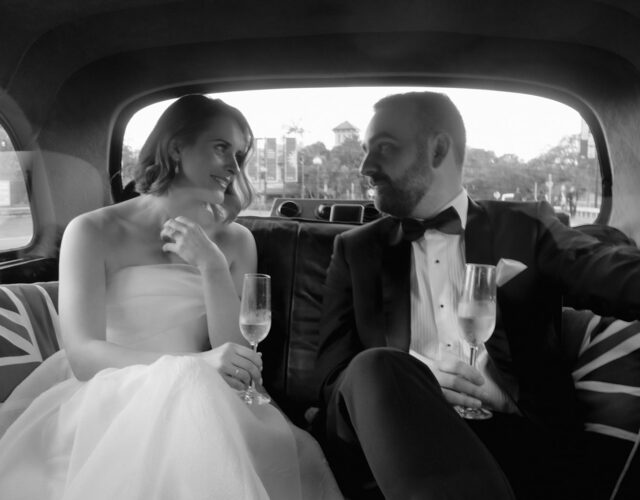 In the bustling cityscape of Sydney, the story of Mariia and Matthew unfolds – a romance that transcends…