Now in it's fifth year, Byron Bay Wedding Fair has established itself as the event not to be missed by anyone planning a wedding in the sought after destination. Not only does it showcase Byron Bay's most exciting vendors, it provides the opportunity to discover the region's best venues. Happening on June 25 & 26, this year's event is free to attend and you can expect an inspirational weekend and many ticks off that wedding checklist.
One of the venues opening its doors for this month's event is Horizon, and with its luxe design and incredible views, it was the ideal location for the event campaign. Captured by Kate Nutt, the shoot features a selection of this year's exhibitors, including The Wedding Shed, Bower Botanicals, George Wu, The Cake That Ate Paris and many more.
We chatted with Elissa Harris about Byron Bay Wedding Fair's background and what to expect from this year's event.
When was the first Byron Bay Wedding Fair and how has the event evolved since then?
Our first event was held in 2012, and whilst the general structure of the weekend has stayed the same, in the sense of having vendors stationed over multiple venues, along with a selection of viewings-only venues, we have definitely evolved each year in response to the needs of our couples, venues, and vendors. The industry itself has also changed quite a bit in the last five years, so we are always evolving in line with this as well.
The relaxed format of our events has proven to be very popular with couples, who enjoy meeting vendors in a non-pressurised environment, all whilst discovering the region's premium wedding venues. We have found that this style of event structure encourages a more meaningful bride/vendor connection than might be experienced at a typical 'wedding expo' which is why we have kept the structure quite similar each year.
Tell us a little about the core team behind BBWF – what are your roles and backgrounds?
The Byron Bay Wedding Fair is essentially a collaboration between Byron Bay Weddings, The Wedding Shed and our main venues playing host to vendors. This year those venues are Fig Tree Restaurant, Horizon, Secret Garden, Forget Me Not and Byron View Farm.
This combined wealth of experience, talent, and creativity ensure a relaxed, yet flawlessly run event, reflective of the style of weddings which are so popular in Byron Bay. After all, creating stunning and perfectly executed events is what our ever-growing team of full-time staff pull off every single weekend – often planning, styling and running up to five weddings on the one day.
How does a day at BBWF go down? What can a bride expect to take away from the event?
Firstly, a bride can expect to have a lot of fun at the Byron Bay Wedding Fair, due to the fact that there are so many wonderful venues and vendors involved, giving them a chance to really scope out exactly what they are looking for. This often results in brides having the chance to sew up the bulk of their wedding planning in the one weekend, whilst leaving inspired and more in the know about the practicalities involved in the planning side of things.
All couples need to do is turn up at any participating venue, grab a Venue Map, and take it from there. (These maps will also be available for download on the website a week or two before the event).
The event website is mobile-friendly, and will be very helpful over the weekend as each venue page includes not only the venue address but a link to google maps so that couples can get exact directions from whichever venue they are currently at, to wherever they are heading next!
It is worth mentioning though, that some parts of the Byron hinterland have not-so-great mobile coverage, so we do suggest keeping the Venue Map map handy!
Any tips for getting the most out of the day?
Yes. Take the time to explore all of the venues and vendors listed on the event website before the actual weekend, so that you can work out where and when to catch the vendors or venues you'd most like to see. If you have any particular vendors you would like some time with over the weekend, we suggest giving them a call/email to see if you can schedule a specific time to chat. This may help avoid any disappointment if they are tied up when you arrive and can't provide their immediate attention.
Another tip is to check out the other events being run by our vendors and venues over the weekend, such as the Fig Tree Tasting Dinner, Lights on at Forget Me Not, The Morning After Breakfast at Secret Garden and of course, The After Party being held at The Bolt Hole, which is a great opportunity for couples to have a relaxed drink and chat with wedding fair vendors, venue owners and the coordination and catering teams sponsoring the event. Everyone is invited to this, and no bookings are necessary.
Are you still accepting vendor applications?
In certain categories, yes.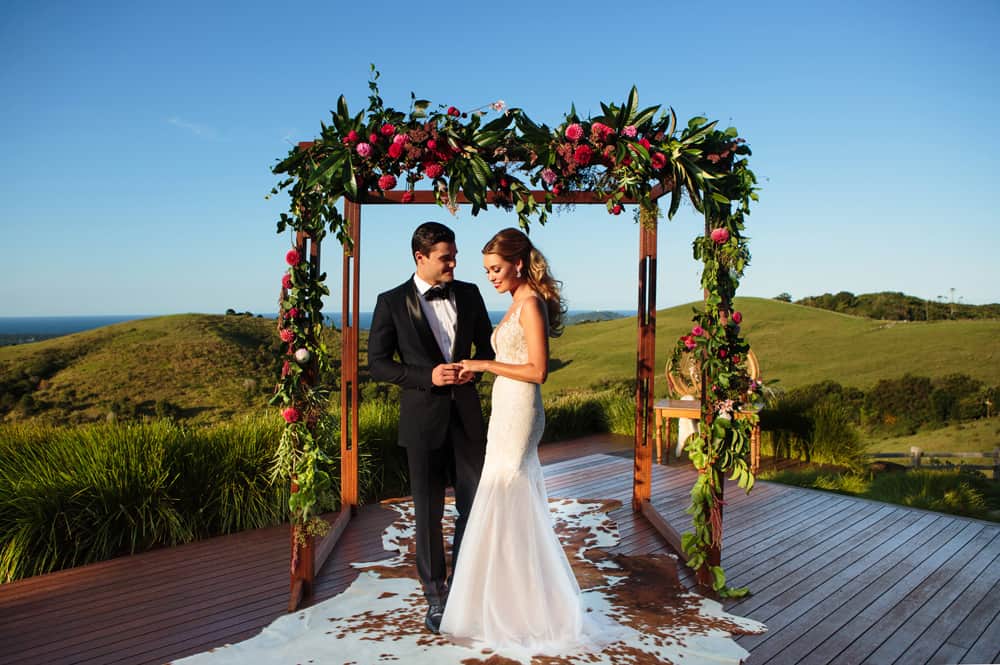 What makes a wedding in Byron Bay special?
With stunning coastlines, pristine beaches, and rolling hills as far as the eye can see, the Byron Bay region boasts a perfect backdrop for the ultimate dream wedding celebration. From beachside pavilions to grand estates tucked away in the hinterland, there is certain to be a venue to suit any style of wedding, from black tie glamour to boho-chic.
The local Arakwal Aboriginal people's name for the area is Cavvanbah, meaning "meeting place", which is ever so fitting as this place is known for bringing lovers together. What better place to celebrate one of the most special days in your life?
Finally, do you have any tips for couples planning a destination wedding in Byron Bay?
Planning a wedding from a distance can be a daunting affair. We recommend trusting in the capable hands of an experienced planner to help bring together all of the little details involved in a wedding celebration.
If possible, plan a couple of visits to the region before the big day, to meet with local vendors and  orientate yourself around the area.
Organise for your guests to stay close together and don't forget to book a few extra days in the area in order to soak up the wedding week fun and post-wedding bliss!
Recent Posts
Luxe blooms and opulent bridal gowns contrasted with earthy tones and arid gardens for this desert inspired shoot. Perth Photographer…
Ok, so 2020 wasn't ideal, but do you know what we loved about the crazy year that was? We loved…
Usually when we round up the year's best bridal, it's easy to see the top trends shine…